Offense quiet, defense shaky with Noesi on mound
Key error leads to big Royals inning; starter exits after 3 2/3 frames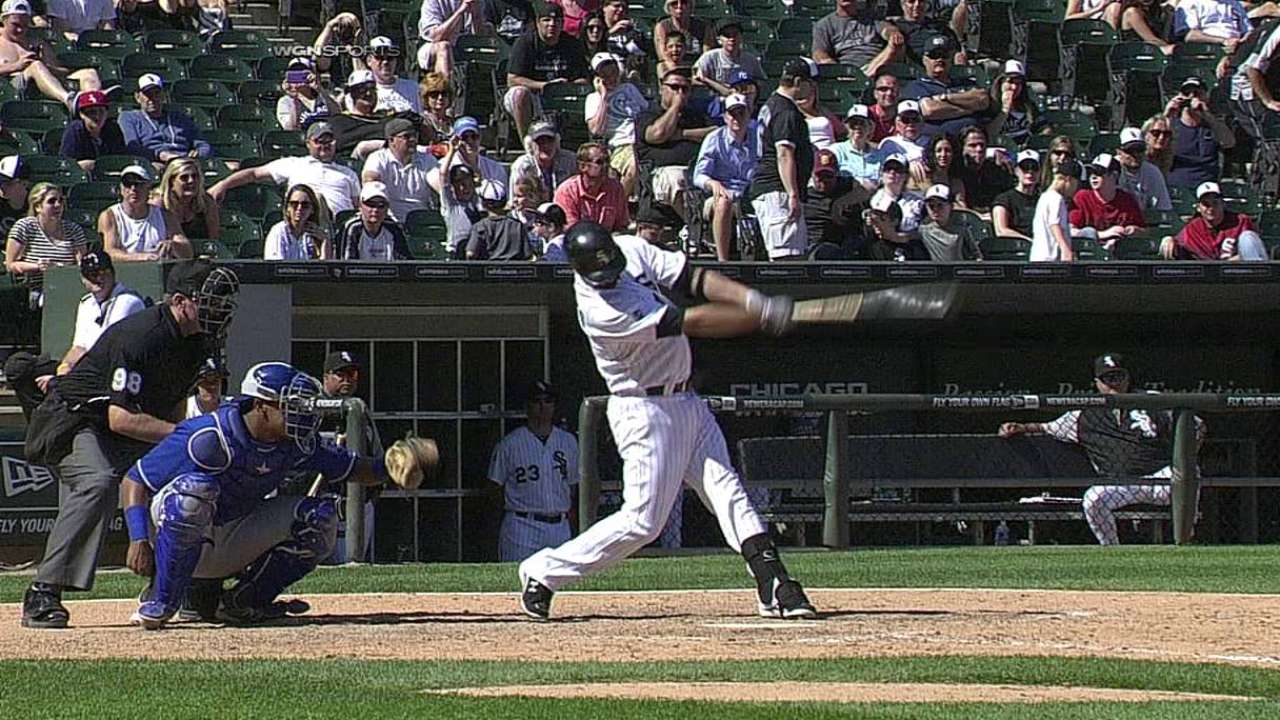 CHICAGO -- Hector Noesi was not the reason for a 9-1 White Sox setback to the Royals on Saturday afternoon, marking Kansas City's ninth win in its last 10 games played at U.S. Cellular Field.
At least, the right-hander wasn't the sole reason.
Noesi (2-5) picked up the loss after allowing five runs on eight hits over 3 2/3 innings. Certainly not dominant numbers, but three of those runs were unearned due to a Leury Garcia error at third base that could have limited damage in a five-run fourth.
Meanwhile, the White Sox offense stayed in snooze mode, having now scored just three runs over their last three games. Not exactly ingredients for consistent success.
"We didn't play defense behind Hector, and that's a recipe to lose a game in a hurry," White Sox manager Robin Ventura said. "It has to get better if you're going to plan on winning games, that's for sure. Hector, he's been good for us. He's always given us a chance but you have to help him out on occasion."
"When we got to the fourth, to be able to put five runs on the board was big," Royals manager Ned Yost said. "We've had a couple of big innings the last week or 10 days. Earlier in the year, we'd get something going and we'd get one or two out of it. Now, when we're swinging the bats better, we're getting four or five."
Before Ventura pointed the finger at his struggling defense, he heaped praise upon Royals starter Danny Duffy (4-5). The common theme coming from both postgame clubhouses was that the left-hander pretty much was in complete control.
Duffy limited the White Sox to five hits on this sunny afternoon in Chicago, striking out nine and walking one over seven-plus innings. The White Sox had two runners on in the second courtesy of a Paul Konerko single and a Mike Moustakas error on Moises Sierra's grounder, but Tyler Flowers and Garcia both struck out. They put runners on second and third with two outs in the fourth on Konerko's single and Sierra's double, but Flowers grounded out to shortstop Alcides Escobar. Duffy didn't yield any more viable scoring opportunities.
"My fastball command was there today," said Duffy, who threw 65 of his 98 pitches for strikes. "Really the only inning that I wasn't happy with was after the long, five-run inning, I came out and I was a little bit stale. But everything was working pretty well."
"He's got a great arm. He throws hard. He has good command," said Konerko of Duffy. "He has enough command of his offspeed pitches that when you have a couple of strikes on you, you have to respect he can throw it for strikes. That just makes the fastball that much more lively. He's one of those guys that his velocity is good, but actually seems a little bit better when you are up there."
Kansas City put together a five-run rally in the first inning against Jose Quintana on Friday, but Saturday's uprising came three innings later.
Billy Butler walked, and Alex Gordon and Salvador Perez singled to load the bases. That was followed by Garcia's fielding error on Lorenzo Cain's hard-hit, but still potential double play grounder, which scored two. Moustakas blooped a catchable single in left-center near Dayan Viciedo to score a third run, and Omar Infante's single raised the lead to five.
That inning alone would have stood up behind Duffy, but the Royals added one in the eighth on Moustakas' homer and three more in the ninth off of Daniel Webb, with Butler going deep. Noesi's two-game win streak came to an end, as he struck out four and walked one in pitching around the defensive lapses.
"I can't control that. Every team I think has a few days that are not good," said Noesi, who couldn't reach the five-inning mark for the second time in nine starts. "I made good pitches down and they hit them."
The White Sox appeared to score a run in the eighth, when Viciedo's single to right brought home Adam Eaton just ahead of Nori Aoki's throw. But a manager's challenge from Yost brought a replay review and the call was overturned, with Eaton ruled out as Perez tagged him before Eaton's hand caught the plate.
Konerko ended the shutout bid in the ninth with his fourth homer of the year and the 438th of his career, tying Andre Dawson for 42nd on the all-time list.
"If there's a highlight, Paul had it," said Ventura of Konerko, who picked up his fifth multihit game this season. "He's swinging it against lefties. It's not an easy thing to do. For him, all the accolades and everything else, this is one of those tough things he's doing and he's doing it very well."
For a team that has played pretty decent baseball this season, the White Sox have a few odd statistics attached to their name. They have an 0-11 record on Saturdays this season, not to mention a 5-12 record in three-game series and a 9-14 record in second games of those three-game sets.
Ventura's squad has never been dipped below three under .500 in 2014, where they stand now at 33-36 via three straight losses. They will have to conquer James Shields to avoid that low watermark Sunday.
"We lost a couple now, three in a row," Konerko said. "Hopefully it ends tomorrow. Good teams and good hitters are going to get their hits. [The Royals] are obviously doing that right now, but we have to try to stop the bleeding tomorrow."
Scott Merkin is a reporter for MLB.com. Read his blog, Merk's Works, and follow him on Twitter @scottmerkin. This story was not subject to the approval of Major League Baseball or its clubs.