Big inning backs dominant Duffy to clinch series
Royals capitalize on White Sox miscues in five-run fourth frame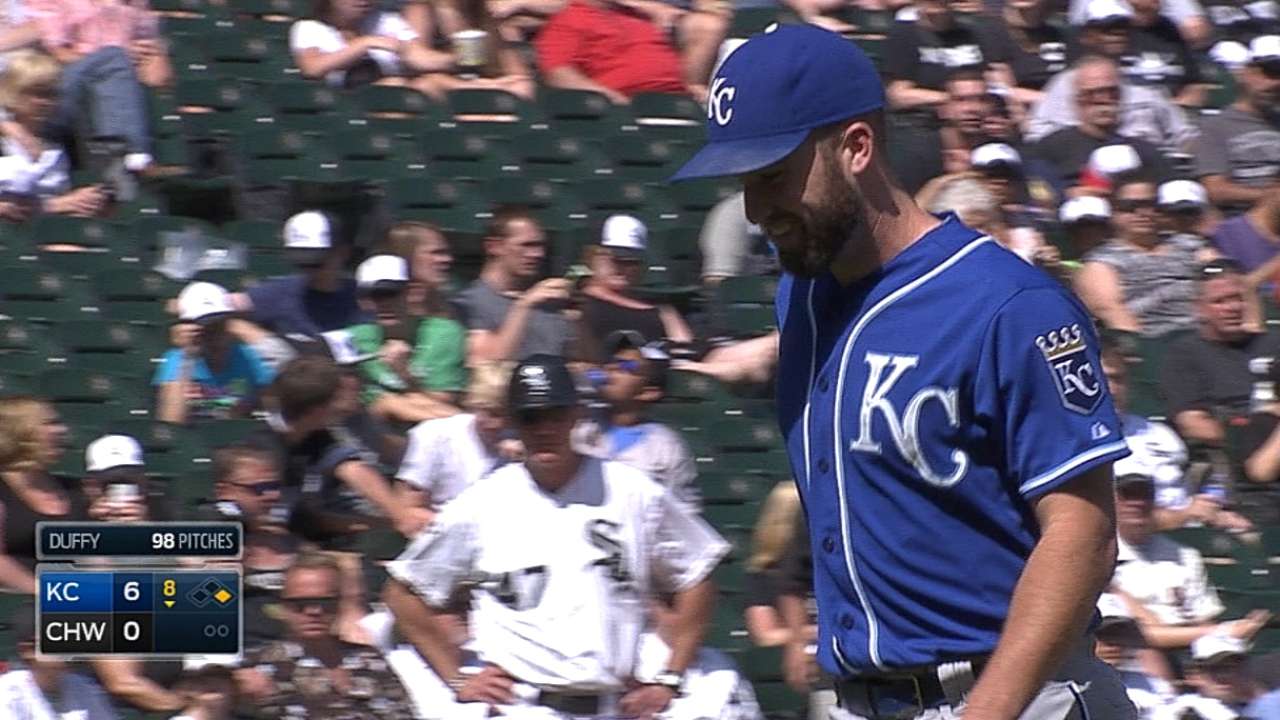 CHICAGO -- By all accounts, Danny Duffy put together a strong outing on Saturday in Chicago.
Home or away, night or day, April or September, seven scoreless innings is seven scoreless innings. But Saturday's successful outing meant more than that to Duffy, who had a negative memory weighing on his mind. Using excellent command and his full arsenal of pitches, Duffy obliterated any lingering doubts caused by what happened the last time he pitched here.
Duffy's start Saturday was his first at U.S. Cellular Field since May 13, 2012, when he sustained an elbow injury that led to Tommy John surgery. His triumphant return to the South Side vaulted the red-hot Royals to their sixth consecutive win, a 9-1 victory over the White Sox before 24,527 fans.
"I was definitely thinking about it, because this is something that I've been waiting to come back here for a long time," Duffy said. "And not necessarily against any anybody, it's just nice to get out there and do my job in this city and in this setting. Personally, there was a little bit more to it for me, but we're just happy that we're hot right now.
"We're happy that team is really rolling right now. It was good -- it was a great day."
Saturday's start is the latest in a string of three straight impressive outings by Duffy after he suffered through a dead-arm period. He surrendered 10 earned runs in 10 innings over his final two starts of May, but on Saturday, he lowered his ERA in three June starts to 1.45. Duffy's WHIP in those starts is an impressive 0.86, and he has 18 strikeouts in 18 2/3 innings.
"Danny's been throwing the ball outstanding the last couple outings. It's really fun to see him kind of develop into a starting pitcher," said first baseman Eric Hosmer. "Early on, he's got great stuff and he would go out there first couple innings putting up 96, 97 [mph], not really knowing where it's going. And now he's consistently 93, 94 the whole game, spotting up, throwing offspeed pitches for strikes. When he's throwing strikes, he's getting ahead in the counts, he's tough to face."
Duffy scattered five five hits, at no point allowing back-to-back hits, and the one walk he issued came with two outs in the first inning. After Paul Konerko singled with two outs in the fourth, Duffy surrendered his only extra-base hit of the day, a double by Moises Sierra. He retired Tyler Flowers on a grounder to short, a play Hosmer completed with a nice pick on Alcides Escobar's throw in the dirt.
"He just did a great job. His stuff is so good," Royals manager Ned Yost said of Duffy. "He had everything working. His fastball, his breaking ball, he had a good changeup and he had a really, really good defense behind him. Moose [Mike Moustakas] made some great plays.
"The play that really kind of goes unnoticed is Hos' pick at first base. That probably saved two runs for us there."
Meanwhile, the Royals offense was opportunistic. It took advantage of a key error by third baseman Leury Garcia in the fourth that opened the gates for three unearned runs. The five-run outburst in that frame backed Duffy, who tied a career high with nine strikeouts.
Billy Butler walked, and Alex Gordon and Salvador Perez followed with singles to load the bases with nobody out opening up the fourth. Lorenzo Cain then chopped a grounder to third that went between the legs of Garcia, scoring two runs.
Moustakas drove home a run with a bloop single to left that the wind blew toward the infield and out of the reach of a diving Dayan Viciedo. He scored two batters later on Nori Aoki's double play grounder, and Omar Infante capped the scoring with an RBI single.
"When we got to the fourth, to be able to put five runs on the board was big, and we've had a couple of big innings the last week or 10 days," Yost said. "Earlier in the year, we'd get something going and we'd get one or two out of it. Now, when we're swinging the bats better, we're getting four or five."
Every hitter in Kansas City's lineup except Cain picked up a hit, six had two hits and Moustakas topped the group with three. Moustakas, in particular, has been hitting lately and seems rejuvenated since he was recalled from Triple-A Omaha on June 1.
With two outs in the eighth, Moustakas clobbered a fastball from Scott Downs into the seats in right for his sixth homer and a 6-0 Royals lead. He's hit safely in five of his last six games, during which he's batted .364 (8-for-22) with two home runs and five RBIs.
"I've felt pretty good the past couple of weeks. Been hitting the ball hard; just because a couple balls fell doesn't mean I felt any better," Moustakas said. "I'm seeing the ball good, hitting the ball hard and that's all I can do."
Kansas City wasn't done, as it added three more off the White Sox bullpen in the ninth. Hosmer drove an RBI double to the gap in left-center, then Butler followed with a two-run blast to extend the lead to 9-0.
The Royals have been clicking in all facets of the game over their last 15 games, going 11-4. Kansas City has averaged 4.67 runs in that span, while Duffy's start extended the recent string of strong starting pitching, as he improved Royals starters to 7-2 with a 2.76 ERA in June. The defense and bullpen, meanwhile, have stayed rock-solid.
"It's always fun when you're winning and got some big innings put together, some big innings lately," Hosmer said. "The way the starters have been pitching, and we're finally playing complete games right now. This team's dangerous when its firing on all cylinders."
Joe Popely is an associate reporter for MLB.com. This story was not subject to the approval of Major League Baseball or its clubs.