Anderson's spotless run ends against Dodgers
Rookie labors through five innings; Gosewisch notches three hits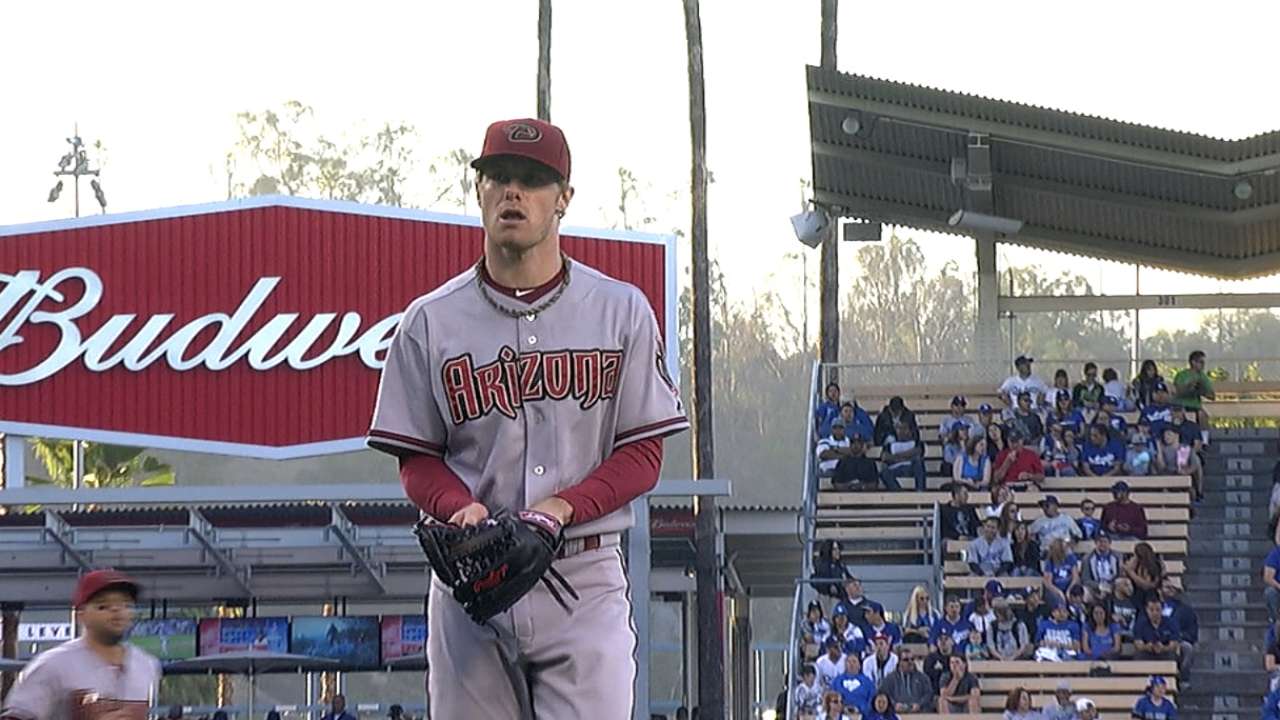 LOS ANGELES -- Chase Anderson didn't get the win Friday night, but the D-backs right-hander did walk away with the respect of his teammates.
Without his best stuff, the rookie found a way to keep his team in the game before they fell, 4-3, to the Dodgers at Dodger Stadium.
You can bet that Dodgers ace Clayton Kershaw had this date circled on his calendar for almost a month.
Kershaw, who was battered by the D-backs for seven runs in just 1 2/3 innings on May 17, was his Cy Young self against them Friday night, as he scattered eight hits over seven innings to win his third straight start and improve to 6-2.
The D-backs had their chances against Kershaw but could not cash them in, stranding seven batters during Kershaw's time on the mound.
"It was a very stressful game," said Kershaw. "They had guys on base the whole night. That's a good team. Offensively, tough to go through. They lost [A.J.] Pollock. It's a tough lineup and you know you're in for a challenge. I struggled at times with certain pitches, and you pay for every mistake."
The eight hits that Kershaw allowed were more than the D-backs got against him in the earlier blowout, but they were missing the knockout punch.
"The thing is, you've got to make it hurt," D-backs manager Kirk Gibson said of having a lot of runners on base. "Pressure's one thing. The last game we beat him, we plated some runs. We didn't do that as good today. Left a lot of guys on base. You've just got to cash in on those opportunities."
Anderson was chasing his sixth victory in six big league starts, but he lacked command of his fastball, which forced him to pitch out of constant trouble.
"We fell behind some hitters and threw a lot of pitches and you know what, he battled," catcher Tuffy Gosewisch said. "He battled really well. We got five innings out of him, only gave up two runs. Some nights you're not going to have it, but I thought he showed a lot out there. It could have gotten out of hand, but in crucial situations he made big pitches."
There was one pitch Anderson would have liked to have back -- a 2-1 changeup to Matt Kemp in the second inning that ended up over the wall in left-center to give the Dodgers a 2-0 lead.
"Just a bad changeup," Anderson said. "I left it up and he got it. A bad pitch, middle, down the middle. If you do that, those guys will make you pay for it. Take that pitch back and I feel I could go a little farther into the game."
The Dodgers worked Anderson hard, and the right-hander was done after just five innings and 100 pitches, only 56 of which went for strikes.
"I didn't have fastball command to start. Going into the game, just didn't establish early and put myself in some holes and had to battle out of those."
Trailing 3-1, the D-backs made things interesting late.
Gosewisch capped a 3-for-4 night with an RBI single in the eighth that cut the deficit to 3-2.
And after the Dodgers tacked on a run in the eighth, the D-backs rallied against closer Kenley Jansen in the ninth.
Aaron Hill delivered his second RBI of the game in the game with a single to left that scored Gerardo Parra and put runners at first and second with just one out.
Jansen, though, retired Martin Prado and Cody Ross to record his 18th save.
"I thought we swung the bats pretty well," Gosewisch said. "Didn't capitalize on some opportunities, but it was a well-fought game on both sides and we just came out on the wrong end."
Steve Gilbert is a reporter for MLB.com. Read his blog, Inside the D-backs, and follow him on Twitter @SteveGilbertMLB. This story was not subject to the approval of Major League Baseball or its clubs.