Kershaw, Kemp's homer help keep D-backs on ice
Lefty fans seven in seven innings; Jansen hangs on for 18th save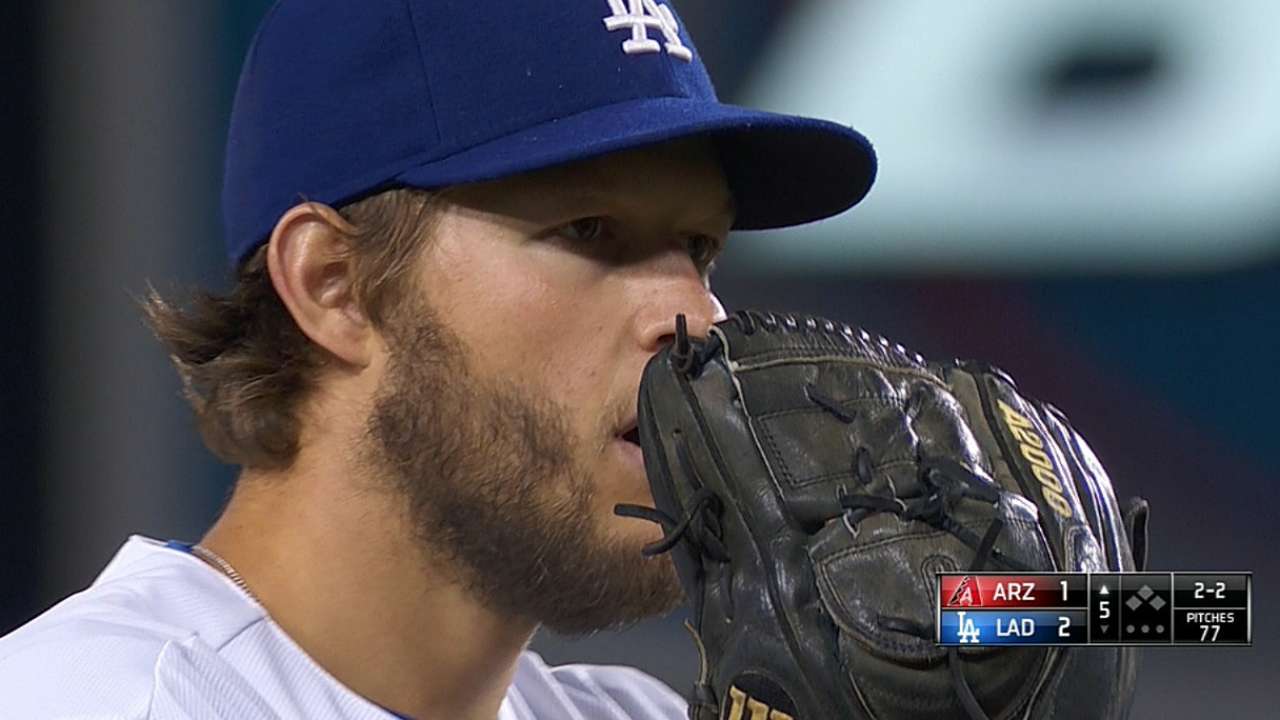 LOS ANGELES -- Dodgers fans who haven't celebrated a championship of their own since the Reagan Administration celebrated the Kings' Stanley Cup championship Friday night at Dodger Stadium.
They were also pleased that the Dodgers hung on for a 4-3 win over the last-place D-backs.
With Hanley Ramirez (two hits and a walk) back from his cortisone shot in a shoulder joint and A.J. Ellis (a single and two walks) back off the disabled list, the Dodgers rode Matt Kemp's first homer in a month and seven solid innings from Clayton Kershaw, improving to 9-3 against Arizona this year.
Kershaw (6-2) struck out seven relying on sliders and curves, with six of the strikeouts coming on called third strikes. It was his third consecutive win and an effective follow-up to his rain-shortened five-inning complete-game win in Colorado on Sunday.
"It was a very stressful game," said Kershaw, who was pushed around for seven runs in 1 2/3 innings the last time he faced the D-backs. "They had guys on base the whole night. That's a good team. Offensively, tough to go through. They lost [A.J.] Pollock. It's a tough lineup and you know you're in for a challenge. I struggled at times with certain pitches, and you pay for every mistake."
Kemp's offense and Kershaw's pitching had to share the spotlight with second baseman Dee Gordon's back-to-back glove gems in the fifth inning, robbing Gerardo Parra up the middle with a jump throw then Paul Goldschmidt with a diving stop.
"Those plays were a bonus for me," Kershaw said. "It kept my pitch count down and I was able to make it through seven."
Kemp followed Adrian Gonzalez's walk leading off the second inning with his sixth home run of the season, snapping a 26-game homerless drought, tied for the second-longest stretch of his career. The two-run shot moved Kemp ahead of Shawn Green for seventh on the all-time L.A. home-run list with 163.
Arizona responded with a run in the third with a leadoff double by Chris Owings and a two-out RBI double by Aaron Hill just inside third base. The D-Backs had 13 hits but stranded a dozen.
"The thing is, you've got to make it hurt," Arizona manager Kirk Gibson said of his club's missed chances. "Pressure's one thing. The last game we beat [Kershaw], we plated some runs. We didn't do that as good today."
The Dodgers scored an insurance run in the seventh on Ramirez's double, a groundout to the right side by Yasiel Puig and an RBI single by Gonzalez.
Arizona cut the lead in the eighth off Brian Wilson on hits by Aaron Hill, Martin Prado and Tuffy Gosewisch, but J. P. Howell put out the fire.
The decisive run scored in the eighth. Ellis singled, was bunted to second by Chone Figgins, then ran through third-base coach Lorenzo Bundy's stop sign to score on a pinch-single from Justin Turner.
"I couldn't stop coming around third, that's for sure," said Ellis. "I saw Lo throw up his stop sign for me, and I just had the brief thought of me trying to plant, stop and retreat to third. I figure I'd take my chances, which probably wasn't a wise decision with one of the best-throwing outfielders out there in right field, but fortunately the throw was off line, and it was a big run for us."
Turns out that wasn't the first stop sign Ellis has run through.
"I ran through one when I was 16 years old right when I got my license," he joked. "That was really bad. I got grounded for a week. My mom was mad. But other than that, usually that turns out badly for me on the baseball field."
Turner didn't start because of calf tightness and came out for a pinch-runner. He is 8-for-14 with runners in scoring position since May 31.
Arizona scored a run in the ninth off Kenley Jansen, who notched his 18th save despite allowing three baserunners.
Ken Gurnick is a reporter for MLB.com. This story was not subject to the approval of Major League Baseball or its clubs.