Polanco's first homer punctuates Bucs' win in 13
Two-run shot caps rookie's five-hit game after 'pen walked six in ninth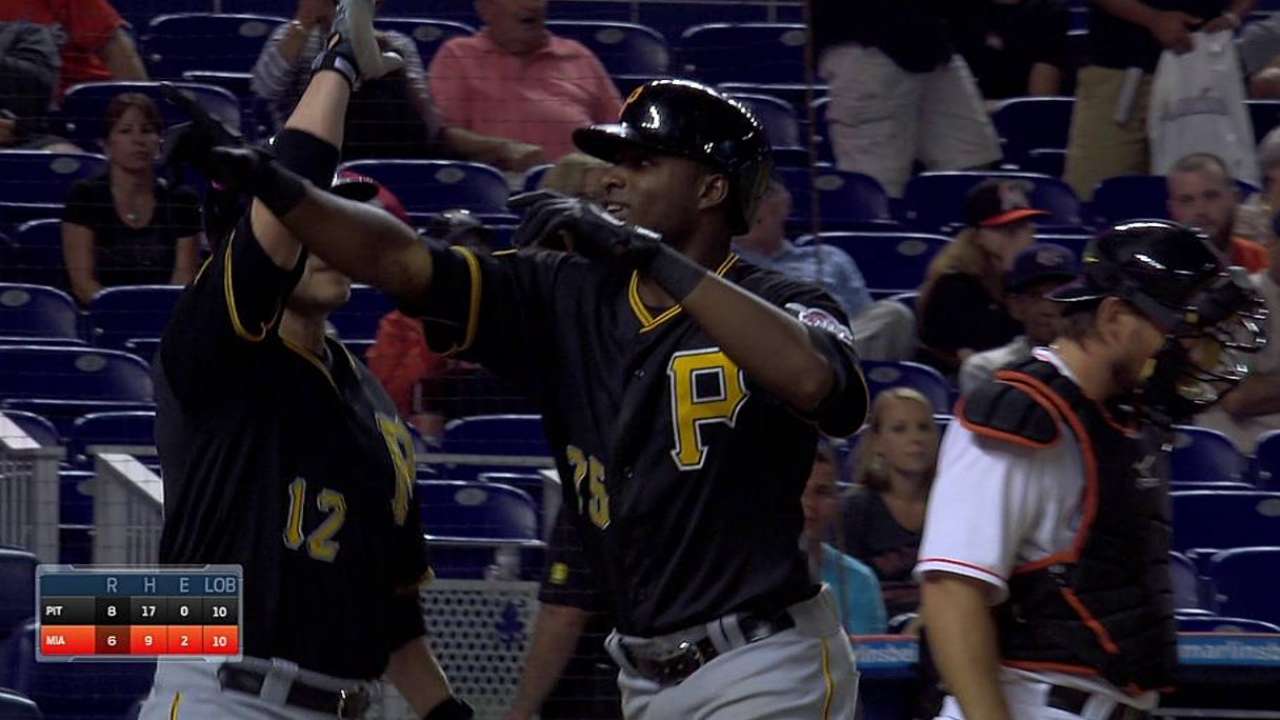 MIAMI -- The Pirates' offense started and ended with rookie Gregory Polanco on Friday night at Marlins Park, as the outfielder led his team to a 8-6 win over the Marlins courtesy of his first big league homer, a two-run shot to right-center field in the 13th inning.
And he did it -- part of a 5-for-7 performance in his fourth career start -- with his mom watching from the stands.
"This is my best game ever," Polanco said. "It's the first time she's here, watching me play in the Majors. I was excited."
Reliever Jeanmar Gomez got the win for the Bucs. He threw all four extra innings and limited the Marlins to one walk and one hit.
Friday night was shaping up to be an easy win for the Pirates. They were leading 6-2 in the ninth, their dream outfield was dropping hits everywhere and starter Jeff Locke threw a career-high eight innings.
But all of that success was buried by the Marlins' six-walk, four-run comeback in the ninth inning.
Pittsburgh's comfortable lead disappeared when manager Clint Hurdle had to make three calls to the bullpen. The Marlins sent up 10 hitters, drew those six walks (one intentional) and scored four runs in the inning -- all on one hit.
"Nobody's going out there to walk guys," Hurdle said. "People are going out to get outs. It didn't happen. You keep playing. You rip off the rearview and you keep playing forward. That's what we had to do tonight."
Justin Wilson started the ninth, but only stayed for one-third of it after giving up two walks. Jason Grilli then couldn't shut down the bottom of the Miami order. He issued two walks, allowed a run to score on a fielder's choice and gave up a single to put the Marlins within one run of a tie.
Mark Melancon, who entered the night with a 2.03 ERA and 13 holds, couldn't stop the Marlins from tying the game at 6, as he walked former Pirate Casey McGehee with the bases loaded. Melancon sent the game to extras by striking out Marcell Ozuna, who had walked to lead off the inning.
All of that after it took just six pitches for the Pirates to take the lead.
From the first pitch of the game, the Pirates seemed determined to play like they hadn't arrived in Miami at almost 4 a.m. Friday morning. They put up 11 hits and six runs on the board in the first five innings, led by their outfielders and top of the order. Polanco, Starling Marte and Andrew McCutchen combined to go 11-for-21 with six runs scored and two homers in the game.
It was Polanco who started it all by lining a 98-mph pitch over the glove of Marlins shortstop Adeiny Hechavarria. He went on to notch the first multi-hit game of his young career.
Then Marte, who had his second four-hit night of the season, crushed Nathan Eovaldi's sixth pitch of the game over the left-field fence for a two-run lead.
Eovaldi, whose wife was expecting the birth of his first child in Texas at any moment on Friday, gave up four straight hits in his first 16 pitches. One of those was to McCutchen, who extended his hitting streak to nine games and was 2-for-7.
The Pirates tagged six earned runs on Eovaldi, who threw 98 pitches in 4 2/3 innings.
Lost in the shuffle was Locke, who was making his first road start of the season. In eight innings, he gave up two runs. He also struck out seven in 101 pitches and gave up nary a walk.
"That's efficient," Hurdle said. "That's 100 pitches in eight innings. He had one three-ball count the entire time he was out there."
But before Locke settled in, he kept letting the Marlins get too close for comfort.
In the third, he let them get within a run for the second time of the game by allowing a two-out homer to Giancarlo Stanton, who now has a National League-leading 18 on the year. The game would have been tied if Polanco hadn't correctly read the ball off the bat of Reed Johnson and made a diving catch to keep him off bases ahead of Stanton.
"It's crazy how games get played out," Hurdle said. "If games get played out that way, then that happens."
With the win, the Pirates managed to lift a curse of sorts. They'd lost 11 straight games on Friday the 13th.
Maria Torres is an associate reporter for MLB.com. This story was not subject to the approval of Major League Baseball or its clubs.