Royals boost Guthrie with five-run first inning
Five consecutive hits in opening frame help gain ground in AL Central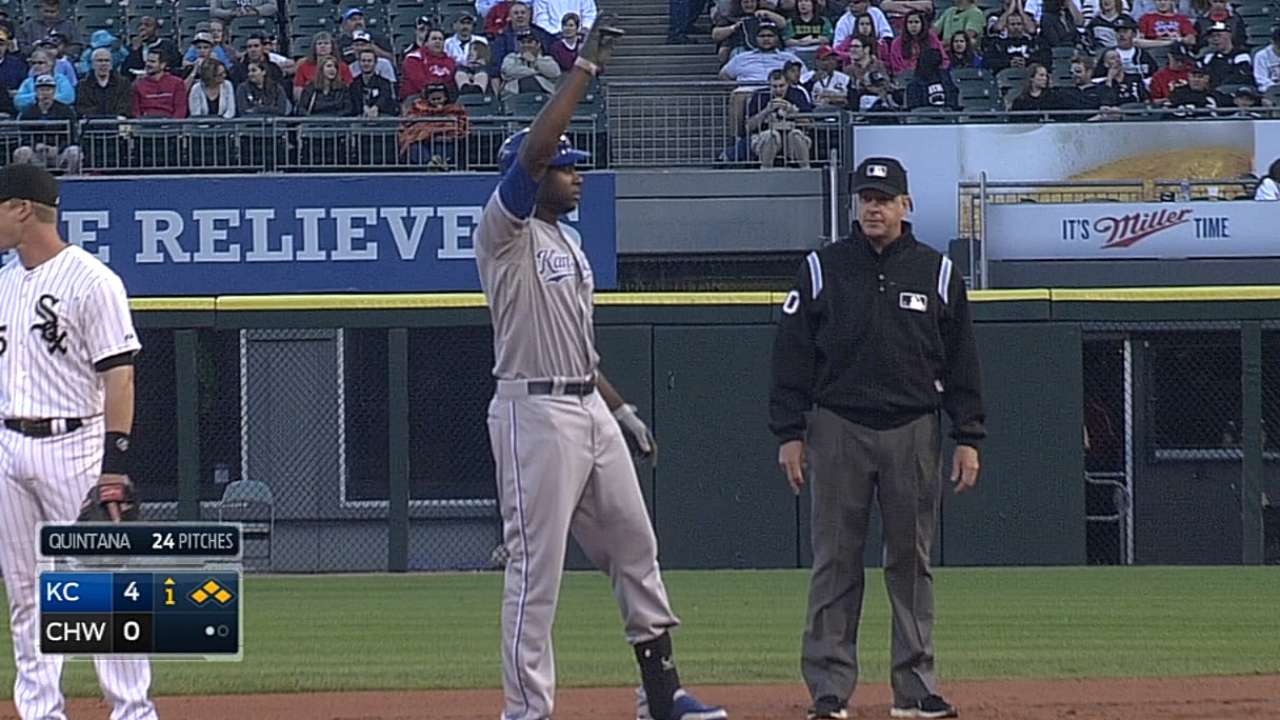 CHICAGO -- Before Friday night's 7-2 victory, the Royals' hitters had been looking for the right way to apologize to Jeremy Guthrie.
The right-hander entered Friday on an 11-game winless streak, and he was not to blame for the drought. Kansas City had scored just five runs total in his past five outings, in which he posted a 3.09 ERA over 35 innings. Since April 16, Guthrie's 2.59 run support average was the lowest in the American League and fourth-lowest in MLB -- that is, until Friday.
Kansas City's lineup on Friday emphatically provided Guthrie with a big cushion before he even took the mound. The Royals scored five times in the first inning and went on to win their fifth straight, this time over the White Sox at U.S. Cellular Field.
"Just get him some runs; that's all we wanted to do," Royals manager Ned Yost said. "This is probably the worst start that he's had during this whole streak. He's been really, really efficient, really commanding his pitches well. The first three innings he made big pitches when he needed to, to limit the damage, which was huge."
The Royals opened the game with five straight hits -- the first four of them singles -- off White Sox starter Jose Quintana. RBI singles by Eric Hosmer and Billy Butler and a run-scoring double by Alex Gordon made it 3-0 Royals, and Lorenzo Cain's two-run double two batters later completed the five-run frame.
"I wanted to throw good pitches, but I missed a lot with location. A little bit high, too," Quintana said. "The first inning was a terrible inning for me, but I came back after."
Chicago responded with a run in the bottom of the inning on Jose Abreu's sacrifice fly. Kansas City then took a 6-1 lead on Hosmer's sac fly in the second.
"It was nice," Hosmer said of giving Guthrie a big lead early. "As an offense, that's what we're trying to do. He probably didn't have his best stuff tonight, but he had a nice cushion to work with, and he grinded it out tonight. That's what you do when you're a starter."
Guthrie needed 110 pitches to make it through 5 2/3 innings. He retired the side in order just once (the fifth) but stranded seven baserunners by working out of several jams created by a lack of command.
Guthrie loaded the bases to open the second on singles by Alexei Ramirez and Dayan Viciedo and a walk of Alejandro De Aza. After striking out Tyler Flowers, Guthrie walked Adam Eaton to force home a run, but he escaped further damage with a strikeout of Gordon Beckham and flyout by Conor Gillaspie.
With two outs in the fourth, Eaton singled and Gurthrie plunked Beckham, but Gordon saved Guthrie by making a nice sliding grab on Gillaspie's liner to left.
"That's a two-run double, single, triple potentially if he doesn't make that diving catch, but that's what Alex does 99 out of 100 times for us, is makes a great play," Guthrie said.
After De Aza singled with one out and Eaton walked with two, Yost yanked Guthrie for Aaron Crow, who got Beckham to pop out on the first pitch. Afterward, Yost said he was happy Guthrie was able to make it past the fifth inning, considering that the righty needed 74 pitches to get through three.
"I don't think I felt very comfortable ever, the way that I started," Guthrie said. "It was nice to have a quick inning in the fifth, but that was really probably the only inning that I really felt confident about what I was doing out there tonight. It was a battle."
Guthrie's ability to grind through 5 2/3 innings, along with his nine strikeouts -- tying his most as a Royal -- had Yost calling Guthrie's start a "tremendous game."
"There's a lot we control as pitchers, a lot we can do to keep the momentum on our side in those other games, but really despite what we may do, the win-loss isn't always dependent on the pitcher's effort," Guthrie said. "This is a very ironic way to pick up a win after a long stretch: not pitch very well, not pitch too deep in the game but do enough to help the team win."
Kansas City added a run in the seventh on Butler's second RBI single of the night. Omar Infante picked up his third single of the evening with one out, and Butler drove him in after Hosmer walked. The Royals' one though four hitters went 8-for-16 with six runs scored and four RBIs.
Though the Royals entered Friday night's game with a much-needed 10 homers in their previous 13 games, they scored seven runs on Friday without one. Eight of their 12 hits were singles, showing the lineup's versatility. Things have clicked since Dale Sveum took over as hitting coach two weeks ago and stressed the importance of forcing the opposing pitcher to elevate the ball. Hosmer noted that Kansas City did so from the onset on Friday, punishing a couple of high sliders from Quintana to set the tone.
"We've been doing a good job. We've been disciplined at the plate," Hosmer said. "Guys are working walks, guys are working good at-bats, so we've just got to keep it going."
The win put the Royals (34-32) two games over .500 for the first time since April 30. Kansas City has won eight of its past 10 games, and it is finally starting to resemble the team that last season challenged for a Wild Card berth and finished with the club's first winning record since 2003.
"We're playing good baseball, but we still have plenty more to improve on and get better at," Guthrie said. "It's a long, long season, so we're hoping to stay healthy and hoping to be able to do what we're doing the last week and a half, two weeks."
Joe Popely is an associate reporter for MLB.com. This story was not subject to the approval of Major League Baseball or its clubs.