Smyly turns in sharp start, but big hit eludes Tigers
Struggles continue for first-place Detroit despite lefty's strong outing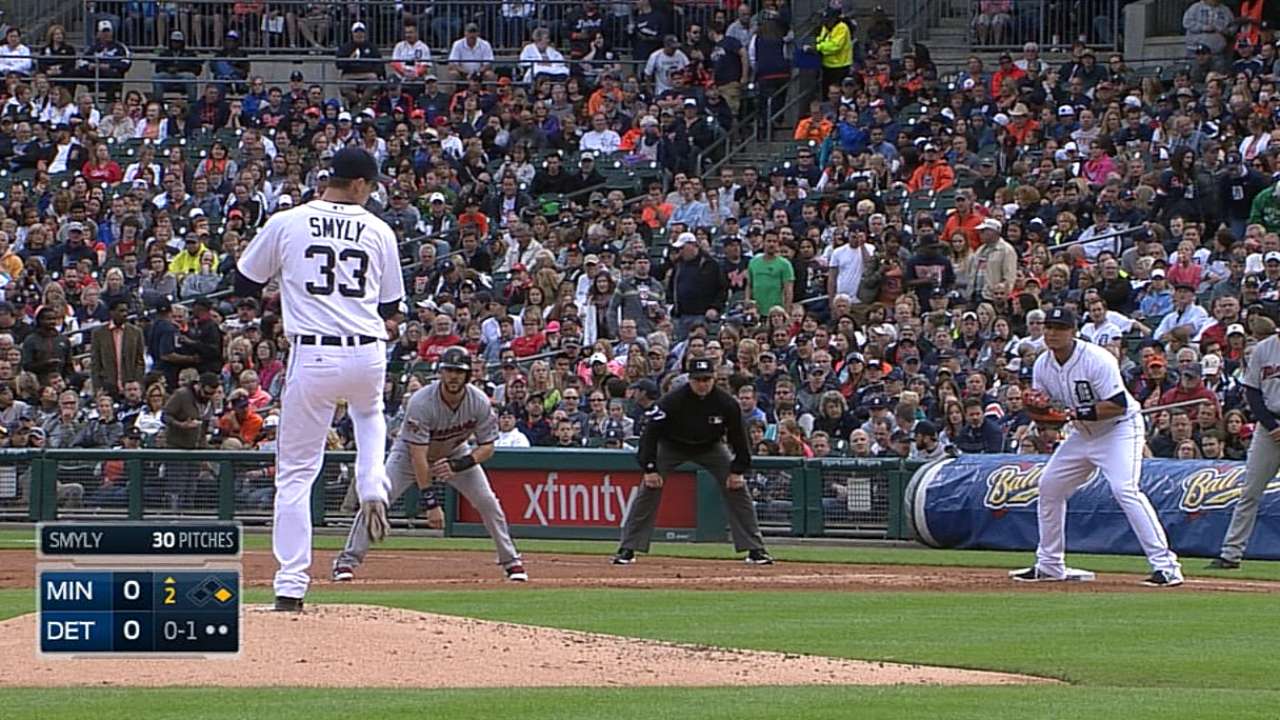 DETROIT -- Drew Smyly escaped a bases-loaded jam in the third inning by striking out Kendrys Morales, the red-hot slugger who just signed with the Twins five days ago, and retiring Oswaldo Arcia. His downfall in Friday's 2-0 Tigers loss to the Twins was the solo home run he gave up to ninth-hitting infielder Eduardo Escobar to start the inning.
"That's what kind of hurts the most," Smyly said afterwards. "You're down 1-0 on the brink of losing [because] you give up a 1-2 hanging curveball to the nine hitter for a home run."
The downfall of the offense trying to support him, by contrast, came with the situation they couldn't have set up better if they could script it. They had the bases loaded with one out in the fifth inning and two-time MVP Miguel Cabrera at the plate against Kyle Gibson, a pitcher the Tigers pounded for six runs in two-plus innings a month ago.
Two pitches later, Gibson was headed back to the dugout with his lead intact, having induced Cabrera to swing at what he thought was a fastball out of the hand but ended up being a sinker for an inning-ending double play.
"His sinker worked very well tonight," Cabrera said.
If those sights weren't fitting enough for the way the Tigers and Twins have trended in opposite directions lately, the sight of Joe Nathan -- once the Twins' dominant closer -- being pulled by Tigers manager Brad Ausmus in the ninth inning capped it. He entered trying to hold a 1-0 deficit and didn't give up a hit, yet walked in an insurance run when he missed on back-to-back fastballs to Escobar.
These are the moments defining the Tigers' past spin. One night after the Tigers turned one big swing off Chris Sale and add-on runs off the White Sox bullpen into a desperately needed win in Chicago, they never found the hit off Gibson on a night when Smyly gave them every opportunity to turn one hit into a lead.
"It's everything," Don Kelly said. "When we've pitched, we haven't hit. When we've hit, we haven't pitched. It's just not going together right now. But it'll turn around. We just have to keep grinding it out.
"When you're pitching well and then you're not hitting, or you're hitting and you're not pitching well, it's just not going together. But that's why you play 162. We still have 100 games left, or close to it. We've got a long season left. It's not time to hang our heads because we've hit a rough stretch."
They have 99 games left, to be exact, which softens the blow of what was a double-digit lead atop the American League Central now whittled to 1 1/2 games following the Royals' win over the White Sox.
Even so, the Tigers' struggles have lasted longer than anyone would've expected out of a midseason slump. They've gone 7-17 since their 27-12 start, winning consecutive games just twice while losing three in a row on four different occasions.
"Seems like we take a step forward, then two steps back," Ausmus said. "I'd like to see us take about five steps forward, and one step back."
A Tigers offense that was leading the Majors in hitting at one point last month has been held to two runs or fewer in 10 of those 17 losses, with Friday being the third shutout.
"The big hits for us right now are solo home runs and the occasional two-run homer," Ausmus said. "We're just not getting that blow-it-open hit right now. Guys are getting their hits."
It was the pursuit of that game-breaking hit that led Ausmus, at least initially, to put down a bunt sign for leadoff man Ian Kinsler with two men on and nobody out in that fateful fifth inning. It was an interesting move for a hitter whose average sat at .300 a week ago, but who stepped to the plate in a 1-for-15 slump.
The sign, however, was supposed to be pulled.
"Actually I had him bunting first-pitch, but I took it off," Ausmus said. "There was a sign mix-up with [third-base coach Dave Clark] and Ian. He was free to swing. … That being said, it didn't bother me that he bunted anyway.
"Now you're in a situation where, unless something strange happens with Austin Jackson's at-bat, like a lineout double play, you have the guy coming to the plate with men in scoring position that you exactly want, in Miguel Cabrera."
Jackson, batting second with Torii Hunter off, walked to load the bases for Cabrera and raise the tension for Gibson.
"It's a nightmare," Twins manager Ron Gardenhire said.
It ended up being a game-changer, but as an escape.
"We thought we were going to catch him leaning for a slider or a sinker away, and we did," Gibson said.
The sinker was a big pitch all night for Gibson, who delivered seven scoreless innings for the second straight outing and his third shutout performance in his last four starts.
The Tigers went 0-for-7 with runners in scoring position, with Alex Avila as their lone runner to reach third base. Gibson (6-5) also stranded J.D. Martinez and Avila after one-out doubles in the fourth and seventh innings, respectively.
"It's the same thing with any sinkerballer," Kelly said. "He got it elevated last game, but today he kept everything down and pitched really well."
So did Smyly, who escaped his own bases-loaded jam with the middle of the order up in the third inning.
Five batters before Smyly (3-5) struck out Morales, however, he hung a two-strike breaking ball to Escobar, who got the start at second on Brian Dozier's first game off all season. The Tigers never got that run back.
Jason Beck is a reporter for MLB.com. Read Beck's Blog and follow him on Twitter @beckjason. This story was not subject to the approval of Major League Baseball or its clubs.