Gibson dominates as Twins blank Tigers
Righty delivers stellar seven-inning start as Escobar provides offense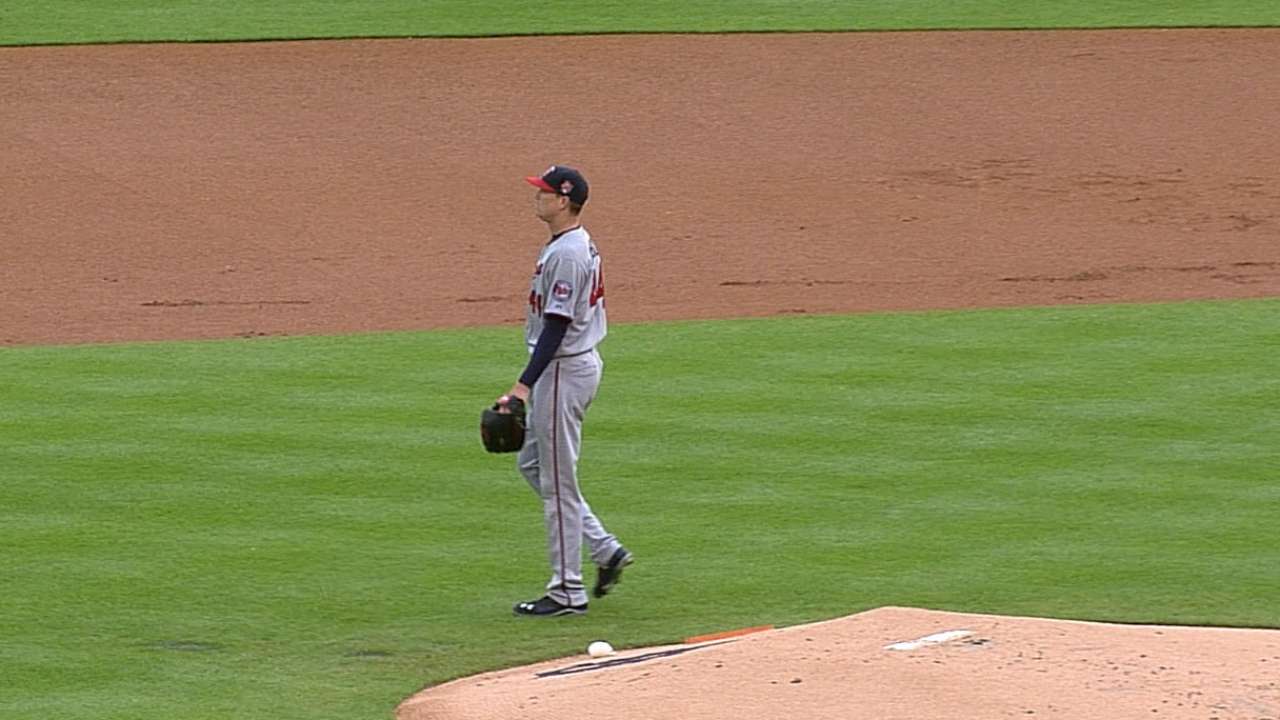 DETROIT -- During the last series between the Tigers and Twins at Comerica Park, Minnesota starter Kyle Gibson threw beach balls.
But these aren't the same Twins. And these certainly aren't the same dominant Tigers.
Minnesota took the series opener from Detroit, 2-0, on Friday behind a stellar performance from Gibson, who threw seven innings of five-hit ball. The Tigers' Nos. 2-4 hitters -- Austin Jackson, Miguel Cabrera and Victor Martinez -- combined to go 1-for-7 against Gibson.
"His ball was moving really nice," Twins manager Ron Gardenhire said of Gibson. "He had them in the defensive mode. You could see them fighting off pitches."
A third-inning solo home run from Eduardo Escobar on a hanging breaking ball from Detroit starter Drew Smyly was enough. Minnesota jumped out of the American League Central cellar with the win, passing the Indians. The Twins' deficit behind the slumping first-place Tigers has shrunk from 6 1/2 games on May 10, Gibson's last start against Detroit, to three games.
That last time Gibson faced the Tigers, he was chased from the game after just two innings, allowing seven hits and six earned runs. Since that disastrous outing, which was on Gibson's mind Friday, the right-hander has compiled a 2.37 ERA over six starts.
"I wanted to get them back and have a little bit better outing than I had the last time I was here," he said.
In the fifth inning, though, it seemed like the road woes that have troubled Gibson this season had returned.
"I think tonight had the likings there in the fifth inning of being the same outings on the road that I've had all year," said Gibson, who had to play the role of escape artist.
Detroit's Nos. 8 and 9 hitters began the fifth by reaching on singles. Leadoff man Ian Kinsler bunted the runners over, and Gibson put Jackson on with a walk, bringing up Cabrera with the bases loaded and only one out.
But Cabrera, who homered off Gibson in the May 10 game, grounded into a double play to end the Tigers' best scoring threat of the night.
"His sinker worked very well tonight," Cabrera said.
For Gibson, it was a near-miss, but he knows the difference between a win and a loss is often just a couple pitches. He executed them Friday, like the 1-0 pitch to Cabrera that thwarted Detroit's rally.
Gibson and catcher Kurt Suzuki hoped to catch Cabrera, the aggressor with the bases juiced, leaning in the big situation. The slugger laid off an outside sinker in the first pitch of the at-bat.
Cabrera nearly jumped out of his pants at the second pitch, but it was inside. He hit it sharply to Trevor Plouffe at third base, who began the 5-4-3 double play.
"I was probably screaming, more than relieved," Gibson said. "It was a big pitch."
Later, in the seventh, Gardenhire mulled replacing Gibson after he gave up a double. The manager's faith in his pitcher, despite his road struggles, paid off when he got two groundouts to third to finish off his night.
"More than anything else, these guys need to learn to pitch in these situations," Gardenhire said. "It's a big situation. The only way you're going to get better in those situations is if we leave him out there. It was his ballgame."
In the ninth inning, Minnesota added on as Escobar, who had scored the game's lone run to that point, fouled off five straight pitches from Joe Nathan during an 11-pitch at-bat that ended in a run-scoring walk.
After the game, asked which at-bat he was most proud of, the solo shot or the walk, Escobar chose the bases-loaded walk.
Closer Glen Perkins allowed a two-out double in the bottom of the frame, but a flyout to center field sealed the game.
With the win, Minnesota pulled to just one game under .500.
"We want to get better as a unit," Gardenhire said. "The only way you can do that is beating teams like this. We held our own tonight. It was a fun win, a great baseball game for us."
Matt Slovin is an associate reporter for MLB.com. This story was not subject to the approval of Major League Baseball or its clubs.