J-Hey day to day with right hand contusion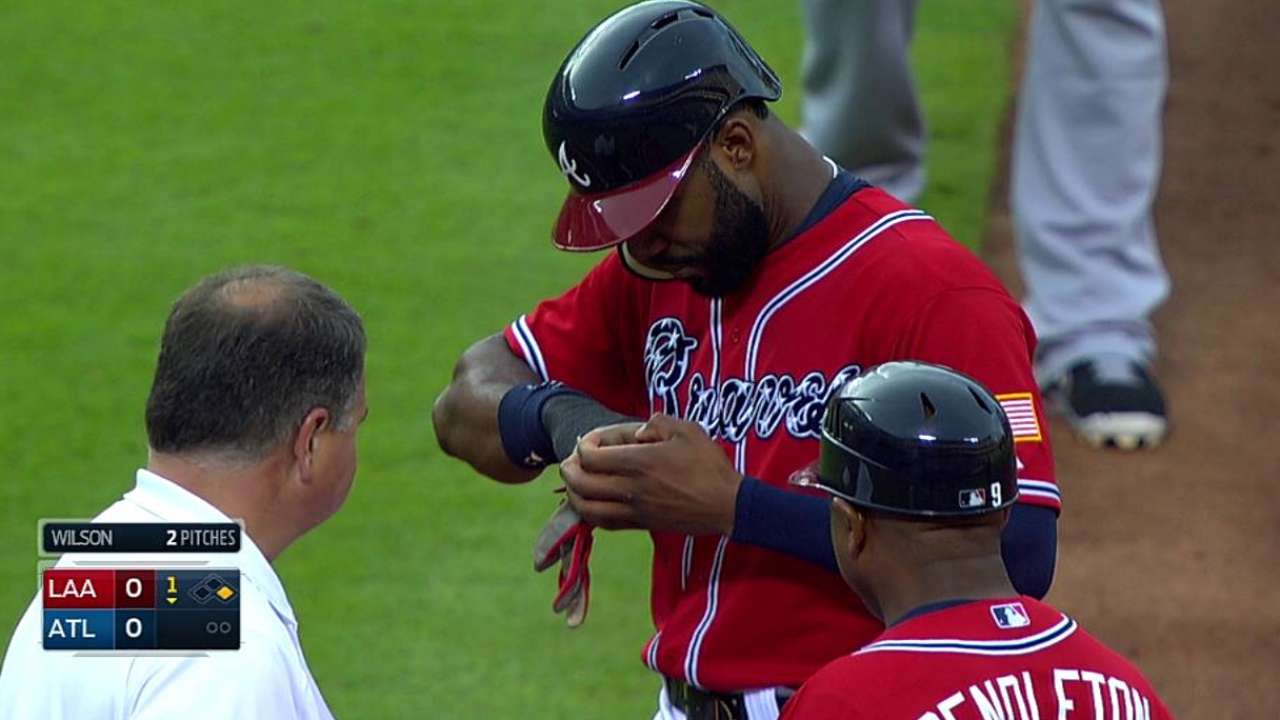 ATLANTA -- Braves right fielder Jason Heyward made an early exit due to a right hand contusion sustained during Friday night's 4-3 win over the Angels.
Heyward was hit on the right hand with an 0-1 pitch from Angels starter C.J. Wilson in the first inning. Heyward stayed in the game and came around to score on Evan Gattis' three-run homer, then played defense in the top of the second before being lifted for pinch-hitter Jordan Schafer in the bottom of half of the inning.
Heyward knew he'd been hit squarely, but he still thought he would be able to stay in the game. Schafer also took Heyward's place in right field.
"When it happened, I didn't feel it a whole lot. It got worse quickly as time went," Heyward said. "I got ice on it right away and I kind of knew I had to be smart about it, and take better care of it. I went out and played 'D' then came out again.
"But when I went back to the outfield, it gradually felt worse so I knew I needed to get some more attention to it, and see if it was broken. It honestly felt worse than I thought it was going to, but X-rays are negative. So ice, rest, and we'll see how it feels."
Heyward, a 2012 National League Gold Glove Award winner, came into the game hitting .254, but he was batting .299 over his last 31 games, having reached base in 28 of those games.
After missing 58 games with several injuries in 2013, the negative X-rays were a big relief.
"Don't want to miss any games," Heyward said. "Broken bones obviously take longer than a lot of things. So it's good news and hopefully, I'll be back out there soon."
Jon Cooper is a contributor to MLB.com. This story was not subject to the approval of Major League Baseball or its clubs.