Bullpen gives up five runs in ninth as Romo blows save
LIncecum throws six strong innings and Morse has another big night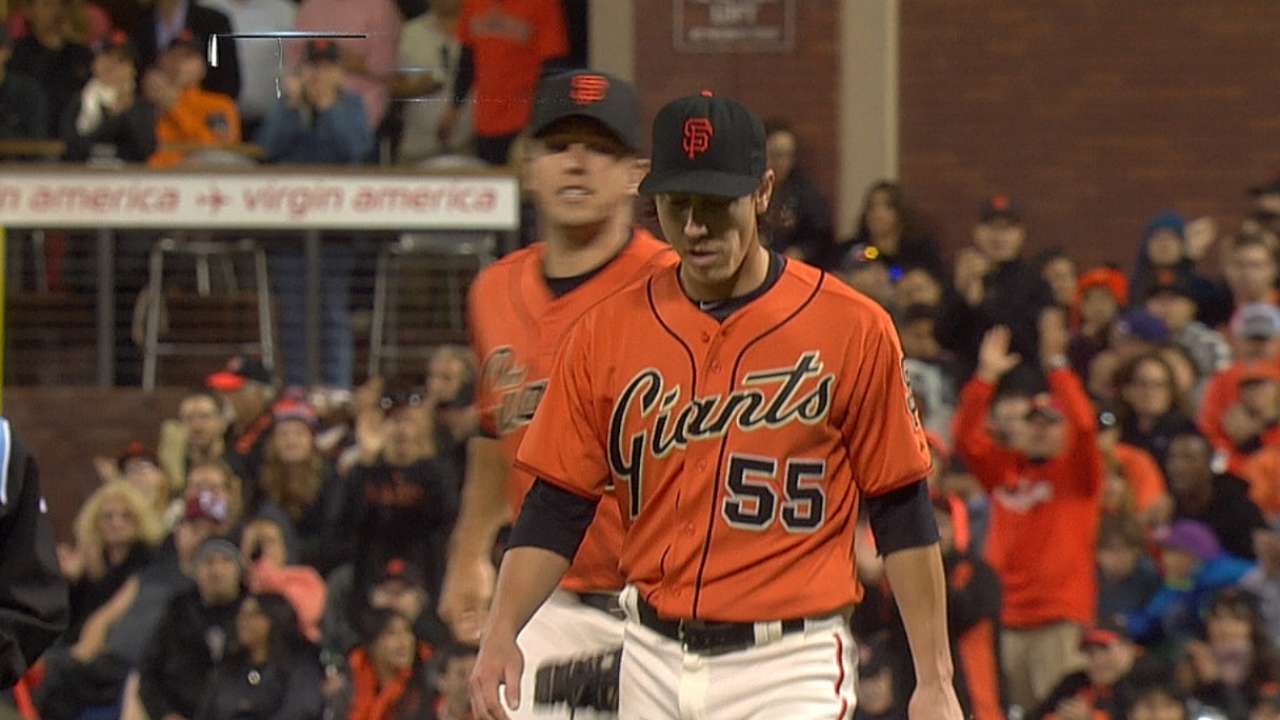 SAN FRANCISCO -- Though Sergio Romo received a blown save and the decision Friday night as the Giants fell to the Colorado Rockies, 7-4, he wasn't the player on the losing side who endured the most trouble throwing the ball in the ninth inning.
That dubious distinction belonged to center fielder Angel Pagan, who made not one, but two, ill-advised throws that enabled Rockies runners to advance to second base. Those lapses in fundamentals eliminated the Giants' chances of escaping the inning had Romo been able to coax a double-play grounder either time.
Pagan's failure to find the proper target combined with Romo's struggles -- the closer allowed four singles to five hitters (one drew an intentional walk) -- to sustain Colorado's five-run rally in the ninth that erased the Giants' hard-earned 4-2 lead and dealt them their fourth defeat in five games.
"It got away from us," Giants manager Bruce Bochy said. "These are never fun to be in."
Troy Tulowitzki and Justin Morneau singled to begin Colorado's uprising in the ninth. Wilin Rosario flied out to Pagan, whose relay went to third base. Pinch-runner Charlie Culberson beat the throw, but allowing Morneau to reach second base on the play was the real mistake. That forced Romo to intentionally walk Corey Dickerson to load the bases, setting up pinch-hitter Ryan Wheeler's two-run single that tied the score and handed Romo his third blown save in 23 chances.
Pagan explained his miscues by saying, "I just play with my instincts."
Bochy wasn't thrilled about walking Dickerson, realizing that he gave Romo no room for error and put the potential go-ahead run on base. The decision, said Romo, reflected "a lot of confidence in me." Nevertheless, Bochy said, "You hate to leave your pitcher in that spot." He added, "I was going to have the other guys beat me, which they did."
DJ LeMahieu singled Dickerson across, a misfortune that Pagan compounded by throwing toward home. That allowed LeMahieu to proceed to second base. In came George Kontos, who surrendered pinch-hitter Michael McKenry's RBI single. The Giants trapped McKenry in a rundown, but LeMahieu scored on the play without drawing a throw because shortstop Ehire Adrianza bobbled the ball.
Colorado extended its winning streak to three games while denting the Giants' 35-0 record when leading after eight innings.
"You have to give [the Rockies] credit," Romo said. Despite being charged with a career-high five runs, he insisted that he lacked neither confidence nor stuff. "They found a way to find the holes. I really have no explanation for it. I thought I made some good pitches. It was their night -- their inning."
Earlier, the evening belonged to the Giants. Michael Morse hiked his two-out RBI total to 25 by singling home Hunter Pence in the third inning and doubling Buster Posey across in the fifth.
Morse's second hit put the Giants ahead, 3-2, and left starter Tim Lincecum in line for his 95th career victory. Pitching two days before his 30th birthday, Lincecum gave himself something to celebrate by limiting Colorado to two runs and three hits in six innings. Lincecum also struck out six, reflecting his mildly increased velocity. He threw two fastballs that reached 94 mph, which was the sort of velocity that has deserted the right-hander in recent years.
Lincecum, whose consistency has eluded him for much of the season, avoided declaring that he had found the secret to his steadiness.
"I'm not trying to get too ahead of myself," he said. "I'm just going to try to ride it.
Chris Haft is a reporter for MLB.com. Read his blog, Haft-Baked Ideas, and follow him on Twitter at @sfgiantsbeat. This story was not subject to the approval of Major League Baseball or its clubs.