Five-run ninth inning gives Rockies third straight win
Early exits of Tulo, De La Rosa put damper on victory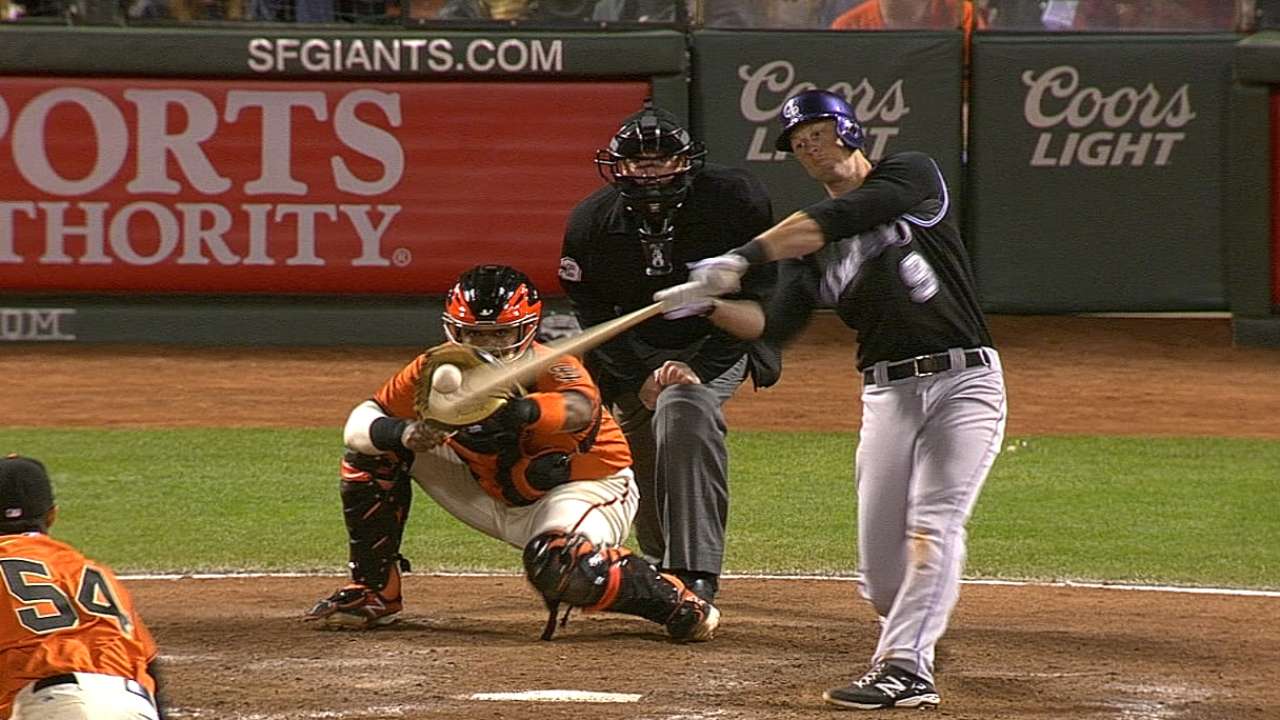 SAN FRANCISCO -- It's not exactly late, but it's getting there for the Rockies. They can't let pain always lead to defeat.
In the opener of a key National League West road trip, starting pitcher Jorge De La Rosa and Major League batting leader Troy Tulowitzki left with injuries, but the Rockies used a five-run ninth-inning rally to take their third straight victory, 7-4, over the Giants at AT&T Park on Friday night in front of 41,258.
"We were down by two in the ninth, but I know those last two games [home victories over the Braves] got us started," said Ryan Wheeler, whose two-run, bases-loaded single tied the game.
De La Rosa left after three innings with a recurrence of lower-back tightness that has been an issue this season, but solid work from relievers Tommy Kahnle, Chris Martin, Matt Belisle (1-2) and LaTroy Hawkins (12 saves) made a victory possible.
Tulowitzki opened the ninth-inning rally with a single to center off Giants closer Sergio Romo (3-2), but left with an injury to the third metatarsal in the right foot (X-rays were negative; he is day to day) and was replaced by Charlie Culberson.
Wheeler's two-run single off Romo -- on a low-and-outside pitch that he reached for and hit hard up the middle -- tied it. DJ LeMahieu and Michael McKenry added RBI singles off George Kontos, and McKenry enticed a pickoff move and started a rundown that allowed LeMahieu to score for a three-run lead.
"After I got picked off, it was planned," McKenry quipped.
"You got to give them credit, they found a way to find the holes," Romo said. "I really got no explanation for that; I thought I made some good pitches. I was trying to compete and I guess it's their night, er, their inning."
The Rockies' sixth victory in the last 21 games came in stunning fashion and at a good time. After going 3-7 on what they thought was going to be a promising homestand, the Rockies (32-35) began a six-game road trip against the NL West-leading Giants and second-place Dodgers with a victory -- just their 15th in the last 50 games at AT&T Park since the start of the 2009 season.
"It's a tough place to play, not only for us but for everybody," Rockies manager Walt Weiss said. "The Giants are always tough at home. To win a game like that, not only the first game of the series, but the way we won it, was big for our club."
The victory over the Giants came on the heels of an emotional 10-3 victory over the Braves, when tempers flared after Braves pitcher David Carpenter hit Corey Dickerson in the eighth inning. This time, the emotion was needed to keep battling after De La Rosa departed early and Tulowitzki left late.
"This team knows what to do and we continue to hold each other accountable and talk about it, but you still have to get it done," Belisle said. "In the end, you've still got to win ballgames.
"Tonight, we kept the fight in, and it worked out."
Injuries continue to be a theme. It isn't clear how much time De La Rosa will miss. The club announced his status as day to day. But his departure comes at a time when three starters -- lefty Brett Anderson (broken left index finger), righty Tyler Chatwood (strained right flexor tendon) and rookie righty Eddie Butler (right shoulder inflammation) are on the disabled list, along with regular outfielder Carlos Gonalez (tumor removed from left index finger) and Michael Cuddyer (fractured left shoulder socket), and third baseman Nolan Arenado (broken left middle finger).
The general malaise that has accompanied the Rockies' injuries seemed as if it was going to continue, at least until the ninth-inning rally.
Giants starter Tim Lincecum held them to two runs on three hits in six innings, and relievers Juan Gutierrez, Jeremy Affeldt, Jean Machi didn't give up a hit. But the Rockies handed Romo his third blown save of the season and second against the Rockies.
The Rockies gained a 2-0 lead on Lincecum in the top of the third. De La Rosa singled with one out, Charlie Blackmon walked and Drew Stubbs singled to load the bases. Tulowitzki popped out in the infield, but Morneau drove in two runs with a single before Wilin Rosario's grounder ended the inning.
De La Rosa gave up two runs on four hits in the third. Angel Pagan doubled and Hunter Pence singled him home to open the inning. De La Rosa received attention on the field for his sore back while facing Michael Morse, who singled in the tying run.
Kahnle replaced De La Rosa and gave up one run on two hits in a career-high three innings.
"Seeing him [De La Rosa] go out was really a big blow for us, but it was really nice to go in there and keep us in the game," Kahnle said.
Thomas Harding is a reporter for MLB.com. Follow him on Twitter @harding_at_mlb. This story was not subject to the approval of Major League Baseball or its clubs.