Mejia reports improvement in stiff back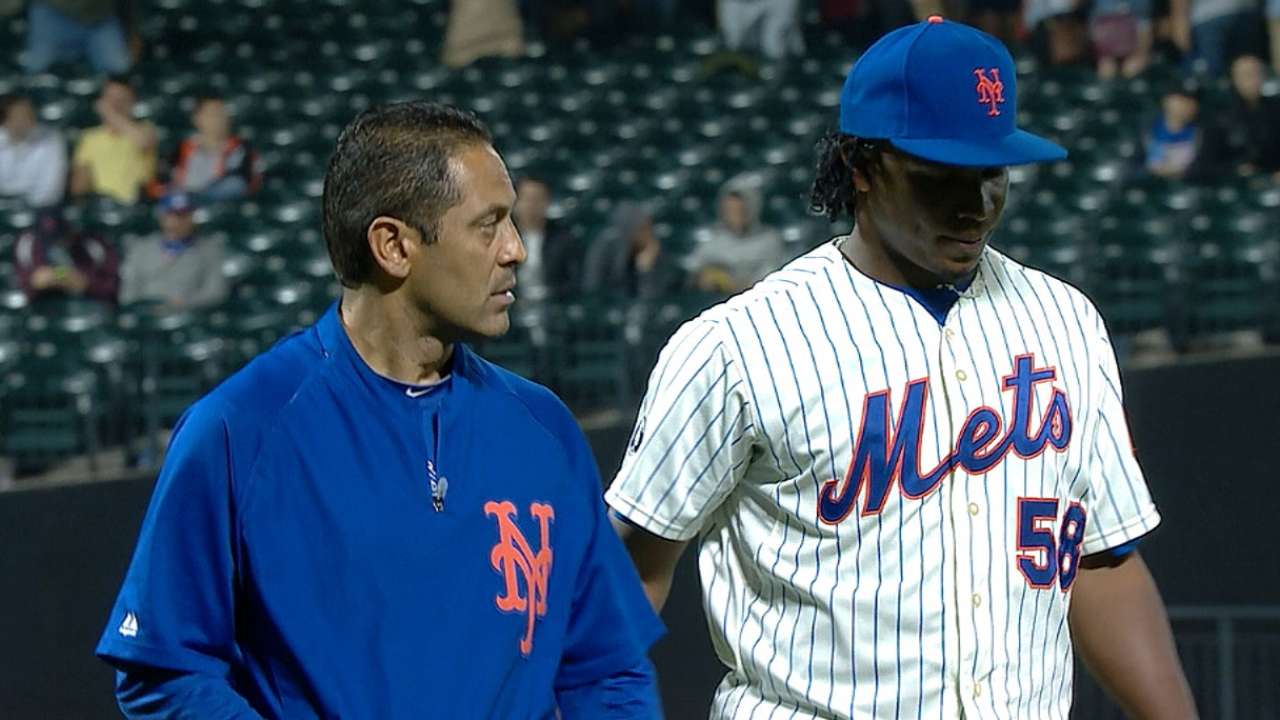 NEW YORK -- The Mets seem to have avoided another injury scare -- but the picture is not entirely sunny. Closer Jenrry Mejia, who left Thursday's game in the 11th inning due to back stiffness, said he felt better, but not quite 100 percent Friday afternoon.
He reported tightness -- but not pain -- in his lower-left back. That's an improvement from the pain that was present about 18 hours prior.
Mejia was unable to get clearance from doctors to throw, however, and was unavailable during Friday night's 6-2 win over the Padres. Manager Terry Collins expects him to miss Saturday as well.
"Jenrry's back is fine," Collins said Friday afternoon. "Feels a lot better today. He is trying to see how he feels throwing-wise."
The situation wasn't as sunny after the game.
"He's got some stiffness in there, and they gave him some medication to relax the area a little bit," Collins said. "But he's got some swelling. He said it'll probably be a day or so before he's going to be available.
For as long as Mejia is unavailable, the likely option to close is right-hander Jeurys Familia, who pitched a scoreless ninth on Friday. Familia has two saves in three career opportunities, two of which came last month.
He recorded the final five outs in a 5-0 Mets win over the Phillies May 28, then blew a ninth-inning lead May 31 against Philly in a game New York went on to win, 5-4, in 14 innings.
Much is made of a so-called closer's mentality -- i.e., pitching the ninth inning of a close game requires a certain psychological makeup that not every hurler possesses -- but Familia doesn't think there is much to it.
"Every time I go to pitch, it doesn't matter what inning I'm throwing," Familia said. "For me, first inning, second inning, seventh inning, eighth inning, ninth inning -- it's all the same. You just have to go out there to throw strikes to get the hitter out.
"Just go out there and try to get three outs."
Best-case scenario for the Mets, though, is having Mejia healthy enough to get those three outs.
"Everything's going to be [OK]," Mejia said Friday afternoon before walking away with a big smile.
Tim Healey is an associate reporter for MLB.com. This story was not subject to the approval of Major League Baseball or its clubs.