Bonifacio hits DL, awaits MRI results on rib cage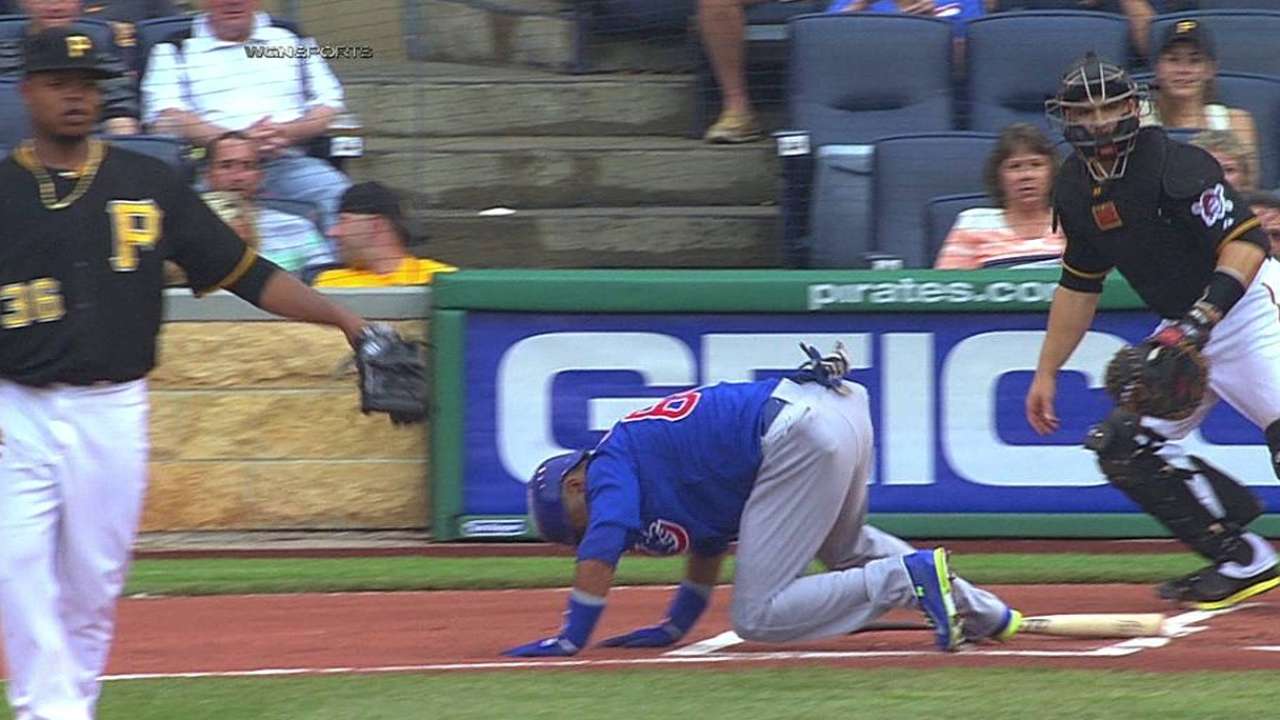 PHILADELPHIA -- Emilio Bonifacio was placed on the 15-day disabled list on Friday with rib cage inflammation after injuring himself during Thursday night's game against the Pirates.
On the second pitch of the game, Bonifacio grounded out to short, but he never left the batter's box. As he swung, he fell to the ground, grimacing in pain. Head athletic trainer PJ Mainville had to support Bonifacio as he limped off the field.
Bonifacio had an MRI on Friday.
"We'll wait until they give us the MRI to actually find out what it is," Cubs manager Rick Renteria said.
In the meantime, the Cubs have activated Ryan Sweeney from the 15-day disabled list. Sweeney, who had been sidelined since May 3 with a right hamstring strain, got the start in center field Friday night and was put in the No. 2 spot in the order.
Sweeney, Justin Ruggiano and Junior Lake will all get time in center field with Bonifacio on the DL.
"I'm going to keep using Sweeney and Ruggiano or Lake or any number of those three guys, because they've all done it," Renteria said. "I think as we continue to move forward, we'll just continue to do what we actually have done in the recent past here. Try and kind of match up and see what we can do with the lineup."
Bonifacio's absence also creates a void atop the Cubs' lineup, as the speedy center fielder was Chicago's everyday leadoff hitter. Renteria plans on using Chris Coghlan, Lake or Sweeney to get things started from that spot.
"Of the guys that are here, [Coghlan] has actually led off before in Miami. And we have led off [Lake] in the past," Renteria said. "So we're just going to try to mix and match and see where we go with that."
Renteria said he would consider moving up Luis Valbuena to leadoff, but for the time being, he prefers keeping him in the fifth spot in the order.
"Is it tempting? Yes. But I think that the three-, four-, five-slot there for us is working pretty well," Renteria said. "Doesn't mean that we wouldn't possibly go there somewhere down the road, but right now, I think with [Starlin] Castro protecting [Valbuena] and [Valbuena] protecting Castro ... [Valbuena] has a way of putting together really good at-bats. And it'd be nice to continue to have him there, especially with runners on base."
Erik Bacharach is an associate reporter for MLB.com. Teddy Cahill is a reporter for MLB.com. Follow him on Twitter at @tedcahill. This story was not subject to the approval of Major League Baseball or its clubs.