Cobb fans 11, baffles Astros as Rays snap road skid
Zobrist plates two with three hits to lift righty to first win since April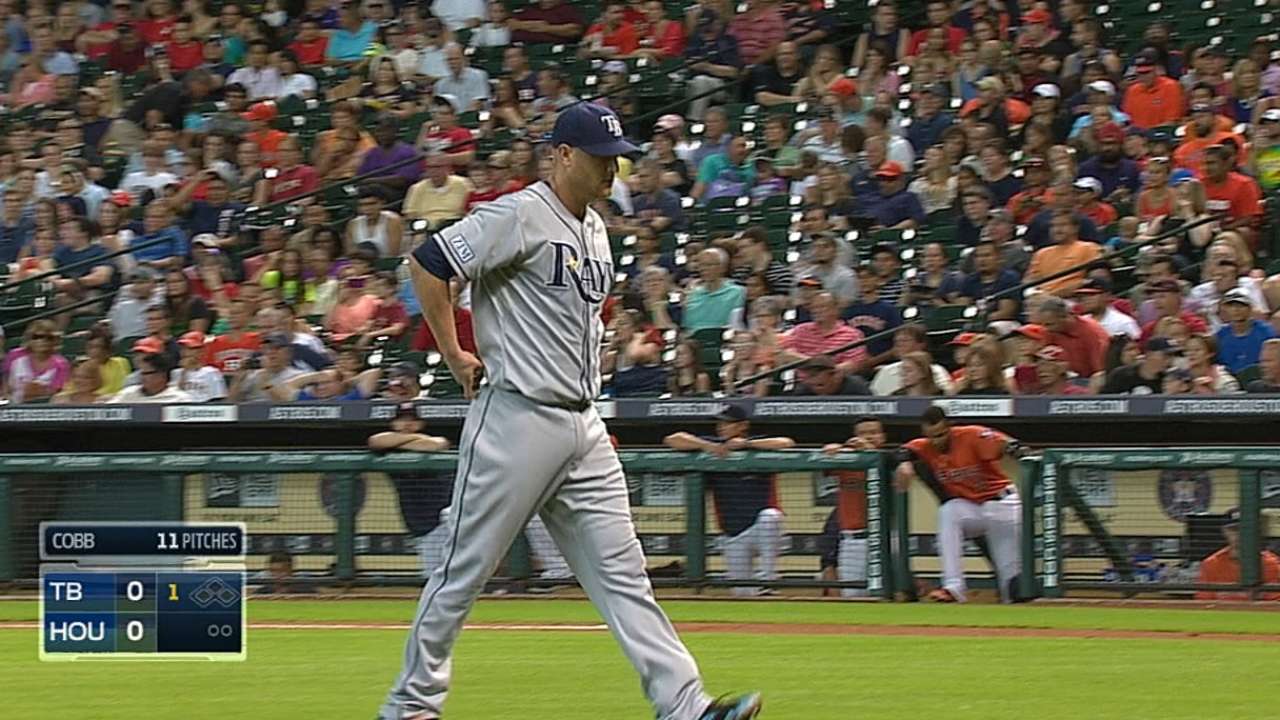 HOUSTON -- Alex Cobb's doctor may not recommend the sleepless nights, but following his performance Friday night, the right-hander might say they're worth the trouble.
After giving up seven runs in his last start against Seattle, Cobb kept playing it through his head. What could he have done better? Where did he go wrong?
"You go borderline crazy after bad starts," Cobb said. "You start running your mechanics through your mind thousands of times. It keeps you up at night sometimes."
Led by a devastating changeup, Cobb bounced back in a dominant fashion, giving up just three hits and one run while striking out 11 in the Rays' streak-stopping 6-1 win Friday against Houston at Minute Maid Park.
The last few days as Cobb prepared for a young Astros team, he noticed their aggressiveness on film. He watched the Astros hunt fastballs, so Cobb wasn't going to throw them early.
"My gameplan was to go out there and show them early that I'm going to be throwing off-speed in and out of the zone," Cobb said. "Try to gain a little more respect for my fastball later on in the game."
Cobb's changeup froze the Astros early. The first three batters he faced -- including rookies George Springer and Jon Singleton -- all struck out. He tallied 11 strikeouts in just 6 1/3 innings on the mound because of that changeup. The only mistake Cobb made came on the first pitch of the fourth inning to Singleton, who sent the ball flying to left field for a homer and the Astros' only run.
With his first win over his last five starts dating back to April, Cobb's record moved to 2-4 and his ERA dropped to 3.99.
"He threw a great game," Houston manager Bo Porter said. "He had a plus, plus changeup. As much as our guys wanted him to get the ball up, he took advantage of our aggression."
Even though Cobb didn't know the extent of it, his win came at a much-needed time for the Rays, who had lost 10 consecutive road games by a combined score of 52-19 coming into Friday's game. Cobb didn't know the streak had reached 10 games, or that a streak even existed in the first place.
That credit goes to manager Joe Maddon, who watched his ball club come to life for a second consecutive win. After all, his team had been shut out for three consecutive games within the last week. Now they're coming off back-to-back six-run efforts.
"This is more like we're supposed to play," Maddon said. "Got the hits. A couple hits when we needed it."
Leading 2-1 in the fifth inning with two runners on base, Ben Zobrist hit a line drive to center field off Astros starter Collin McHugh that landed in the perfect spot. The ball rolled near the right-center field wall, allowing for Zobrist to cruise into third for the triple and two runs to score to extend their lead to 4-1.
Evan Longoria added a pair of insurance runs in the ninth, hitting a two-run single off Kyle Farnsworth for the 6-1 advantage.
While six runs are typically enough, they were particularly sufficient with Cobb throwing like he was Friday.
"When Cobb is right, he's one of the best three pitchers in the league," Maddon said. "I'll put him up against anybody. He's one of the best kept secrets nationally."
Rest assured, he'll be sleeping well tonight.
Mike Vernon is an associate reporter for MLB.com. This story was not subject to the approval of Major League Baseball or its clubs.