Freaky Friday the 13th: Reds blow lead but win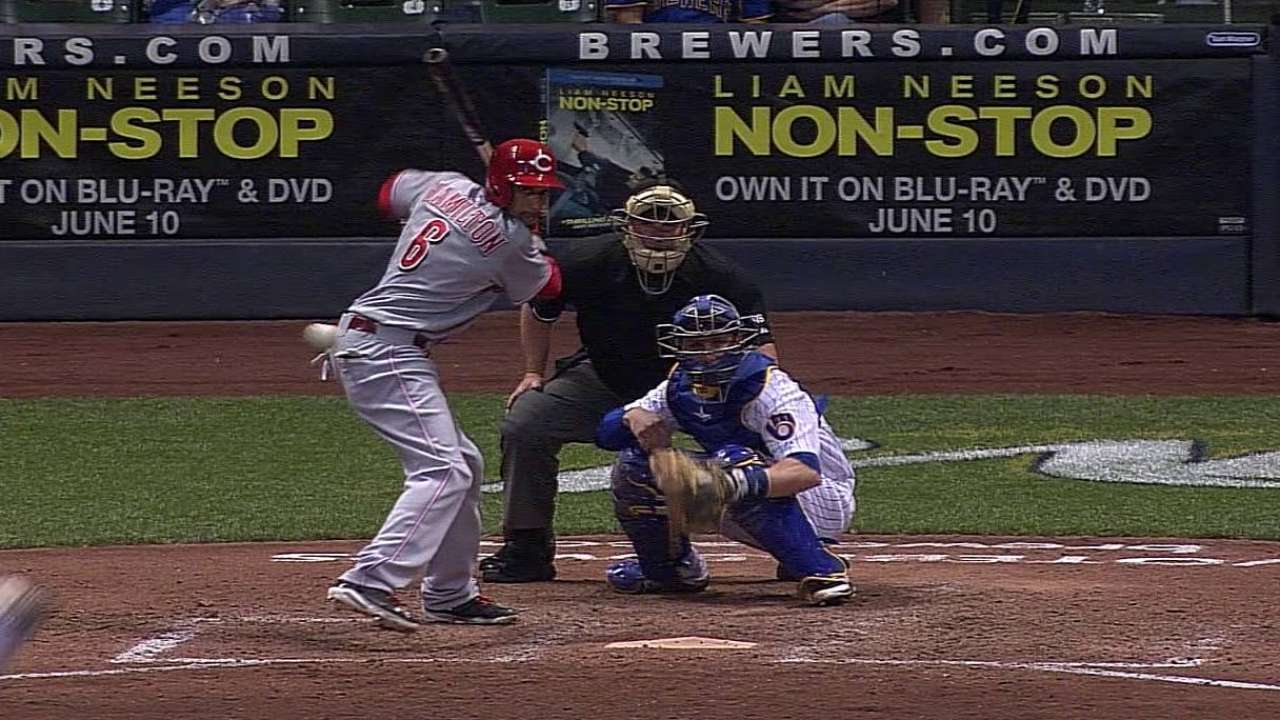 MILWAUKEE -- The Reds were presented with a nice opportunity this weekend to face the first-place Brewers and directly chop away at their sizable deficit in the National League Central.
Friday's series opener went the Reds way, but not without some twists and turns. The 6-5 win over the Brewers was more difficult, but perhaps more satisfying because of the fortitude needed in the end and the heartbreak that was averted. A blown four-run lead was recovered with a run in the top of the ninth on Billy Hamilton's RBI single that gave Cincinnati a three-game winning streak.
"I think the bigger thing is it's three wins in a row against two really good teams," starter Homer Bailey said. "That was a big comeback win. It was something we really haven't done much of this year. I think once you pick up those kinds of wins and coming back, it becomes contagious."
The Reds, who beat the Dodgers in the previous two games, are now seven games behind the Brewers.
"We have a lot of guys that are probably not doing as well as they would like to at this point, but when you have games like that and three wins in a row, it builds some morale a little bit," Bailey added. "Guys will start picking it up and finding ways to get on. Our pitching is what it is, and we'll find a way to get wins. We need lots of them, quickly."
Facing closer Francisco Rodriguez, Zack Cozart led off the ninth and fought a 2-2 changeup with a single to left field. Instead of using pinch-hitter Roger Bernadina, manager Bryan Price summoned Ramon Santiago, who laid down a perfect sacrifice bunt.
Hamilton, who had gone 0-for-4 in the game, with two of the outs coming on attempts to push-bunt for hits, lined a single to right field, scoring Cozart.
"Great at-bat by Cozart," Price said. "With Cozart leading off with the base hit, it just made more sense for Santiago bunt him over and give us a chance with Billy and [Todd] Frazier to drive him in there. Billy came up big time."
Hamilton was surprised when he got a 0-1 fastball on the hands from Rodriguez. He was expecting a curveball.
"That's what I had been getting the whole game," Hamilton said. "There's a scouting report, those guys read it. The first pitch, he went curveball, and I thought, 'He's got to be coming back with it.' The way I'm taught to hit now is to look [for a] fastball and adjust for a curveball. Somehow my hands were quicker than I thought they were, and I ended up getting on top of a fastball that was in."
Jonathan Broxton pitched a scoreless eighth for the victory, and Aroldis Chapman struck out two in a perfect ninth for his 11th save and ninth in a row. The team picked up for Sam LeCure and Bailey after four-run lead went up in flames in the seventh.
Bailey seemed to be in command after surviving a shaky fourth inning in which he gave up a double and three walks -- all with two outs -- but saw only one run. He used only 22 pitches over the next two scoreless innings.
"The thing I wanted to do was put up quick zeros and get us back in the dugout and try to tack on a few more," said Bailey, who pitched 6 1/3 innings in the no-decision. "I did that for two. That last inning, I couldn't find a way to get out of it."
The first of nine batters to come up in the frame, Khris Davis began the Brewers' seventh by sending a 2-0 pitch to right field for a homer. Two more hits would end Bailey's night.
LeCure was summoned from the bullpen in a scenario in which he usually prevails. LeCure, who stranded 13 of 15 inherited runners entering the outing, let both of Bailey's runners and one of his own cross the plate, and Milwaukee tied the score.
After Carlos Gomez's double to left field evened everything up, Logan Ondrusek took over for LeCure and got a groundout to shortstop from Aramis Ramirez.
"Sam is one of the best in our bullpen coming in with inherited runners and getting big outs for us," Price said. "He had a couple of balls in play that weren't hit terribly well. The big out of the game was really Ondrusek getting Ramirez. Obviously, a base hit right there gives them possibly a two-run lead."
Early on, the Reds reaped the spoils of four Brewers errors -- including two throwing gaffes by starting pitcher Matt Garza -- to score four unearned runs. Garza's first-inning error, a throw into center field trying to catch Frazier stealing second base, led to Brandon Phillips' RBI single.
In the four-run fifth, following a leadoff single by Cozart, Bailey bunted to the mound. Garza's throw went way over first base and into the stands for another error, this one putting runners on second and third with no outs. One-out RBI singles came from Frazier and Joey Votto, then a sacrifice fly by Phillips. Jay Bruce lined an opposite-field double to left-center, and Davis' error allowed Votto to score and make it 5-1.
"It was a big rebound game," Price said. "That seventh inning can take a lot of wind out of your sails and really kind of set you back a bit. The boys fought hard, and I'm really proud of effort."
Mark Sheldon is a reporter for MLB.com. Read his blog, Mark My Word, and follow him on Twitter @m_sheldon. This story was not subject to the approval of Major League Baseball or its clubs.