Wilson, Halos stung by Braves' four-run frame
Left-hander gives up back-to-back homers in decisive first inning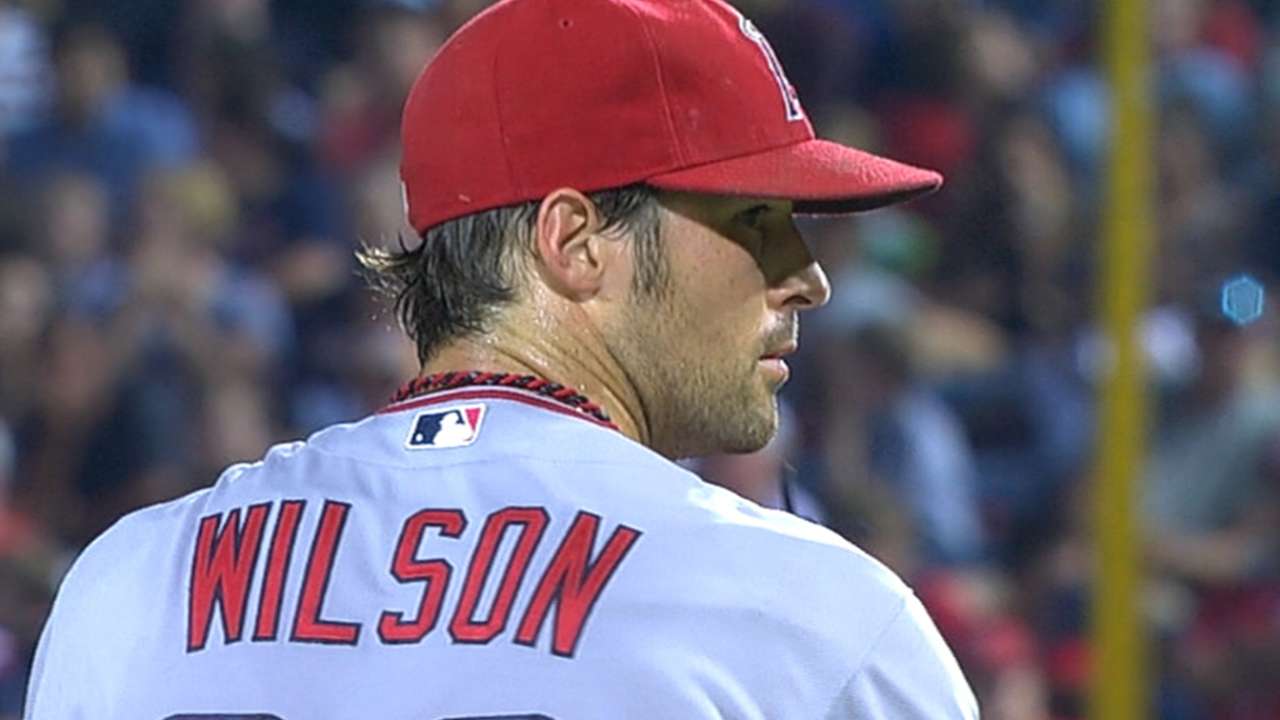 ATLANTA -- A rough first inning marred what was otherwise a strong start from left-hander C.J. Wilson.
After surrendering only five first-inning runs in his first 13 starts, the southpaw gave up four runs on homers by Evan Gattis and Chris Johnson that sunk the Angels in a 4-3 loss to the Braves on Friday night at Turner Field.
The Halos have not only lost eight of their past 11 road games, but they've sustained back-to-back defeats since a five-game winning streak that brought them within 2 1/2 games of the first-place A's in the American League West.
"Sometimes, when you're warming up, you have nothing going on or it's balls all over the place or whatever, and it's like, 'OK, cool. I got those bad pitches out of the way,'" Wilson said. "Well, my first 10 or 15 throws in the bullpen were like right on the money. So, it was a little bit confusing for me why I wasn't able to transfer it out there in the first inning."
Angels manager Mike Scioscia added: "He almost worked his way out of it, but C.J. was just behind too many counts, and it eventually caught up to him."
Wilson's lone tough inning began with shaky command. He led off the game by hitting Jason Heyward on the right hand with an 0-1 fastball. Heyward remained in the game, but he later left due to a right hand contusion in the bottom of the second.
"I was trying to go in on Heyward and the ball went a foot inside extra," Wilson said.
After striking out B.J. Upton, Wilson walked Freddie Freeman to set the stage for Gattis, who smacked a 3-0 fastball into the left-field seats. Gattis owns a 13-game hitting streak and leads all MLB catchers with 14 home runs.
"The 2-0 pitch, I thought was really close, but then it gets to be 3-0 and it's like I'm constantly battling the excessive movement or maybe throwing the ball out of the strike zone when I'm trying to throw it in the strike zone," Wilson said.
"And that pitch just didn't move at all. It was just right down the middle, so he hammered it. Obviously, the guy's got great power and he's on a tear right now."
Wilson then surrendered another long ball to Johnson, who had homered only twice in 252 plate appearances entering Friday. Atlanta's first-inning power effort was the third time Wilson has surrendered two home runs in a start this season.
The southpaw had also only given up one long ball in his past five starts.
"The pitch to Johnson was supposed to be away and it just kind of flew right through the zone down and in, which is his hot zone, so it's a bad pitch," Wilson said.
Braves starter Aaron Harang did not pitch much better than Wilson, but the Angels failed to capitalize on the right-hander's numerous mistakes. Hank Conger needed two wild pitches from Harang to score after leading off the third with a double.
Harang surrendered four hits and walked three, but he gave up only run to the Angels after compiling a 10.38 ERA in four starts against them last season.
The Angels finally got to rookie reliever Shae Simmons in the eighth. After pinch-hitter Raul Ibanez led off with a flyout, Braves center fielder Upton dropped a Kole Calhoun fly ball.
Mike Trout followed with a double, putting runners on second and third for Albert Pujols, who singled to right field to plate two runs and extend his hitting streak to five games. The hit was a big one for Pujols, who is 14-for-74 since May 23.
"He did a good job in that at-bat," Scioscia said. "He took what he could. The pitcher made some good pitches on him and he shot it to right field. It was a big hit at the time. We just couldn't push that tying run across in the eighth."
Simmons then walked Josh Hamilton before fanning Howie Kendrick and inducing a ground ball from Erick Aybar to end the threat. Pujols' two-run single was the Halos' lone hit in six at-bats with runners in scoring position. The club is batting .189 (10-for-53) with runners in scoring position since June 8.
"I think as a team we're struggling with men on base," Pujols said. "I think we have too many professional guys here that we know what we can do and we know sooner or later, things are going to turn around."
The numerous missed offensive opportunities stung Wilson, who settled down and pitched more like the guy who entered Friday with a 3.32 ERA. He gave up two hits and walked one in five scoreless innings to end his outing.
Wilson felt he did a good job of mixing his pitches and keeping the Braves off-balance following the first inning. Despite his strong finish, Wilson was disappointed and had no interest in moral victories.
"It's not satisfying at all -- you lost," Wilson said. "It [stinks]. You give up four runs. You make a really good game plan. You spend the four or five days planning out what the pitches you're going to throw and you make a couple of mistakes and give up back-to-back homers in the first, there's nothing good about that.
"There's no reward for losing -- ever. This is the Major Leagues. We're trying to win, so it's not like I threw a two-hit complete game or something like that. I mean, I went six innings. That's not that good. That's just kind of average. If you're a starting pitcher and you're happy about going six innings, then you're not going to end up with a lot of success."
Joe Morgan is an associate reporter for MLB.com. This story was not subject to the approval of Major League Baseball or its clubs.