Ageless wonders: Abreu, Colon lead Mets over Padres
Veteran goes 4-for-4 with two RBIs to boost offense in series opener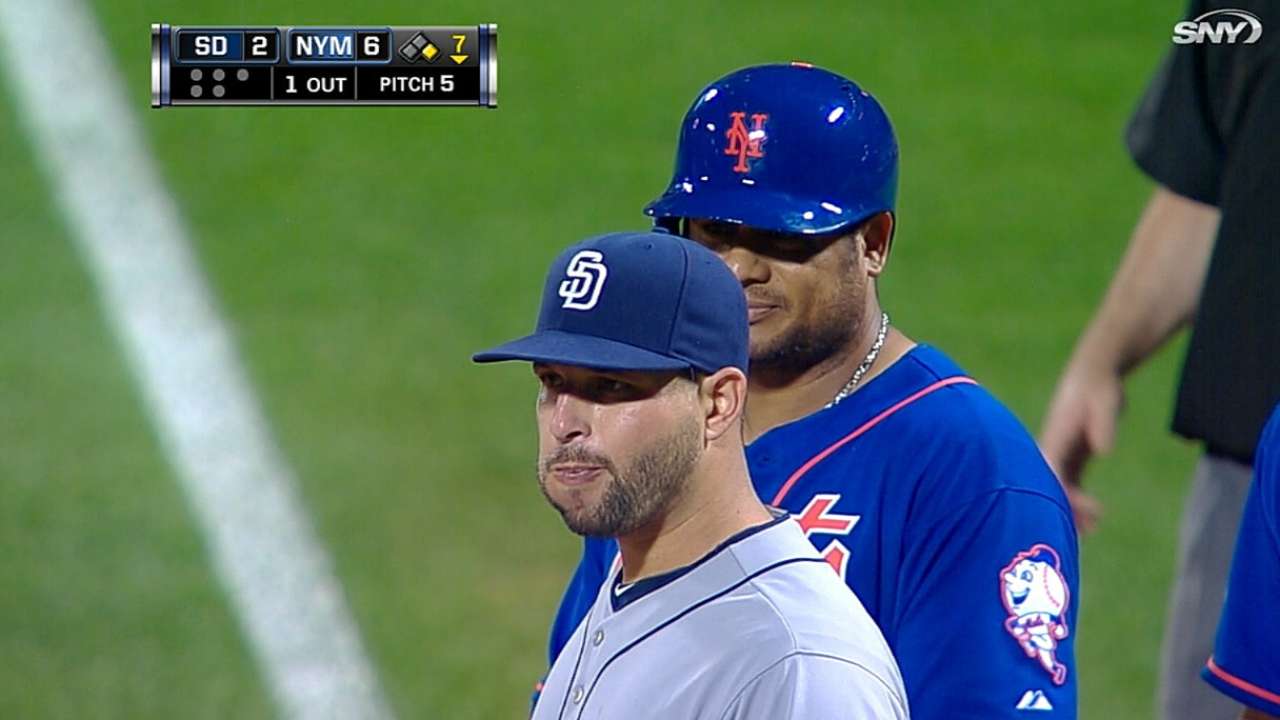 NEW YORK -- Bobby Abreu is 40 years old and in the twilight of a Major League career that has spanned nearly two decades with six different teams. He hasn't been an everyday player since 2011, sat out all of last season and might not even have a job with the Mets if not for injury and poor performance from the club's outfield depth.
But Friday night at Citi Field, manager Terry Collins slotted him into the cleanup spot in the Mets lineup against the Padres, Abreu's first time batting fourth in a big league game in 23 months. The decision paid off immensely.
Abreu went 4-for-4 with a double, two runs scored and two key insurance RBIs as New York topped San Diego, 6-2. He even ranged well into right-center for a seventh-inning catch that helped preserve another sharp start from 41-year-old right-hander Bartolo Colon.
"A little representation for the 40s?" Abreu said with a laugh, specks of gray hairs sneaking through the dark brown ones. "It was good, it was good. When we go to the field, we throw everything we got to do our best. I think the main thing is help, help the team win. That's what we did today."
"Help" might be putting it lightly. The 40-somethings gave huge boosts to a banged-up group of Mets that desperately needed it. The team entered the night loser of eight of its last nine games, most recently a 13-inning affair with the Brewers Thursday night, and for a while Friday it looked like it wouldn't even get a chance to reverse that trend. Rain delayed the start of the game by 1 hour and 56 minutes.
When the skies cleared, though, the teams took the field and Abreu went to work.
"I hit him fourth today because he's been driving in some runs," manager Terry Collins said. "I stuck him in there, and sure enough he came through big time tonight."
When the Mets found themselves down, 2-0, Abreu twice initiated rallies that ultimately gave them the lead. To get New York on the board, he led off the bottom of the second with a double and came around to score on Taylor Teagarden's two-out single. Two innings later, Abreu singled and tied the game when Lucas Duda found the left-center field gap with two outs. Matt den Dekker's double then plated Duda to put the Mets up for good.
Abreu drove in Daniel Murphy twice with singles in the fifth and seventh innings.
"We always try to find a way to hit with runners in scoring position, especially with two outs," Abreu said of the Mets, who had four two-out RBI hits. "It's not easy to do. We've been hitting the ball good, and we didn't have any luck early. Today it worked."
New York's other ageless wonder, Colon, took a while to settle in, but once he did, he was nearly unhittable. Colon yielded two runs -- both on Rene Rivera's second-inning home run -- in 7 1/3 innings to save a bullpen that was without two of its top relievers, Jenrry Mejia (stiff back) and Carlos Torres (rest).
Colon allowed just four hits and one walk, and during one stretch he retired 18 consecutive batters. After striking out his seventh batter of the night -- pinch-hitter Tommy Medica watched a 90-mph fastball for strike three -- Colon left the mound to a standing ovation.
"I've known Bart for a long time," San Diego manager Bud Black said. "And at times you'll see him get stronger as the game goes on."
That's exactly what happened Friday.
Colon's sudden snap back into form was startling. His first two innings required 47 pitches (27 strikes), and only four of 10 batters saw first-pitch strikes. Over the next five, Colon tossed 59 pitched (44 strikes) and issued first-pitch strikes to 10 of 15 hitters.
"The first couple of innings, his fastball was just a little up," said Teagarden, the catcher. "[Colon] just made an adjustment -- kept the ball down, started mixing in his slider, kind of cleaned up his arm slot a little bit. After that, it was smooth sailing. He was able to throw a sinker to both sides of the plate. Really established his four-seamer fastballs, kind of elevating on guys and throwing it over their barrel and kept them off balance. Weak contact, quick innings.
"That's what he does."
Tim Healey is an associate reporter for MLB.com. This story was not subject to the approval of Major League Baseball or its clubs.