Padres offense struggles in series opener vs. Mets
Cashner allows four earned runs over six innings of uneven start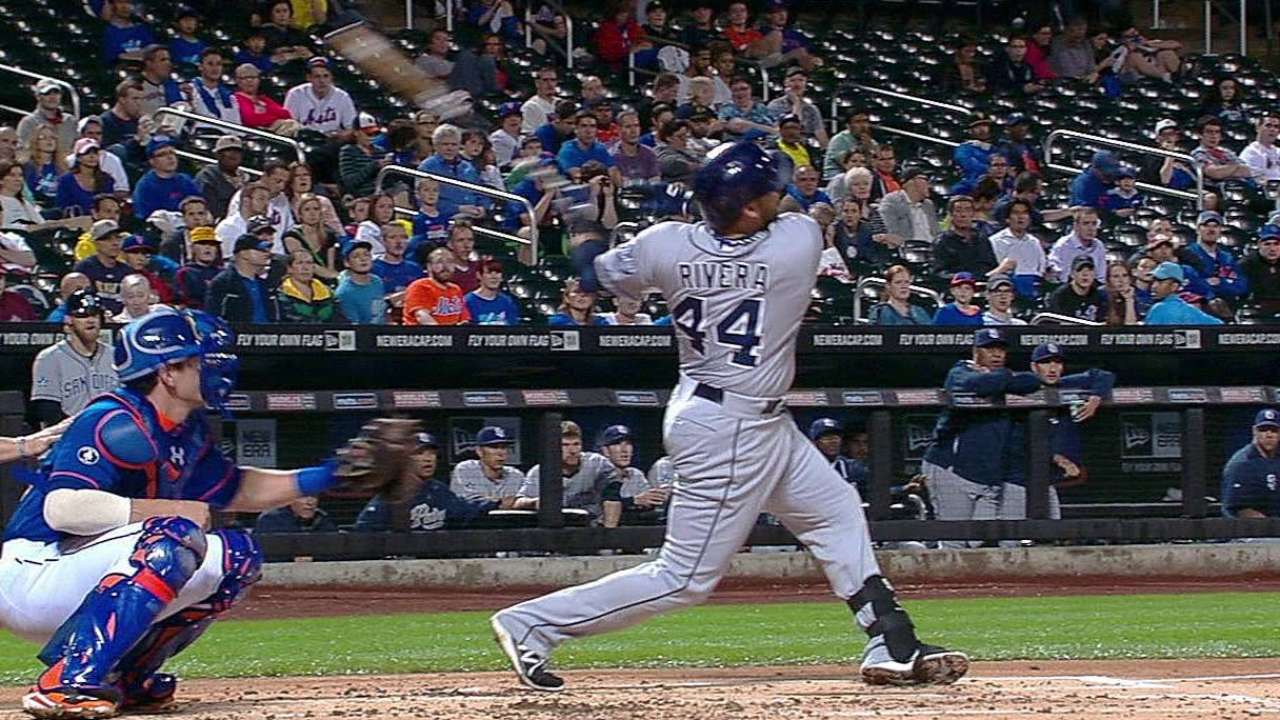 NEW YORK -- It was an all-too-familiar story.
For the second straight game, the Padres jumped out to an early two-run lead, only to see it get chipped away and ultimately vanish. After getting swept in Philadelphia, the Padres followed the same trajectory from the day before, losing the series opener by the same four-run margin to the Mets, 6-2, at Citi Field.
After a nearly two-hour rain delay, their sense of déjà vu began with promise off Mets starter Bartolo Colon. After Yonder Alonso smashed a single to right-center field in the second, catcher Rene Rivera sat on a two-seamer and lofted it just over the fence in left. Then the bats fell silent.
That was due in large part to the performance of Colon, who continued to inspire hope to pitchers above the age of 40. After surrendering the homer to Rivera, Colon, 41, was nothing short of brilliant. He retired the next 18 in a row before letting up a double to Alexi Amarista to lead off the eighth. Colon struck out seven Padres on four hits and one walk through 7 1/3 innings, continuing his dominance on the mound at Citi Field.
"I've known Bart for a long time, and at times you'll see him get stronger as the game goes on," said manager Bud Black, who then described a laundry list of his qualities. "His command of the fastball got much better as the game went on. He started locating the fastball away to the lefties, you saw a lot of pitches on the outside part of the plate with movement, nipping the corner or just off."
"Knowing him," said Mets manager Terry Collins, "he probably was quite upset at giving up the home run and said, 'I have to get after it here.'"
Colon threw 118 pitches, 79 for strikes, consistently challenging Padres hitters, who went 0-for-9 for the game with runners in scoring position.
"We're working hard up there at the plate," said Rivera, the only hitter to find success off Colon. "He was aggressive, pounding the strike zone with fastballs, changeups, and the slider. He pitched well. He's been there a long time. He's a veteran pitcher, he knows what to do and he got it done."
Andrew Cashner, making his second start since returning from the DL, was efficient through six innings, but ran into intermittent trouble. His biggest foe of the night ended up being 40-year-old Bobby Abreu, hitting cleanup for the first time since coincidentally facing the Padres as a member of the Dodgers two years ago.
Abreu collected one of his two RBIs and three of his four hits off Cashner, scoring two runs in the process. He connected on a single to spark a go-ahead, two-run fourth inning, later coming around to score on a Lucas Duda double to left-center field. After Taylor Teagarden walked, center fielder Matt den Dekker blooped a ground-rule double just inside the left-field line that hopped out of Carlos Quentin's reach.
"I thought I made two good pitches to him," said Cashner. He's a good hitter, a professional hitter, and I couldn't get him out tonight."
Cashner allowed an insurance run in the fifth when Abreu singled home Daniel Murphy from second base. He surrendered New York's first run in the bottom of the second when Taylor Teagarden sliced a two-out RBI to score Abreu, who doubled to lead off the inning.
"I felt good," said Cashner. "I thought I came out executing early and I just kind of lost my command through the second to the fifth. The ball kind of got flat a little bit and [I] couldn't stop the two-out hits."
Reliever Kevin Quackenbush, after seven straight scoreless appearances, could only muster one out in the seventh, getting David Wright to club a sacrifice fly to right field. He was officially tagged for two runs when Troy Patton surrendered a single by none other than Abreu.
The Padres made things dicey in eighth, when Josh Edgin walked Everth Cabrera and Seth Smith. Righty Vic Black replaced him with the bases loaded and got Quentin to roll over on a soft grounder to Wright at third.
"Guys are fighting," said Black. "You saw in Philadlephia we had the go-ahead run at the plate with Tommy [Medica]. A couple nights ago we had the tying run at the plate with arguably the most powerful guy on the team. So yeah, it's there."
San Diego has dropped five straight and is now 3-34 when trailing after six innings. The issue hasn't been falling behind early, it's been a matter of keeping leads, and more importantly failing to extend them.
"We put some good balls in play tonight," said Cashner. "That was a big hit by Rene, that home run, and giving me runs to work with ... I wasn't able to work with those tonight."
Jake Kring-Schreifels is an associate reporter for MLB.com. This story was not subject to the approval of Major League Baseball or its clubs.