Hernandez's great start foiled by nemesis Rangers
Mariners ace allows a run in ninth inning to fall to 8-2 on the season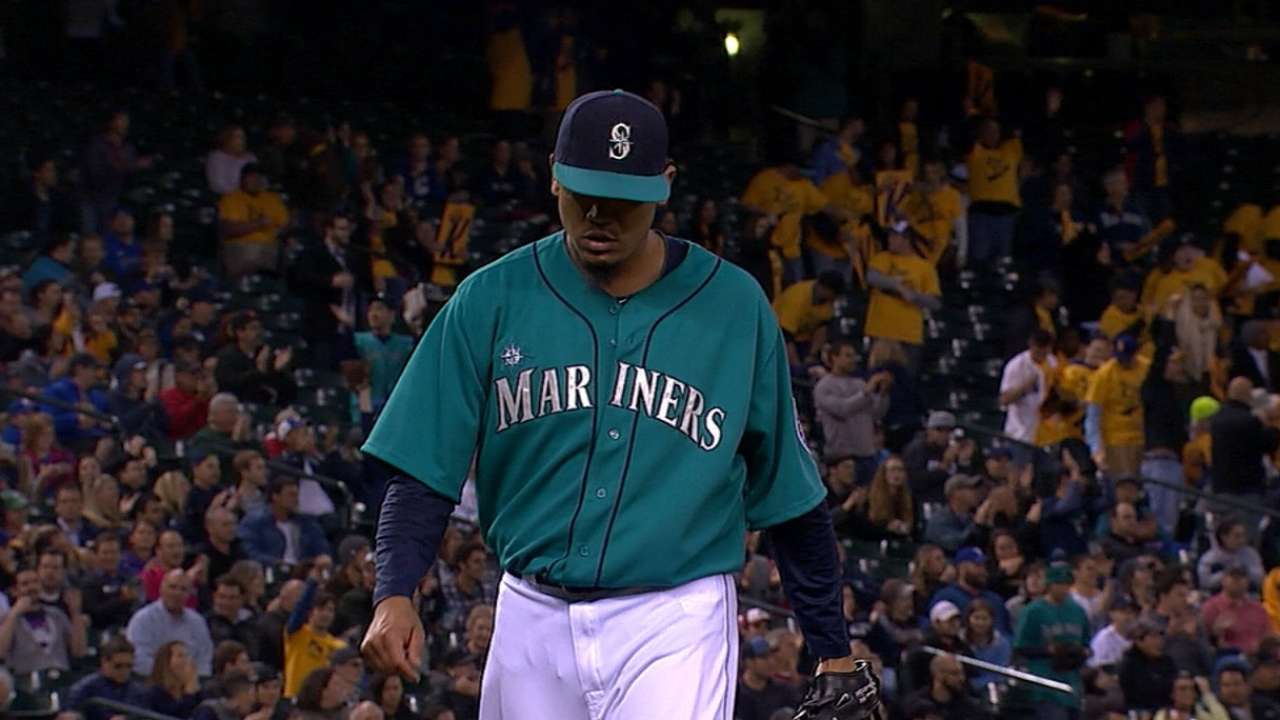 SEATTLE -- Felix Hernandez continued the best start of his career by allowing just four hits over 8 1/3 innings on Friday at Safeco Field, but it wasn't enough to top his longtime Texas nemesis as the Rangers rallied for a 1-0 win in the ninth.
Hernandez took the tough-luck loss on a night his team managed just two hits and dropped its fourth straight game at home to even its season record at 34-33.
"Obviously when we get a start like that from Felix, we want to score some runs to help him out," said Mariners catcher Mike Zunino, who had both Seattle's hits. "But they threw nine great innings and we only threw 8 2/3."
Hernandez allowed just four singles and two walks with six strikeouts, but a ninth-inning single by Elvis Andrus, two stolen bases and a walk to Shin-Soo Choo led manager Lloyd McClendon to summon closer Fernando Rodney with one out after his starter had reached 114 pitches.
Adrian Beltre then drove in the game's only run with a fielder's-choice grounder to short, with Andrus scoring as second baseman Robinson Cano's relay throw to first went wide of Logan Morrison.
Cano was charged with an error for allowing Beltre to advance to second on the throw, but the run was earned as a double play can't be assumed. Replays appeared to show Beltre would have been safe even if Cano's throw was on the money.
"The guy was on him pretty good," McClendon said of Choo's slide into Cano at second. "I thought he hung in there pretty darn good. It was a tough play all the way around, it was a tough turn all the way around. With Brad [Miller] going in the hole [to field the grounder], everything just developed very slowly for us on that one."
Beltre got the game-winning RBI against his longtime friend and former teammate Hernandez on a night he went 0-for-4 and never got the ball out of the infield.
"I was trying to look for a pitch I could hit in the air," Beltre said of facing Rodney. "He threw me a sinker that 90 percent of the time I'm going to hit, and he threw me a changeup away I hit foul. At that point I was just trying to survive. I put it in play, and when I saw the ball, I thought I had a chance to beat it out to get that run in."
Hernandez fell to 8-2 with a 2.29 ERA in 15 games, which remains his best start yet in his 10-year career. Hernandez's best previous-best record through 15 starts was 8-4 with a 2.32 ERA last year.
After eight scoreless innings and a career-high 15 strikeouts in a no-decision against the Rays in his last outing, Hernandez extended his shutout streak to 18 frames before the Rangers eked out their lone tally.
"I felt really good," Hernandez said. "I made a mistake to Andrus and then he stole those two bases and that was the difference in the game."
It was the 58th time in Hernandez's career that he's allowed one run or less in eight-plus innings. He's wound up with 12 no-decisions and two losses in those situations. But none of that changes the fact the four-time All-Star is on a tremendous roll.
Over his last six starts, Hernandez has posted a 1.34 ERA with 52 strikeouts and six walks.
"His stuff was awesome today," said Zunino. "They were swinging the bat pretty early in the count and he wasn't able to get as many strikeouts as he had in Tampa, but he did a great job keeping the ball down, got a lot of ground balls and I thought he threw the ball really, really well."
Hernandez is now 12-21 with a 4.01 ERA in 42 career starts against the Rangers, including 0-5 in his last eight outings against the AL West rivals.
"They're tough. Real tough," Hernandez said. "I did good, but still it was a lousy game."
Rangers right-hander Nick Tepesch matched zeroes with Hernandez and allowed just Zunino's two hits over 6 1/3 innings before turning the game over to his bullpen, which proceeded to finish the job with 2 2/3 perfect innings.
"You don't win ballgames when you get two hits," said McClendon. "We're going through a little funk right now. But this team has got to fight and stay together and we'll come out of this."
Zunino hit a leadoff double in the sixth, but the Mariners couldn't take advantage, and Seattle also stranded runners at second and third in the seventh when reliever Jason Frasor came on to strike out Endy Chavez and Dustin Ackley.
Zunino has caught all of Hernandez's starts this year and has hit .370 (20-for-54) with five of his seven home runs and 13 of his 22 RBIs for the season in those 15 games. But the youngster's hits were all the support Hernandez got on Friday and it wasn't enough to reward his latest gem.
"We're disappointed," McClendon said. "Anytime you come home and lose four in a row, particularly off the road trip that we had you're disappointed, but it's not the end of the world. This too will pass. It's a tough season. This is a grind. A Major League season is tough.
"In a 162-game schedule you're gonna have your ups and downs and you've go to be able to manage them and keep those valleys from being too low. We'll come out tomorrow and we'll try to win a ballgame."
Greg Johns is a reporter for MLB.com. Follow him on Twitter @GregJohnsMLB as well as his Mariners Musings blog. This story was not subject to the approval of Major League Baseball or its clubs.