Hutchison rides Francisco's blast to win over O's
Righty throws seven scoreless; two-run homer provides early cushion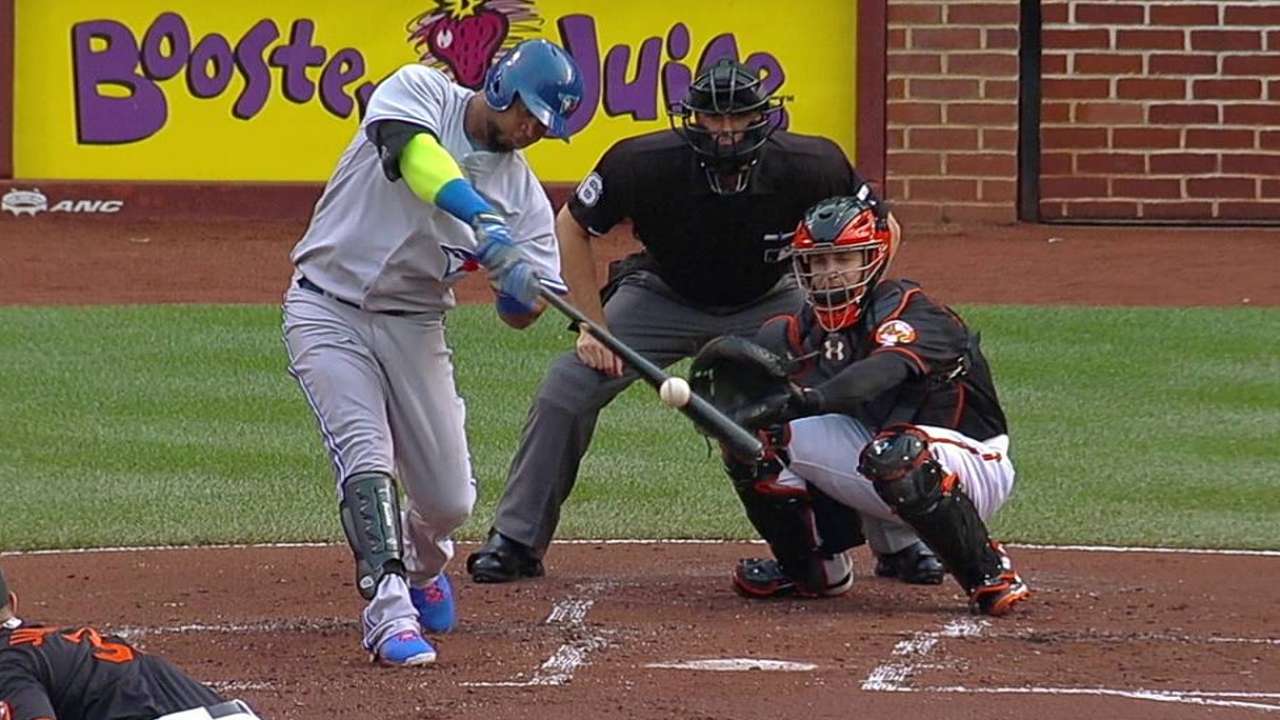 BALTIMORE -- Drew Hutchison made it through the first inning unscathed. It doesn't seem like that much of a feat, but after the week the Blue Jays just went through, it was something they needed.
For four straight games, Toronto allowed at least one run during the first inning. More often than not, the starters were allowing two. When Hutchison finally kicked that trend on Friday at a sold-out Oriole Park at Camden Yards, it opened the door for the Blue Jays to snap their four-game losing streak.
Brett Lawrie got the second inning going with a one-out walk. Two pitches later, third baseman Juan Francisco dumped an 89-mph fastball into the O's bullpen to give the Blue Jays their first lead since Monday and, ultimately, a 4-0 win against the Orioles.
"The big home run let everybody breathe a little bit, even though it was early in the game," Toronto manager John Gibbons said. "We needed that."
The early lead was all Hutchison (5-4) needed to send most of the 44,031 at Camden Yards home disappointed. The 23-year-old tossed seven dominant innings and allowed just six hits. Baltimore couldn't get to him, so it took a 21-minute rain delay after the seventh inning to knock the starting pitcher from the game.
Hutchison has been successful against the O's all season. He's now 2-0 against the Orioles and has never allowed more than two runs in his five career starts against Baltimore. Before O's second baseman Jonathan Schoop homered off him on April 24, Hutchison had shut the Orioles out for 17 consecutive innings.
Schoop threatened to break a Hutchison scoreless streak again in the fourth inning during one of the few frames that the righty had to work out of trouble.
With the bases loaded and two outs, Schoop lifted a fly ball to deep centre field, but it died at the warning track to end the inning.
"I thought I made a lot of really good pitches in that inning, they just happened to place it kind of well," Hutchison said. "I was able to bear down and make a pitch to get out of it."
Hutchison said there's nothing about playing Baltimore that causes him to pitch better. He's simply come in with a good game plan and typically executed it very well against the division rival.
"He's a good pitcher with good stuff," O's manager Buck Showalter said. "He's pretty good against some other people. I can't really put my hand on one thing. I think that's probably it, because it's not just one thing that he does well."
The Blue Jays didn't exactly get the offensive eruption they hoped for to support Hutchison, but they did enough with just four hits. Orioles starter Ubaldo Jimenez (2-8) pitched around trouble and five walks that tied a season high to limit Toronto to just two runs in six innings.
After the rain delay, the Blue Jays added some insurance with the help of an error and a wild pitch.
Outfielder Anthony Gose led off the eighth inning with a walk and eventually came around to score on the wild pitch. Then Jose Bautista got one of Toronto's four hits to drive in Jose Reyes and give the Blue Jays a comfortable four-run cushion.
"We needed that," Gibbons said. "It gave us a little breathing room."
That did it for Hutchison, who left after the delay and 96 pitches, and Baltimore finally got another good chance. Steve Pearce and Adam Jones notched a pair of one-out singles against Brett Cecil before the relief pitcher left with left groin tightness. Dustin McGowan entered for the final five outs, and three strikeouts and six batters later, the pitcher had his first career save.
The arms were finally strong throughout, the bats finally came alive -- sort of -- and Toronto picked up a win to stretch its AL East lead on the O's back to 4 1/2 games, while the Yankees are within four.
"We've been scuffling a little bit as a team lately, especially scoring runs," Gibbons said. "We were able to do that tonight. We were fortunate to add those extra two. In reality, this team needed that."
David Wilson is an associate reporter for MLB.com. This story was not subject to the approval of Major League Baseball or its clubs.