Red Sox bust out early, blow out Indians
Pedroia, Napoli, Pierzynski each drive in pair to back solid Lackey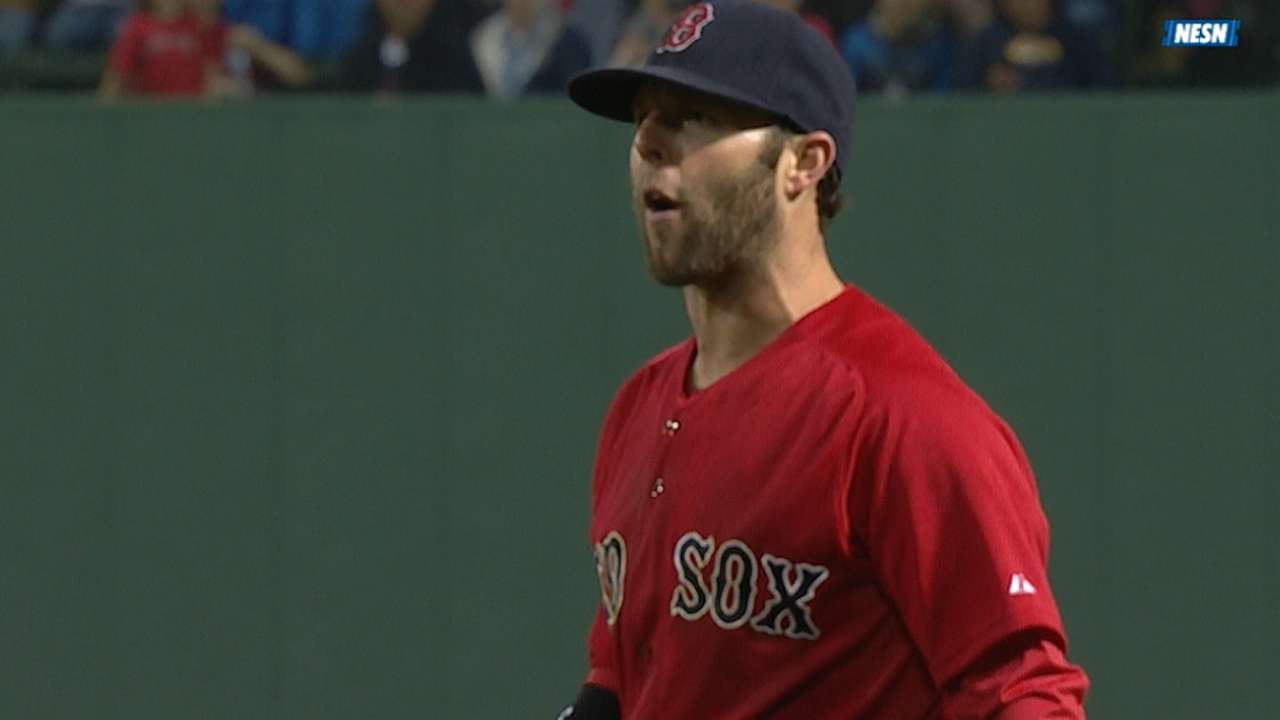 BOSTON -- Yes, those were the Red Sox who put together a legitimate batting barrage Friday night at Fenway Park.
Packing the type of wallop that hadn't been seen much since the glory days of last season, Boston rolled to a 10-3 victory over the Indians.
The 10-run output was the highest of the season for manager John Farrell's team, which had scored nine once, on May 14 against the Twins.
Eight of the nine players in the starting lineup produced hits, led by multihit efforts from Mike Napoli (2-for-3), Daniel Nava (2-for-4) and Jackie Bradley Jr. (2-for-4).
Xander Bogaerts smashed a solo shot off the light stanchion above the Green Monster in the bottom of the eighth, snapping an 0-for-19 drought.
"It was a tough stretch. I'm happy I just got a hit right there," said Bogaerts. "At a certain time I was like, 'Just go out there and have fun. And see what happens.'"
Added catcher A.J. Pierzynski: "Yeah, it was fun. It was fun to see everyone kind of contributed, everyone kind of had a hit and had something to do with us scoring a bunch of runs. You look up, we scored 10, that's a good night for an offense. We had a lot of hits, a lot of at-bats and we had big hits, which is the key."
John Lackey had some brief hiccups early, but settled in for another strong performance. The righty scattered seven hits and three runs over 6 2/3 innings, walking one and striking out five en route to his team-leading eighth victory.
The performance was another demonstration of why Lackey has been the most consistent starting pitcher for the Red Sox this season. He is 8-4 with a 3.24 ERA and could warrant consideration for the All-Star Game.
"I'm not really thinking about it that much," said Lackey. "We end up the first half of the season in Texas, so I'll probably stay home if I don't make it. It's a win-win for me either way."
But bigger than Lackey's win was the sudden breakout by the bats.
Things are starting to come together at last. For starters, Napoli is getting back in full swing after returning from the disabled list. Nava, with five hits in the last two nights, is at last resembling the player who was so important last year.
"He looks confident in the box, he's relaxed, he's in a better position in these last eight or 10 games that he's been back with us," said Farrell. "Gets an RBI double from the right side of the plate, which there's been limited exposure to that side, and I think it just speaks to the confidence in which he's swinging the bat right now."
If the Red Sox can get their complementary players going, perhaps they can finally get back in the thick of the American League East race.
"When there's contributions up and down the lineup, certain guys don't feel like they have to get something done if they're at the plate with runners in scoring position," said Farrell. "To know and trust one another up and down the lineup, yeah, that's what makes us tick best."
Though it was a forgotten memory by the end of the night, the Indians broke out first, with Carlos Santana hammering a two-run homer to right in the second.
But the Red Sox came roaring back in the bottom of the second against Masterson. The righty didn't do himself any favors, walking David Ortiz and Napoli to open the inning. Nava struck a single up the middle and Ortiz was thrown out at the plate. That was just a temporary inconvenience.
Pierzynski smoked a two-run double to the triangle in right-center. Bradley ripped an RBI triple, and the Sox had a 3-2 lead.
"I was just looking for something I could get up. [Indians starter Justin Masterson] does a real good job of keeping the ball down and you hit the ball on the ground, you hit into a double play, so I was just looking for a ball I could get up," said Pierzynski. "Fortunately it found the gap, scored two runs, kind of evened it up at two and got the offense going a little bit."
Michael Brantley's RBI double in the third tied it up. However, this was not going to be a back-and-forth affair.
Masterson just didn't have it, and Tribe manager Terry Francona knew it. After the righty walked Bogaerts and Dustin Pedroia to open the inning, Francona lifted him.
"I threw too many balls," said Masterson. "That's more or less what happened. I put the bullpen in a bad spot. They had to come in way too early before they're supposed to come in."
The Indians' bullpen couldn't get the job done. Kyle Crockett came on and Napoli lined a two-run double to give Boston a 5-3 edge.
The bats came to life again in the seventh, giving the Red Sox the breathing room they haven't been accustomed to this season.
Pedroia, who experienced the joy of his third son being born earlier in the day, lofted a two-run double off the scoreboard in left-center. Napoli singled in a run before the suddenly hot Nava roped an RBI double to left, and the Sox had a 9-3 lead.
"I think a lot of guys have said it -- we've been grinding for awhile," said Nava. "Just haven't gotten things to fall. Things are starting to fall, so we know the type of offense we have, the type of team we have. It's just nice to get things going in the direction we think we're going to get going for awhile."
Ian Browne is a reporter for MLB.com. Read his blog, Brownie Points, and follow him on Twitter @IanMBrowne. This story was not subject to the approval of Major League Baseball or its clubs.