Short-term, long-term options available on waivers
As season progresses, fantasy league standings begin to solidify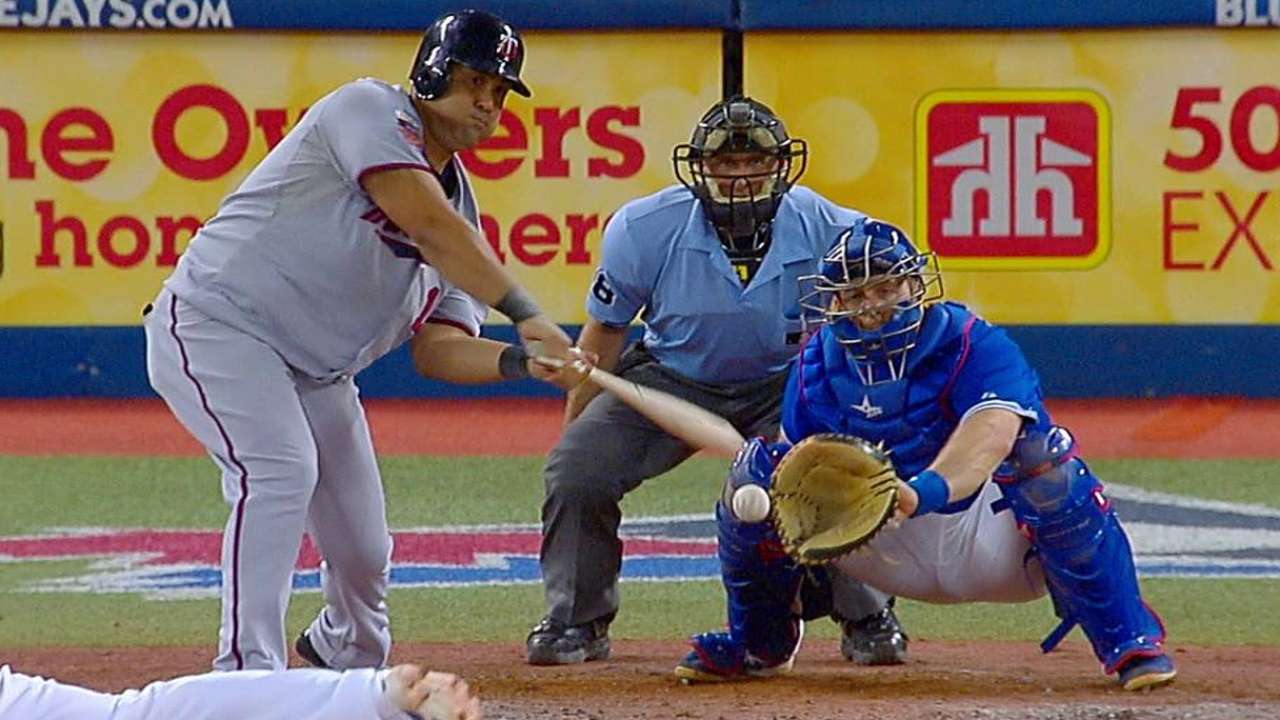 Fantasy league standings are starting to solidify now, as there is less daily movement than there was a month ago. There is a wide selection of long-term and short-term options on the waiver wire, as owners balance their decisions between steady players and those with upside. Here are some players to take a second look at for the coming week.
Catcher, Russell Martin (Pirates): The Bucs backstop carries a heavy workload, and he is one of the few catchers who can offer both homers and steals. Martin sometimes struggles to hit for average, but that has not been the case this season, so he can be used as a short-term option.
First baseman, Kendrys Morales (Twins): Morales has shown no signs of rust, despite skipping all Minor League work after Minnesota picked him up last weekend. The 30-year-old can hit for power, drive in runs and produce a helpful batting average. He is the perfect replacement for teams who were left high and dry at first base by stars such as Prince Fielder.
Second baseman, Tommy La Stella (Braves): The book on La Stella when he came up from the Minors was that he could hit for average, but he would not offer notable power or speed. La Stella has collected at least two hits in six of his past 10 games, with zero homers and one steal, so fantasy owners are getting exactly what they expected.
Shortstop, Chris Owings (D-backs): Owings often hits in front of superstar Paul Goldschmidt, so he is destined to score runs as long as he is getting on base regularly. The 22-year-old is offering some power (six homers) and speed (six steals), and if Owings improves his .308 on-base percentage, he could be something special this summer.
Third baseman, Brock Holt (Red Sox): Boston's sparkplug saw his 10-game hitting streak come to an end on Wednesday. Holt should stay in the lineup often in the coming days, as he has been one of the team's best players this month. A lack of a stable job -- along with minimal power and speed -- makes Holt's long-term potential questionable, but he is a fine short-term option.
Outfielder, Corey Dickerson (Rockies): Dickerson is the most exciting name on this list, and fantasy owners should scoop him up right away. Injuries to Michael Cuddyer and Carlos Gonzalez have opened the door for the 25-year-old, and he has responded with three homers, two stolen bases and 10 RBIs in his past 11 games. By the time the veterans get healthy, Dickerson may have cemented a full-time job.
Outfielder, Shane Victorino (Red Sox): Victorino's slow start and current injury have caused fantasy owners to forget that the 33-year-old is normally a valuable contributor. He should return to the lineup next week, and he could offer plenty of speed in the summer months.
Outfielder, Denard Span (Nationals): Span is not an exciting option, but he is on pace to top 100 runs scored and 20 steals. Combine those counting stats with a helpful batting average, and Span is a good fifth outfielder for teams that need speed.
Starter, Wei-Yin Chen (Orioles): The southpaw has allowed two runs or fewer in seven of his past nine starts. Chen hits the road for a pair of outings next week, but his excellent control (11 walks) should give him a chance to pick up wins against the Rays and the Yankees.
Starter, John Danks (White Sox): Like Chen, Danks is a bit of an afterthought in mixed formats, but he is pitching well right now. The lefty has allowed a total of five runs in his past four starts, and he threw at least seven innings in each outing. Danks will face the Giants at home and the Twins on the road next week.
Starter, Trevor Bauer (Indians): Bauer has had mixed results with the Tribe this season, but he has struck out at least five batters in five of six starts. This is a great week for fantasy owners to take a chance on the 23-year-old, as he will likely notch 10-plus punchouts during a pair of home starts.
Starter, Josh Tomlin (Indians): Though Bauer is the Indians pitcher with the most potential, the steady Tomlin may be a better option right now. The 29-year-old is using elite control to post a 1.07 WHIP, and he is showing an improved ability to rack up K's. Tomlin will start twice next week at home against the Angels and Tigers, so this pick is for deep-league owners.
Starter, Roenis Elias (Mariners): Elias has been inconsistent this season, and he is sitting on waivers in most mixed leagues. His schedule next week consists of a home game against the Padres and a road tilt vs. the Royals. Schedules do not get much more favorable.
Starter, Tommy Milone (A's): Split stats are a fantasy owner's friend, and Milone shows pronounced splits, with a 1.93 ERA at home this season opposed to a 4.73 mark on the road. He will work at home for two starts next week against the Rangers and Red Sox, who have not been swinging the bats as well as many had expected.
Reliever, Cody Allen (Indians): Allen could be on the fast path to being a top-tier closer, and he should be owned in all leagues. The 25-year-old has picked up a save in five straight outings. In that stretch, Allen has registered six whiffs and allowed just one runner to reach base.
Reliever, Zach Britton (Orioles): Fantasy owners continue to be slow to add Britton, but he has converted six of seven save chances, and his ERA is still under 1.00. Britton's leash in the closer role is getting noticeably longer, and he could hold the job all season.
Fred Zinkie is a fantasy baseball writer for MLB.com. This story was not subject to the approval of Major League Baseball or its clubs.