Lucroy's blast breaks tie in 13th to spark Crew
Stellar relief work follows Lohse's eight sharp innings in duel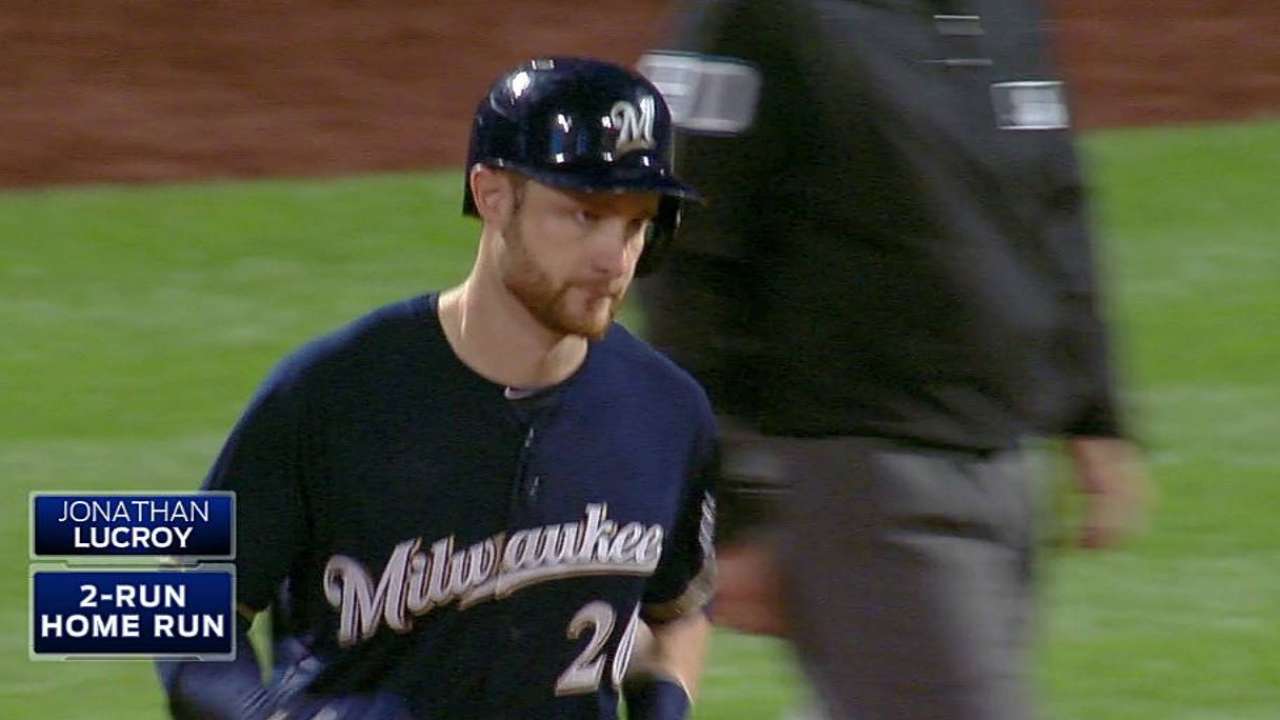 NEW YORK -- By the time Jonathan Lucroy stepped to the plate in the 13th inning, Thursday night was closing in on Friday morning. He was 0-for-5 with a strikeout. It was rainy. Fans were sparse. And a flight home awaited the Brewers, if they ever finished their series finale with the Mets.
Then Lucroy hooked a hanging curveball from New York reliever Carlos Torres, and it landed 10 rows deep in left field for Milwaukee's first score in 3 1/2 hours. It was one of his last acts as a 27-year-old, and it put the Brewers on top for good. A couple of insurance runs later, they left Citi Field with a 5-1 victory and series win.
"Believe me, I was trying to do it earlier than that. Sorry," Lucroy said with a laugh. "After [Ryan Braun] got the leadoff [single], I was up there just trying to hit the ball hard and drive it. He left me a pitch up that I was able to hit hard.
"Just lock in. It's all about going up there and keeping your simple approach and trying to see the ball up in the zone, hit the ball hard. When he gives you a pitch to hit, you take advantage."
Lucroy took advantage, and it resulted in a win as significant as any on the team's eight-game, three-city road trip. The catcher's late dramatics were the difference between a 5-3 and .500 road trip.
"Big difference," said Lucroy, who turned 28 at the stroke of midnight. "If you're ever .500, you'll be in good shape. But still, we have a lot of expectations for our team and we expect ourselves to win every game. We know that's not possible, but we know we definitely have the ability for it."
Added Brewers manager Ron Roenicke: "It's a real good one to win. We got great pitching today. It took a long time to get some offense, but we had great pitching."
Lucroy's blast all but ended a memorable -- and odd -- pitchers' dual.
Brewers righty Kyle Lohse and Mets southpaw Jon Niese sped through the first seven-plus innings but never could have anticipated what would unfold after their departures: a three-minute rain delay, a five-man infield, a pinch-running pitcher and then, finally, Lucroy's go-ahead blast.
Milwaukee reliever Brandon Kintzler extricated himself from a major jam during a wacky 11th inning. David Wright walked and stole second before moving to third on Lucas Duda's grounder. With one out and the potential game-ending run 90 feet from home, Roenicke brought Braun in from right field as a fifth infielder. Two more walks loaded the bases -- and Mets hurler Zack Wheeler pinch-ran for an injured Curtis Granderson -- before Kintzler induced a groundout and strikeout to escape.
"We had our opportunities," said Wright, the Mets' third baseman. "You finally get one of those opportunities late in the game and you want to be the guy that gets that big hit. We have to do a better job."
The bullpen work -- five scoreless innings from four relievers -- salvaged what was a dominant start for Lohse. He allowed an unearned run in eight innings, yielding four hits while striking out three and walking none. Lohse was perfect through three innings, and he would've posted all zeros if not for a two-base error by center fielder Carlos Gomez in the fourth. Daniel Murphy sent a single to center -- New York's first baserunner of the night -- and ended up on third when the sinking liner skipped by Gomez. Murphy scored on Bobby Abreu's sacrifice fly the next at-bat to knot the game at 1, which would remain the case until Lucroy untied it.
"I like Gomey being aggressive," Roenicke said. "He came charging in hard, and I think he should. I think he should go for balls. And then when you see you're not going to get it, you try to block it, and the ball got by him somehow."
In the second, Aramis Ramirez deposited a low-and-in fastball into the left-center-field seats for a 1-0 Milwaukee lead. The 1-0 offering from Niese was the only significant blemish of his night, which lasted 7 2/3 innings. He allowed six hits and one walk while striking out eight.
As if the on-field weirdness wasn't enough, the weather got in on the action, too. The skies opened up suddenly during the top of the 11th inning, and the umpires briefly stopped the game.
Play resumed three minutes later.
"Crazy night," Lucroy said. "Glad we could win and get out of here. But a good night."
Tim Healey is an associate reporter for MLB.com. This story was not subject to the approval of Major League Baseball or its clubs.