Buehrle, bats frustrated by rival O's in opener
With help from early homer off lefty, Orioles gain ground in AL East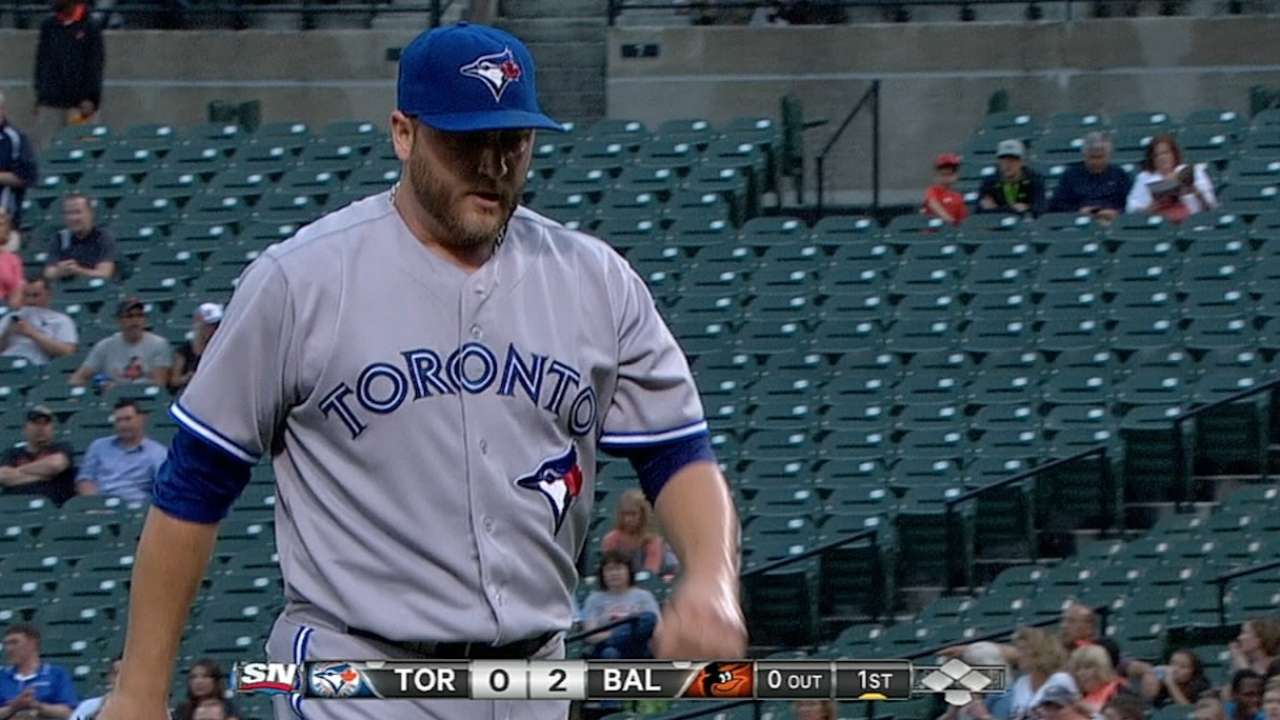 BALTIMORE -- The sight has become far too familiar to the Blue Jays as they continue to stumble through the second week of June.
Just two batters into Mark Buehrle's night at Oriole Park at Camden Yards, a fly ball was soaring to the seats, and a crooked number was placed on the scoreboard.
For the third straight game, a Blue Jays starting pitcher allowed multiple runs in the opening frame, and for the third straight game Toronto was unable to rebound. On Thursday, it was a two-run home run by outfielder Delmon Young that put the O's ahead early on their way to a 4-2 win against the Blue Jays in front of 17,403 fans.
"It kind of seems like it's taking the wind right out of our sails," Buehrle said.
Buehrle (10-3) entered the evening searching for a Major League-leading 11th win, but he allowed four runs on eight hits in 6 1/3 innings to leave Toronto with a fifth loss in six games and his second straight.
The win brings the Orioles within 3 1/2 games of the Blue Jays for first place in the AL East.
"It's just about getting wins right now and getting back to playing good baseball," Baltimore starting pitcher Kevin Gausman said.
Typically, four runs would not have been an issue for Buehrle. The starting pitcher entered Thursday night receiving an average of 5.21 runs of support -- tied for 13th most in the Majors.
But Toronto's offense has not played like its typical self. The Blue Jays did not get a hit out of the infield until the fifth inning and managed just five hits and one run off of Gausman (2-1) in six innings.
"We've run into a stretch of pitchers who are really executing, doing their job," Jose Bautista said. "That's nothing to feel sorry about when they're coming out and performing well. We just have to keep battling and figure out different ways to score runs."
After the home run by Young in the first, Manny Machado led off the second with a double to end an 0-for-18 skid. Two batters later, catcher Caleb Joseph singled the third baseman home to give the O's a 3-0 lead.
Buehrle recovered after his slow start to keep Toronto in the game, but the veteran did not quite give the Blue Jays what he has typically provided during his reinvention into a Cy Young contender. The 35-year-old struck out just three batters and struggled to erase his mistakes.
Three times Buehrle let the leadoff man aboard, and all three times the Orioles turned the opportunity into at least one run.
"There were times I made a lot of mistakes, and they made me pay for them," Buehrle said, "and then I made a few good pitches, and they put the ball in play and got some base hits."
The larger issue was obvious, though. After a five-game stretch that saw the Blue Jays score four or more runs in each game, Toronto has failed to hit that mark in six of seven. By the end of the second inning, Buehrle and the Blue Jays were already in too deep a hole.
Toronto took four innings to finally get its first hit out of the infield. During that fifth inning, the Blue Jays got their first run -- on a single by Melky Cabrera -- but they could not put anything else together until they got a chance against Baltimore's bullpen.
"[Buehrle] kept us in there and gave us a chance," Toronto manager John Gibbons said. "We couldn't get anything going offensively. As hot as we were, we were bound to cool off eventually."
Although the Blue Jays' lead in the division is shrinking, the club remains 10 games over .500 and is in first place this late into the season for the first time since 2000.
This series with the second-place Orioles remains critical, but even the worst possible result will not sink a season.
David Wilson is an associate reporter for MLB.com. This story was not subject to the approval of Major League Baseball or its clubs.