Fill-in starter Gausman gets better of Buehrle
Young's two-run homer gives O's right-hander early run support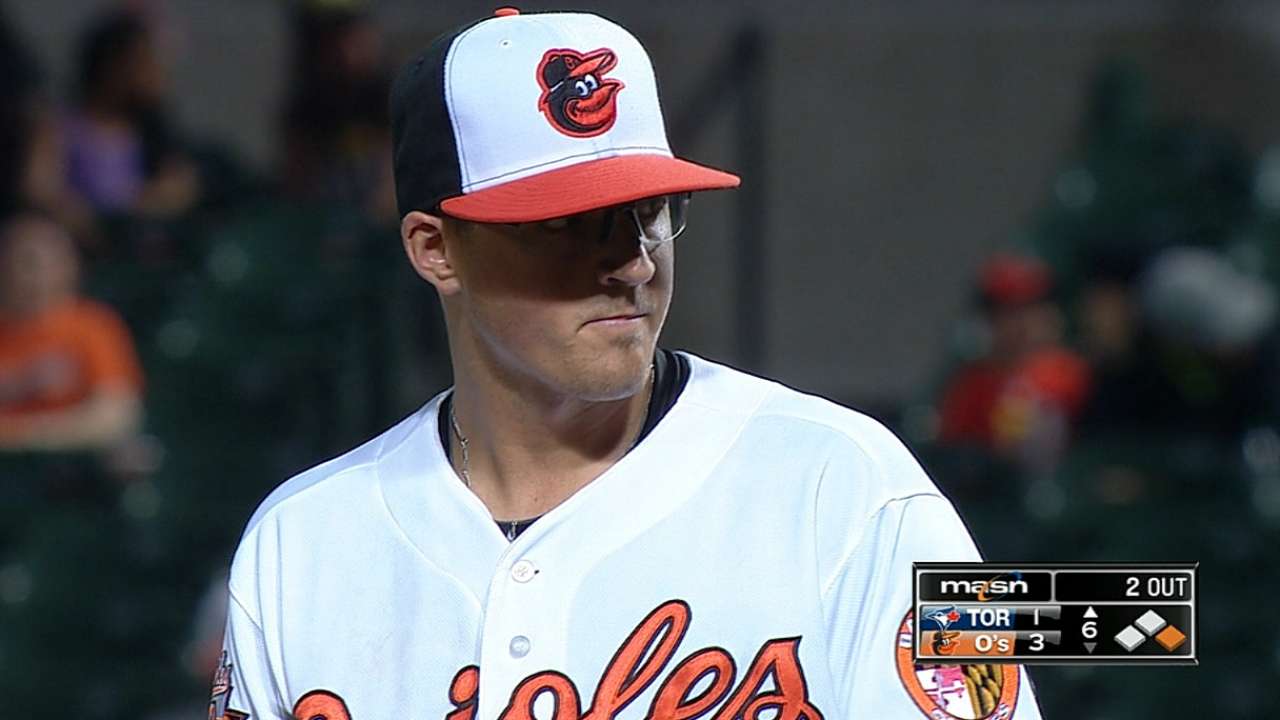 BALTIMORE -- Amid the pending return of right-hander Miguel Gonzalez, Kevin Gausman continues to state his case.
Gausman, coming off an outing of a career-high 102 pitches that saw him hold Oakland to one run over seven innings, followed that up Thursday night with another impressive start. The 23-year-old kept the lineup of first-place Toronto in check over six innings, allowing a run on five hits and perhaps making Baltimore's coming rotation decision go in an entirely different direction.
Or at least make it more difficult.
Gausman's gem, coupled with an outstanding offensive performance off Blue Jays starter Mark Buehrle -- highlighted by Delmon Young's two-run homer -- kept the O's rolling with a 4-2 series-opening win against the Blue Jays.
But was it enough to guarantee another start?
"Well, he's done what it takes to be considered," Orioles manager Buck Showalter said. "He's taking care of his end of it. And the good news for us is we've got some other people capable of pitching well, too.
"Miggy was throwing the ball well before he got hurt, so that bodes well. We'll see how everybody feels the next day or two and take a look and see where we are. But I was hoping it would be an outcome similar. Gaus has done, he's pitched well in his two outings. Just hope he's starting to grasp what it takes to consistently help this team win."
Gausman continued an impressive stretch by the previously struggling Orioles starters. Baltimore (34-31) has limited opponents to three runs in its past four games and moved within 3 1/2 games of the American League East leaders with three games remaining in the series.
"We knew coming into this the whole homestand was big for us," said right fielder Nick Markakis, who went 2-for-4 with an RBI double that put him in sole possession of seventh place on the Orioles' all-time hit list. "Especially finishing up a homestand with four games with the guys you are trailing. Every game from here on out counts. And we did a good job getting Game 1. That was our main objective."
Gausman shook off Anthony Gose's third-inning comebacker and stayed in to turn in his second consecutive quality outing, using a circle change he had just started to incorporate a year ago as a major part of Thursday's repertoire.
"He's got that overpowering fastball," Toronto manager John Gibbons said of Gausman, who has turned in back to back games of at least six innings for the first time in his two-year big league career. "He was keeping it in the zone. I think in the past he's battled control issues, but it looks like it's all come together for him."
The righty did not allow an extra-base hit until Juan Francisco's leadoff double in the fifth -- the first allowed by the Orioles' pitching staff in 23 innings. Francisco came around to score, the first run against Baltimore in 19 innings, on a two-out single from Melky Cabrera.
It was all Gausman would allow, as he exited after six innings, pitching his way around a one-out single to rousing applause from the crowd of 17,403 at Camden Yards.
"I felt good about what I've done," Gausman said when asked about the team's pending rotation. "I feel comfortable right now and, like you said, that's not my decision. Whatever happens is going to be for the club's best interest."
Gausman was staked to an early lead as Young -- making just his second start since May 25 -- delivered a first-inning blast. After Markakis singled to start the bottom of the first, Young sent Buehrle's 1-0 pitch into the left-field seats for his second homer of the season.
"A lot of guys had at-bats against him, so you had an idea of how he wants to throw against you," said Young, who is a career .396 hitter (19-for-48) against Buehrle with four homers. "It's just when he's going well he's getting you to expand the zone and work past your tempo. Today we did a good job of having good at-bats and laying off some pitches, and when we got a pitch we could drive, guys put a good swing on it."
The O's added on in the second inning with Caleb Joseph's single to score Manny Machado, who had ended an 0-for-18 skid with a leadoff double. It marked just the third time in 14 starts that Buehrle had allowed more than two earned runs.
Buerhle was charged with another run in the seventh, when the O's forced the veteran into his shortest start in a month with Markakis' one-out double. Jonathan Schoop started the inning with a double and moved to third on Joseph's sacrifice bunt before Markakis hit a ball off the out-of-town scoreboard to pass former teammate Brian Roberts on the Orioles' all-time hit list.
"That's pretty cool, huh? I'm not surprised," Showalter said of Markakis' accomplishment. "One, he's stayed in one place for a long time, and two ... when you're using words to describe Nick, he's just a dependable, consistent guy in more ways than one. I think the numbers he's accumulated are just a byproduct of how he plays the game and how he lives his life."
Lefty Brian Matusz tossed a scoreless seventh with two strikeouts after Gausman, with Ryan Webb allowing a run in navigating through the eighth. Closer Zach Britton picked up his sixth save in seven opportunities to seal the win to start what could be a pivotal June series.
"It could be big, and it could be small," Young said. "We've got to come out and play really good baseball. Still got three more months after this. We could sweep here and cut it to half a game."
Brittany Ghiroli is a reporter for MLB.com. Read her blog, Britt's Bird Watch, and follow her on Twitter @britt_ghiroli. This story was not subject to the approval of Major League Baseball or its clubs.