McCutchen, Volquez team up to keep Cubs down
Outfielder continues torrid June run; righty goes seven innings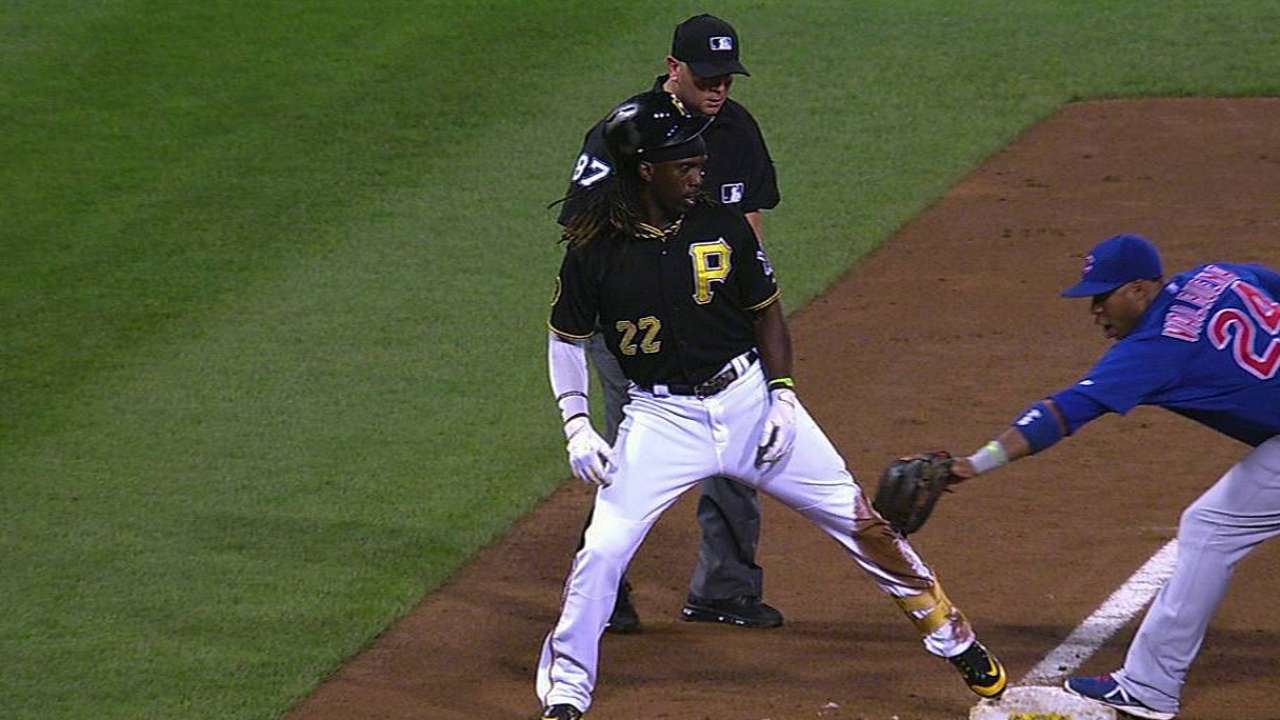 PITTSBURGH -- Andrew McCutchen's torrid run of extra-base hits has been going on for so long, there are few words left to describe it. So Clint Hurdle improvised.
"Twenty-two is McHot right now," the Pirates' manager said.
McCutchen continued that trend Thursday in a 4-0 win over the Cubs, going 2-for-4 with two doubles and two RBIs. Edinson Volquez pitched seven scoreless innings to set up the first Pirates' shutout since Opening Day, as they took three of four from Chicago.
McCutchen, the defending National League MVP, has 15 extra-base knocks this month (nine doubles and six homers), an average of one per every 2.8 at-bats. For reference on what McCutchen has accomplished since the flip of the calendar, the San Diego Padres, as a team, have the same number of extra-base hits since the end of May.
"I'm seeing the ball, and when I get a pitch to hit, I hit it, and I'm finding the gaps," McCutchen said. "[That's] basically what's happening right now for me, so everything is working out right now, and I just want to stay where I'm at."
The only misstep -- or mis-hop, rather -- came when McCutchen popped off third base on a slide and was tagged out after he hit an RBI double. The play was originally ruled a double, then changed to a triple but later reversed again in the seventh inning by the official scorer.
A career .324 hitter in June -- his best average of any month -- McCutchen has taken things to another level in 2014. Through 11 games in June, McCutchen's stat line looks like this: .429 average, 14 RBIs, 1.071 slugging percentage and a 1.570 OPS.
In a game that featured one hour and 35 minutes of rain delays, the extra-base hits were contagious for the home side. Seven of the Bucs' 10 hits were doubles, and they scored all four runs against Jeff Samardzija. Facing the Cubs' righty for the first time since Opening Day, the Pirates got additional offensive boosts from Russell Martin and Jordy Mercer, who each had RBIs in the fourth inning. Samardzija, who entered with a 2.54 ERA, didn't allow a run to the Pirates when he faced them earlier in the season. But he gave up nine hits and was chased after six-plus innings Thursday.
"Probably the most impressive [aspect] was the way we were able to battle against one of the best pitchers in the league throughout the lineup," Hurdle said. "The at-bats, we were able to stretch him out a little bit."
Martin's softly hit ground-rule double down the right-field line got the Bucs on the board, and thanks to his batterymate, the one run would have been enough.
In one of his best starts of 2014, Volquez tossed seven scoreless innings and worked his way out of trouble a few times. With runners in scoring position, the Cubs were 0-for-8 against Volquez and struck out four times.
Volquez used his breaking ball effectively, and got both Junior Lake and Anthony Rizzo to swing and miss it in the third inning to halt the Cubs' early scoring chance and keep the game scoreless.
"From throwing long toss, warmup, I just felt good, and I was able to carry it into the game," Volquez said. "I was trying to follow Martin, we were working on the same pace, and I just threw everything he put down."
Volquez scattered seven hits and struck out five on 99 pitches. When rain started pouring in the seventh, Volquez appropriately got the last two batters he faced to both ground out with a runner at second.
"You have to tip your hat to [Volquez]," Cubs manager Rick Renteria said. "Today was one of his better starts. He was commanding the zone like he does when he's in a good place. We were on the other side of it."
Tony Watson and Jared Hughes came out of the Pirates' bullpen, with each pitching a perfect inning to complete the shutout -- the team's first in 65 games, ending its longest shutout drought since the 2009 season.
Stephen Pianovich is an associate reporter for MLB.com. This story was not subject to the approval of Major League Baseball or its clubs.