Samardzija unable to solve Bucs as Cubs blanked
Righty gives up season-high nine hits; lack of run support continues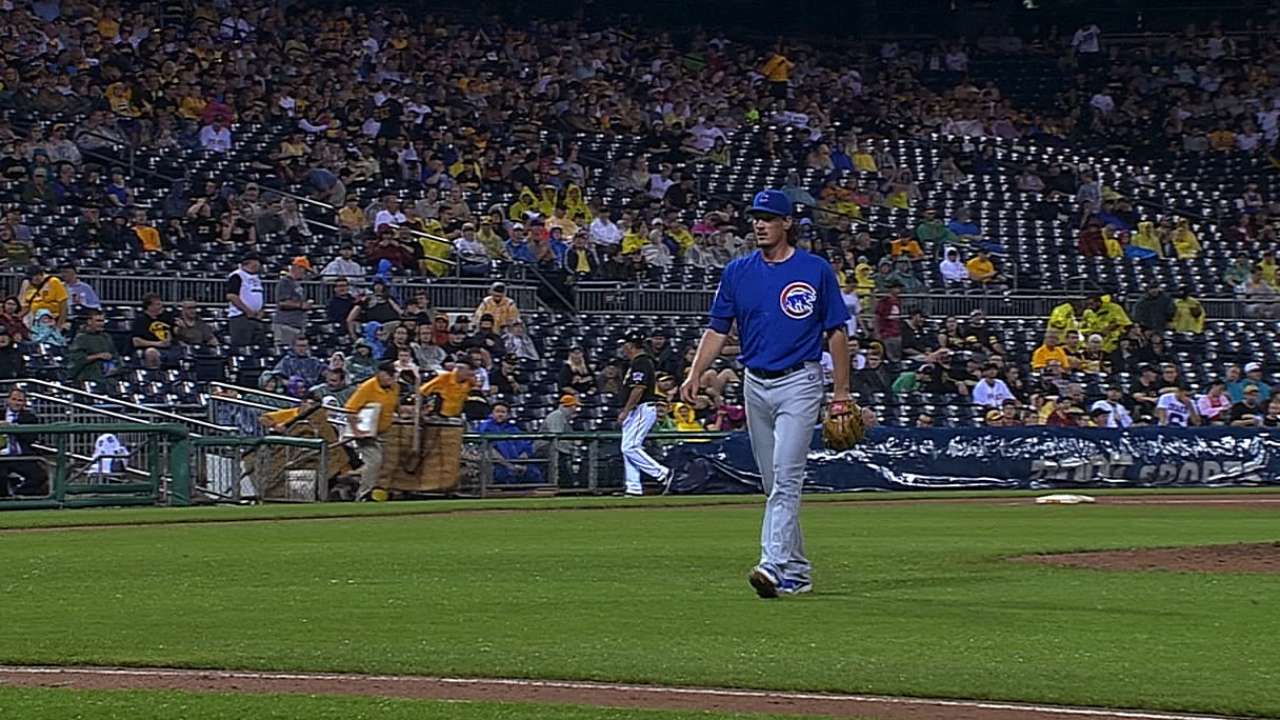 PITTSBURGH -- Jeff Samardzija was back where the season started, and he got the same result.
Andrew McCutchen hit a two-run double to back Edinson Volquez and spark the Pirates to a 4-0 rain-interrupted victory over Samardzija and the Cubs on Thursday night at PNC Park.
On March 31, Samardzija was the Cubs' Opening Day starter against the Pirates, threw seven shutout innings and did not get a decision in a 1-0 loss. The lack of run support is a recurring theme in Samardzija's outings. Thursday was the fifth game he has started in which the Cubs have been shut out. Last year, Chicago was blanked in six of the right-hander's starts.
"That's obviously not what you want to happen," Cubs manager Rick Renteria said of the lack of offense. "It's kind of a coincidence [it's happened] when Jeff's throwing.
"You have to tip your hat to [Volquez]," Renteria said. "Today was one of his better starts. He was commanding the zone like he does when he's in a good place. We were on the other side of it."
The Cubs stranded eight and went 0-for-8 with runners in scoring position against Volquez, who served up seven hits over seven innings.
With the win, the Pirates lead the season series, 7-3, and the Cubs dropped to 11-24 on the road. The start of the game was delayed 21 minutes because of rain, and play was stopped again in the seventh for one hour, 14 minutes.
The Pirates threatened in the third. Clint Barmes was at third with one out and tried to score on Gregory Polanco's fly ball to right, but Nate Schierholtz threw him out at the plate.
McCutchen respected Schierholtz's arm in the fourth. With one out, McCutchen doubled and Ike Davis singled to right. McCutchen rounded third on Davis' hit, but stopped there. Russell Martin then drove him in with a ground-rule double down the right-field line. Pedro Alvarez was intentionally walked to load the bases for Jordy Mercer, who hit a sacrifice fly to put the Bucs ahead, 2-0.
Polanco and Starling Marte hit back-to-back singles in the fifth, and both scored on McCutchen's double to left-center. But McCutchen was out at third on the play when he overslid the bag, and third baseman Luis Valbuena tagged him.
"Let the next team that plays him pitch around him and let him get on first," Samardzija said of McCutchen. "You need to understand that and work a little better in situations. He hit two cutters, and not much else to say about it."
Samardzija served up a season-high nine hits over six-plus innings.
"Jeff had really good life to his pitches, but his command didn't seem to be as good as he has been previously," Renteria said. "Balls were coming back over the plate a little bit. It was something that you could see based on the results. I'm sure he didn't feel very good about his outing today. It wasn't that he didn't have good velocity -- he had great velocity, but I think his command was off."
Samardzija was leading the Major Leagues in ERA on June 1. In his last three starts, he's given up 14 earned runs on 22 hits over 16 innings.
"Today, his pitches had a tremendous amount of life," Renteria said of Samardzija. "His command was just off. Some of the other games he had his hiccups, I didn't think he had as much life as he had today.
"You've got to be able to command the zone and hit your spots when you need to -- especially when you're playing against a pretty aggressive fastball-hitting club."
The Pirates did keep Samardzija busy, but the right-hander felt better about his pitches than Renteria did.
"I thought I had pretty good stuff out there," Samardzija said. "I just feel they jumped on my mistakes. I thought I had pretty good command. They didn't let me get away with anything.
"It's a matter of putting guys away. I liked how I felt out there. They hit my pitches when I didn't hit my spots, and they took advantage of it."
"Probably the most impressive [aspect] was the way we were able to battle against one of the best pitchers in the league throughout the lineup," Pirates manager Clint Hurdle said. "The at-bats, we were able to stretch him out a little bit."
The Cubs were shorthanded two pitches into the game when leadoff batter Emilio Bonifacio suffered a right rib cage injury on a swing. He fell in the batter's box, and had to be helped off the field. Bonifacio was headed to Chicago to be examined, and the Cubs expected to know the extent of his injury on Friday.
Carrie Muskat is a reporter for MLB.com. She writes a blog, Muskat Ramblings, and you can follow her on Twitter @CarrieMuskat. This story was not subject to the approval of Major League Baseball or its clubs.