Jeter's big night leads Yankees to Safeco sweep
Shortstop has three hits, two RBIs in final scheduled game in Seattle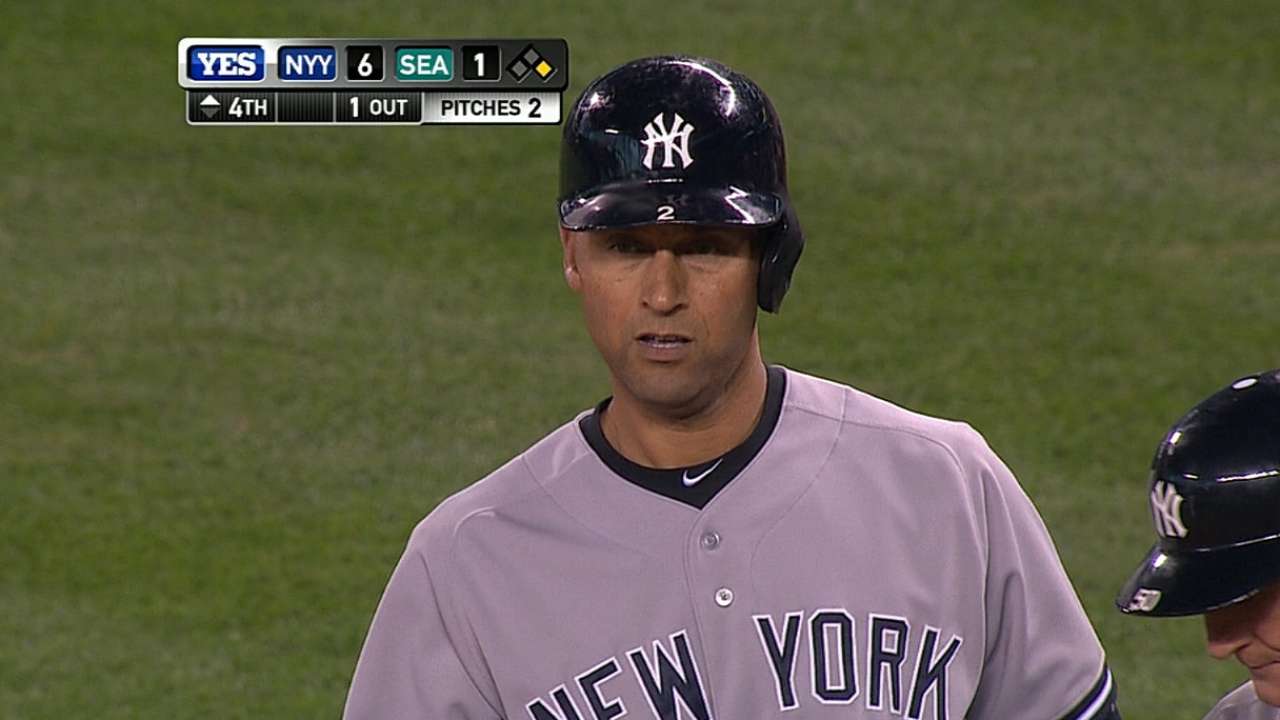 SEATTLE -- Derek Jeter's big league career started in this city back in May of 1995, just a short walk away at the old concrete Kingdome, and his most vivid memory of that evening was scarfing down fast-food cheeseburgers with his father after the game.
The captain celebrated his last regular-season visit to the Emerald City in much finer fashion on Thursday night, ripping three hits, scoring two runs and driving in two as the Yankees completed a three-game sweep of the Mariners with a 6-3 victory at Safeco Field.
"It's still hard to think you're not going to play another game here," Jeter said. "I think when you come to some of these cities, you start thinking about some of the memories you had here. Seattle will always be special, because it was the beginning."
Jacoby Ellsbury hit a two-run homer, Alfonso Soriano knocked in two runs, and the Yankees flashed some terrific outfield leather to support Chase Whitley, who hurled a career-high 7 2/3 innings and notched his second consecutive win.
"It feels good to come out here and win three games. It's not an easy place to win," Yankees manager Joe Girardi said. "They've pitched very well, and we haven't scored a lot of runs off of them. It's really good to see."
New York scored more than four runs in a game for the first time since May 28 at St. Louis, and this marked the Yanks' first three-game sweep of the season.
"Wins haven't been easy to come by," Brett Gardner said. "Three in a row, and the Mariners have been playing pretty well. We faced some good pitching. We needed this."
Seattle left-hander Roenis Elias was pounded for six runs and six hits in 3 1/3 innings. Ellsbury started the damage in the first inning, with his fourth homer of the season, extending the longest active hitting streak in the Majors to 16 games.
Soriano delivered a two-run double off Elias in the third inning, marking his first multi-RBI game of the season. Jeter had hits in his first three at-bats, giving him ample time to chat with Seattle first baseman Logan Morrison.
"He said after the first at-bat, 'Good luck and stay healthy, if I don't see you the rest of this series,'" Morrison said. "And I'm like, 'I'm sure I'll be seeing you a lot more in this game.' I told him he must be somebody important when I pointed to the [Jeter logo on the base]. He was like, 'Man, I didn't even see that.'"
Morrison was prescient; Jeter extended the lead in the fourth inning, greeting Dominic Leone by flaring a 96-mph fastball into shallow right field for a two-run single.
"Just a great night," Girardi said. "You think about that hit he got with second and third and the infield in; that's a huge hit."
Whitley held Seattle to two runs and five hits, helped by Safeco's forgiving dimensions, the Mariners' aggressiveness and the Yankees' skilled outfield defenders.
"I felt like I was pitching well in Triple-A, and I'm just trying to carry that over to here," Whitley said. "I think I said it the first outing: it's the same game I've been playing since I was 5, so you just go out and continue to compete."
Morrison hit a second-inning homer and James Jones logged an RBI single in the fifth, an inning that ended when Ellsbury robbed an extra-base hit from Robinson Cano, crashing into the wall in left-center field.
"This park, I thought it played bigger, and sure enough, it did. I thought it was gone for sure," Whitley said.
Whitley walked none and struck out six in the effort, and he has not issued a walk to his last 114 batters faced.
"The kid has been consistent with his stuff," Girardi said. "He doesn't beat himself."
Gardner shifted to center field when Ellsbury left the game in the seventh with right hip tightness. He made a similar catch at almost the same spot in his first half-inning in center, robbing Mike Zunino and deking the crowd with a nonchalant reaction.
"I made them wait for it for a couple of seconds," Gardner said. "Keep Whitley on his toes."
In the ninth, Shawn Kelley was rusty in his first appearance since May 6, allowing Morrison's one-out RBI double. Closer David Robertson finished out the win for his 16th save.
"It's tough to sweep teams, but we got some good pitching here, these three games," Jeter said. "And we were able to score enough runs."
Jeter, who opened his career by going hitless in five at-bats on May 29, 1995, and logged his first career hit the next night, finished 7-for-12 with four runs scored in this series.
In his final regular season at-bat in Seattle, Jeter smashed a hard grounder back to pitcher Charlie Furbush and was called out at first base on a bang-bang play. He jogged off the field to a standing ovation, acknowledging the crowd with a quick fist pump.
"They've been great," Jeter said. "It's awkward when you're in the middle of a game and the game's not over, but the fans have been great all three games here. I always have fond memories of Seattle, because this is where it began."
Bryan Hoch is a reporter for MLB.com. Follow him on Twitter @bryanhoch and read his MLBlog, Bombers Beat. This story was not subject to the approval of Major League Baseball or its clubs.