Given new life, D-backs fall in extras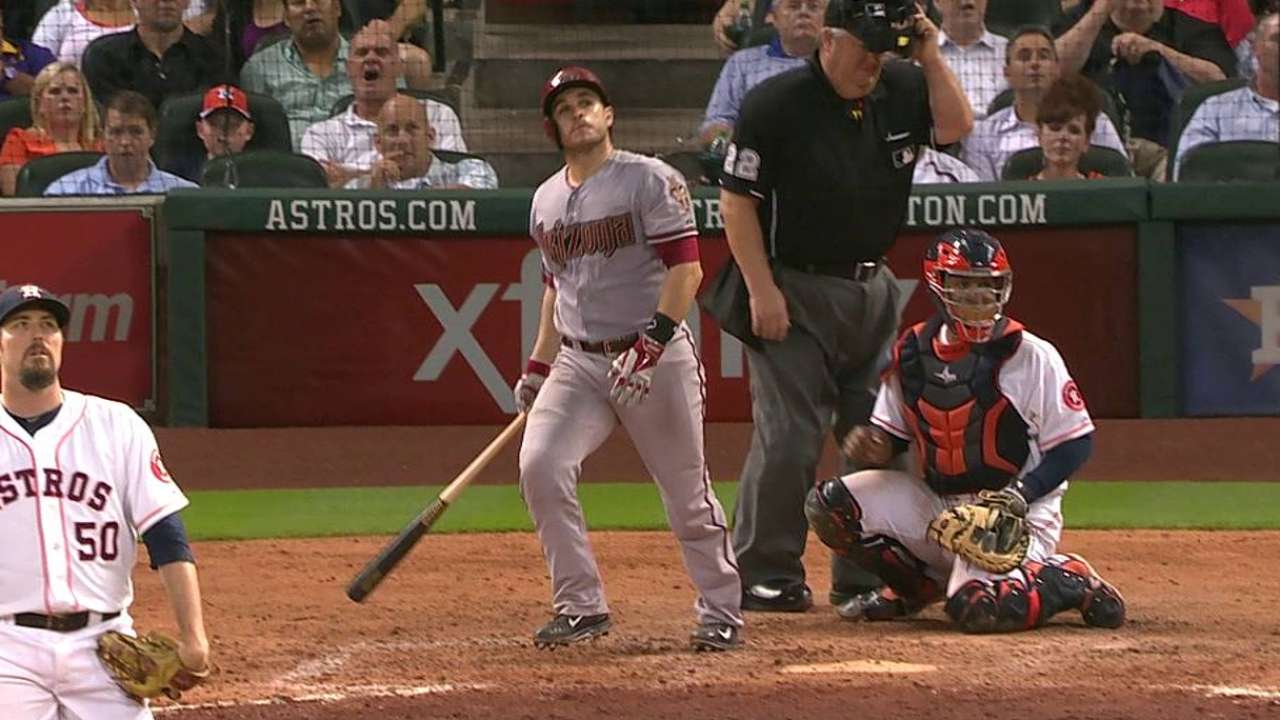 HOUSTON -- J.J. Putz said that the pitch was down and on the corner.
Still, the Astros' Chris Carter got his bat on it, rendering a D-backs comeback moot by hitting a game-winning homer in the 10th inning for Houston in its 5-4 win over Arizona at Minute Maid Park on Thursday.
"He put a pretty good swing on it," Putz said. "You just have to tip your hat to him. There's nothing else to say."
The D-backs slowly pecked away at an early Astros lead with a trio of one-run innings in the game's final five. It looked as though they had overcome Houston's big night in the ninth inning, when Miguel Montero homered on the first pitch from Houston closer Chad Qualls to tie the score at 4.
But the resilient Astros overcame that blown save when Carter blasted Putz's pitch high over the left-field wall. It was Houston's third homer of the game.
"You've got to keep the ball in the ballpark," manager Kirk Gibson said. "We didn't do a very good job of that tonight. Three home runs sunk us."
Trailing, 4-1, Arizona began its comeback in the sixth inning. Didi Gregorius was hit by a pitch to lead off the frame. One batter later, Paul Goldschmidt hit a double off the wall in left-center field; Gregorius moved to third, and he later scored on a wild pitch from Astros starter Scott Feldman.
The D-backs' cut the lead to one run thanks to Chris Owings, who hit a solo homer to left field in the seventh. Arizona nearly tied the score one inning later. Martin Prado hit a ball to shallow left field. Goldschmidt tore toward home from second base, but Houston's George Springer made a diving catch and easily doubled up Goldschmidt.
"I saw it off the bat, paused for a second, thought it was going to fall in there," Goldschmidt said. "I didn't think there was any chance he was going to catch it, but he did. He made an unbelievable play."
The D-backs leave Houston with a record of 29-40, a half-game behind the Padres, knowing their starting pitching will have to improve in their next series, against the Dodgers.
Thursday starter Wade Miley struck out eight in five innings, but he gave up two home runs as well. The first was by Astros rookie Jon Singleton in the third, the second was a two-run shot off the bat of Carlos Corporan in the fourth.
"I couldn't hit a spot," Miley said. "Throw one way, it would go somewhere else. I just didn't locate at all."
How will the D-backs respond from losing in such tough fashion? Gibson doesn't think it's too complicated.
"You suck it up," Gibson said. "You want to -- and you expect to -- win that game. Carter got the home run on us, and they had the last at-bat."
Mike Vernon is an associate reporter for MLB.com. This story was not subject to the approval of Major League Baseball or its clubs.