Balancing act: Offense, defense, pitching pave way
Papi hits 15th home run, Bradley turns stellar double play, ace sets tone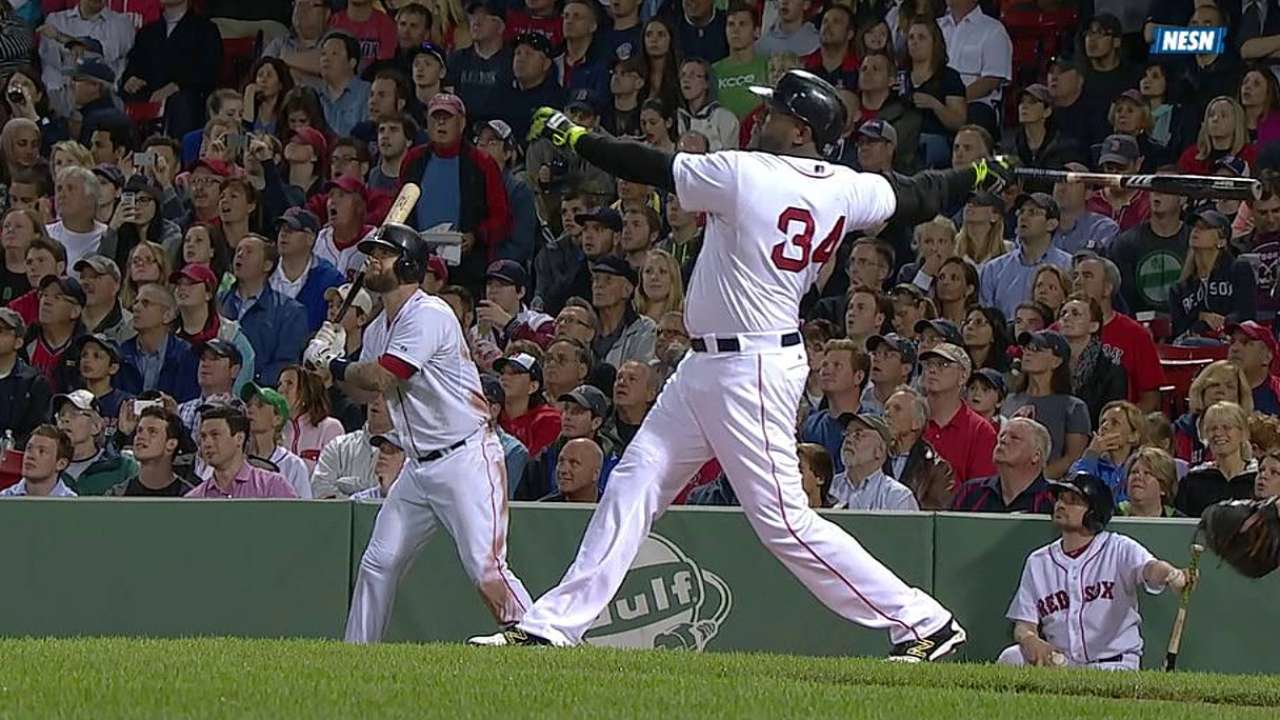 BOSTON -- Timely hitting, strong pitching and some sensational defense all on the same night?
That type of balance has been elusive for the Red Sox in recent weeks, but it all came together in a 5-2 victory over the Indians on Thursday night in an auspicious opener to a seven-game homestand.
After a 2-7 road trip, which concluded with one run over three games in Baltimore, Boston needed a night like this.
Though five runs is hardly a batting barrage, it felt like it for the Red Sox after the three games at Camden Yards.
Brock Holt had a pair of hits from the leadoff spot. Daniel Nava had a three-hit night. Mike Napoli and Jonathan Herrera produced a pair of hits each while David Ortiz clocked his 15th homer of the season.
Four of the five runs came with two outs.
"At this point, it doesn't matter how many outs there are," said manager John Farrell. "RBIs, runs scored, whether it's no outs, two outs, it was just good to get a little breathing room tonight."
Lefty Jon Lester set the tone, going 7 2/3 innings while scattering eight hits and two runs (one earned). He walked one and struck out four, throwing 109 pitches.
"It was good. A win's a win," said Lester. "A bit of a grind, but some of the mistakes I did make were just singles."
It was the type of workmanlike performance Indians manager Terry Francona saw many times before, only on those occasions, it was to his benefit.
"He's really good," Francona said of Lester, "and he came out of the chute firing and looking really good. Trying to beat a pitcher like that, sometimes you have to try to get him out of the game or keep the score to a point where, when you do finally get on the board ... we got to 3-2, but we couldn't hold them down."
The play of the night came from Jackie Bradley Jr., who made a highlight-reel throw from the wall in left-center field to first base to double off Mike Aviles in the seventh.
"That fired me up right there at third base," said Holt. "I yelled out there at third. That was a special play. A huge play, too."
Grady Sizemore leaned over the railing in right field to make a catch on a foul ball by Aviles to end the fifth.
Koji Uehara, the lights-out closer, finished the night with a scoreless ninth.
"I would hope nobody's taking him for granted and what he's been able to do over the last year, year and a half is pretty incredible," said Lester. "If people don't know who he is, by now with the World Series and what he did in the playoffs, they're not paying attention. I'm glad he's on our team and at the back end of our bullpen. He makes our jobs a lot easier."
The Red Sox got a break to start the second, as Napoli reached on a throwing error by shortstop Asdrubal Cabrera. Nava followed with a line-drive single to right to put runners at the corners with nobody out. Sizemore came up next and delivered a ground-rule RBI double to right.
Ortiz boosted the lead to 3-0 in the fifth by walloping a two-run homer to center.
"We had long at-bats, and we're grinding out [Josh] Tomlin all night," said Lester. "David obviously there in the fifth with a good swing to put us up three. That's big. Unfortunately, I go out there and give two right back, but guys did a good job of continuing to battle and putting up some runs for me."
When Lester allowed the Indians back into the game, his fielding gaffe was the biggest culprit.
The lefty dropped the ball on a feed to the bag by Napoli after a grounder by Michael Bourn. Michael Brantley lined a double to left-center and Jason Kipnis made it a 3-2 game with a two-run single.
Boston got those runs right back. Jonathan Herrera was the catalyst with a two-out triple. Following a walk by Bradley, Holt delivered a two-run double to again make it a three-run game.
"The biggest thing for us is when we answered back after they scored the two runs to make it 3-2," said Farrell. "A key at-bat off of [Nick] Hagadone by Bradley to draw the walk and then Brock Holt once again is seemingly in the midst of a number of multirun innings, and tonight was no different."
In the seventh, Aviles hit a one-out single and Bourn followed by driving one to deep center. Not only did Bradley race back to the wall to make a terrific catch, but he unloaded for a strong throw all the way to first that doubled off Aviles to end the inning.
"At first, I thought he got jammed," said Bradley. "I started breaking in a little bit and then realized it wasn't going to fall in front of me so I sprinted back. I knew it was going to be another close-to-the-wall type play, but I didn't think that I had too much to worry about.
"I pretty much counted my steps before going out for it, then I kind of figured once you make an initial read and the baserunner sees that it's the opposite, I knew Mike was going to pretty much keep going. I made the catch and tried to make a strong throw back to first."
Though Bradley mentioned the throw as if it should be expected, the truth is that it was a standout play by an exciting young player.
"To one-hop the first baseman when he's got his back running away from the play, to turn and fire a strike, that's an impressive play all the way around," said Farrell.
Ian Browne is a reporter for MLB.com. Read his blog, Brownie Points, and follow him on Twitter @IanMBrowne. This story was not subject to the approval of Major League Baseball or its clubs.