Braves can't overcome rough day for Ervin, 'pen
Five-run seventh puts game away before B.J. homers in 3-run eighth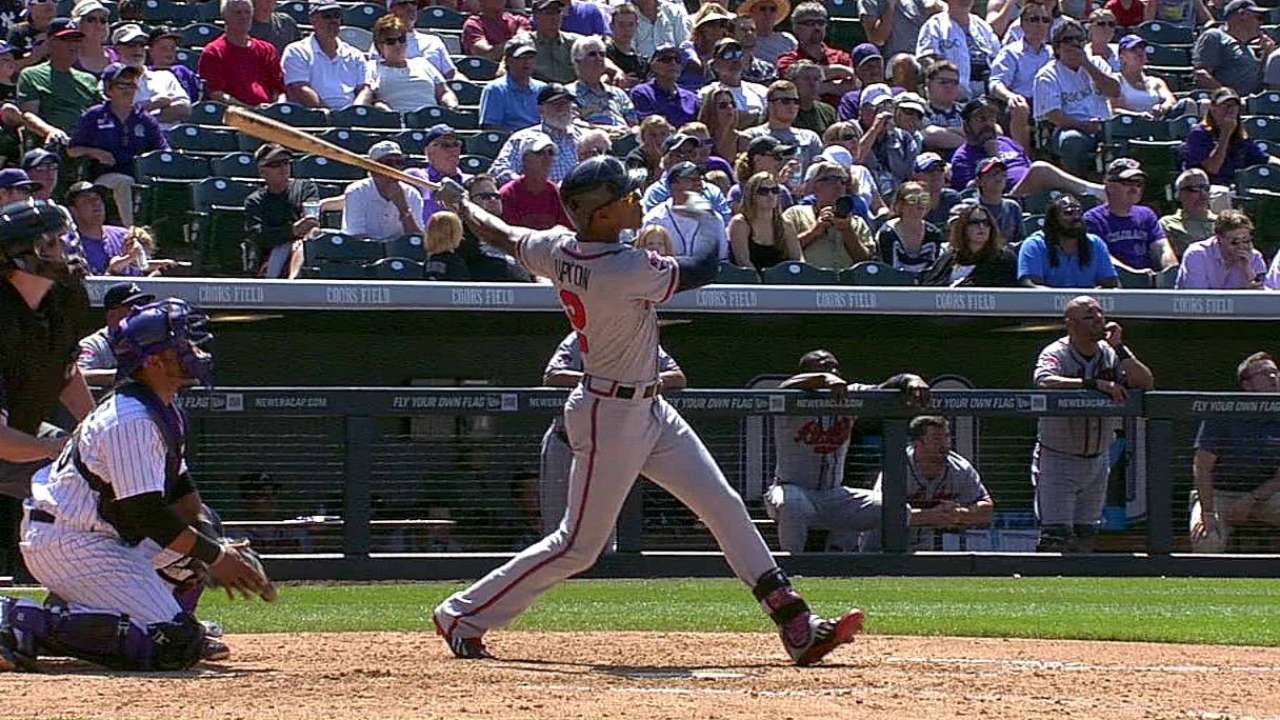 DENVER -- As this season has developed, the Braves have patiently waited for their maddening offense to provide at least a glimpse of consistent production. It appeared they might have received the sign they were looking for when they tallied a season-high 13 runs on Tuesday night.
But in the two days that followed, they were thoroughly frustrated by one Rockies pitcher who was making his Major League debut and another who had routinely encountered frustration over the past couple of months.
Following the lead of Tyler Matzek, who began his career in auspicious fashion on Wednesday night, Jhoulys Chacin experienced little trouble as he tossed a season-high seven innings in scoreless fashion and helped the Rockies claim Thursday afternoon's 10-3 win over the Braves at Coors Field.
"That's the way we are," Braves manager Fredi Gonzalez. "That's our club sometimes. We look really good offensively, and then sometimes, we have a tough time keeping the line moving."
After plating seven runs in the first inning of Tuesday night's 13-10 victory, the Braves were outscored, 28-11, throughout the remainder of this four-game set. Consequently, they headed back to Atlanta feeling the wears of a 3-4 road trip that began with the bullpen blowing a pair of games in Arizona.
The Braves had a three-game lead in the National League East after completing a three-game sweep of the Marlins on June 1. But they now sit one game behind the surging first-place Nationals.
"Nothing in this game is easy," Braves third baseman Chris Johnson said. "It's going to take some work. It will take some focus. We just need to buckle down and get it going. We're a confident group. We know we're going to get it going at some point."
When the Braves got off to a hot start in April, they relied heavily on a starting rotation that initially received great value from Ervin Santana. But since posting a 1.99 ERA in his first six starts, the veteran right-hander has produced a 6.99 ERA in the six starts that have followed. This is certainly not what was envisioned when he received a one-year, $14.1 million contract in March.
"Nobody is perfect," Santana said. "We're just trying to make good pitches. Sometimes they hit it and sometimes they don't. I'm just trying to keep the same positive mentality all of the time."
While matching up against Chacin in this series finale, Santana limited his mistakes through the first six innings to a pair of home runs -- Charlie Blackmon's two-run shot in the third inning and Justin Morneau's solo blast in the sixth. But the veteran right-hander faltered during a five-run seventh inning that was further blemished by Jordan Walden's second straight ugly outing.
Corey Dickerson began the seventh with a double and scored on a Charlie Culberson single when Braves catcher Gerald Laird was unable to secure Jordan Schafer's throw from left field. Walden entered one out later and proceeded to allow two sharp singles and uncork a wild pitch that accounted for one of the four runs that scored while he was on the mound.
Walden's inability to stop the bleeding led Santana to deal with a final line that included six earned runs and seven hits over 6 1/3 innings. He has now allowed five earned runs or more in four of his past six starts.
Three runs in this ballpark, or any ballpark for that matter, you can come back from," Gonzalez said. "But that seventh inning just got away from us."
When Walden walked three of the four batters he faced on Tuesday, Gonzalez put the blame on rust that had developed while the reliever spent the previous five weeks on the disabled list with a strained left hamstring. But that outing, combined with Thursday's, conjured memories of September when he struggled mightily after returning from the DL.
"We need him to figure it out, because that is a big part of our bullpen," Gonzalez said.
The seventh-inning struggles proved destructive when the Braves finally showed some life while constructing a three-run eighth inning against Colorado's bullpen. Jason Heyward dented the right-field wall with an RBI single, and B.J. Upton followed with a two-run home run off Adam Ottavino.
Unfortunately for the Braves, they were not able to mount such a rally against Chacin, who entered the game with a 5.35 ERA. Tommy La Stella's second-inning single and fifth-inning double accounted for the Braves' only hits against the Rockies right-hander.
Chacin was staring at potential trouble when he surrendered consecutive walks in the seventh inning. But he then got Andrelton Simmons to ground into a double play.
"That's what Jhoulys did so well a year ago," Rockies manager Walt Weiss said. "He was one of our guys who was able to get double-play balls. He had a great awareness for it and he knew how to execute it, so that was a great sign right there."
Weiss became a focal point of the game when David Carpenter hit Dickerson with a pitch immediately after Dickerson had knocked Laird out of the game by hitting him in the mask with his backswing. Carpenter was immediately ejected and Weiss was too when he came on the field to vent his anger, which was fueled by the fact Julio Teheran had hit Josh Rutledge with a pitch on Wednesday night.
Fortunately Laird passed all preliminary concussion tests. But that was really the only positive development at the end of an ugly road trip.
"We just have to keep grinding," Upton said. "You play so many games, you can't really dwell on two."
Mark Bowman is a reporter for MLB.com. This story was not subject to the approval of Major League Baseball or its clubs.