Rockies rout Braves, reward stellar Chacin
Hurler allows two hits in seven scoreless; Blackmon, Morneau homer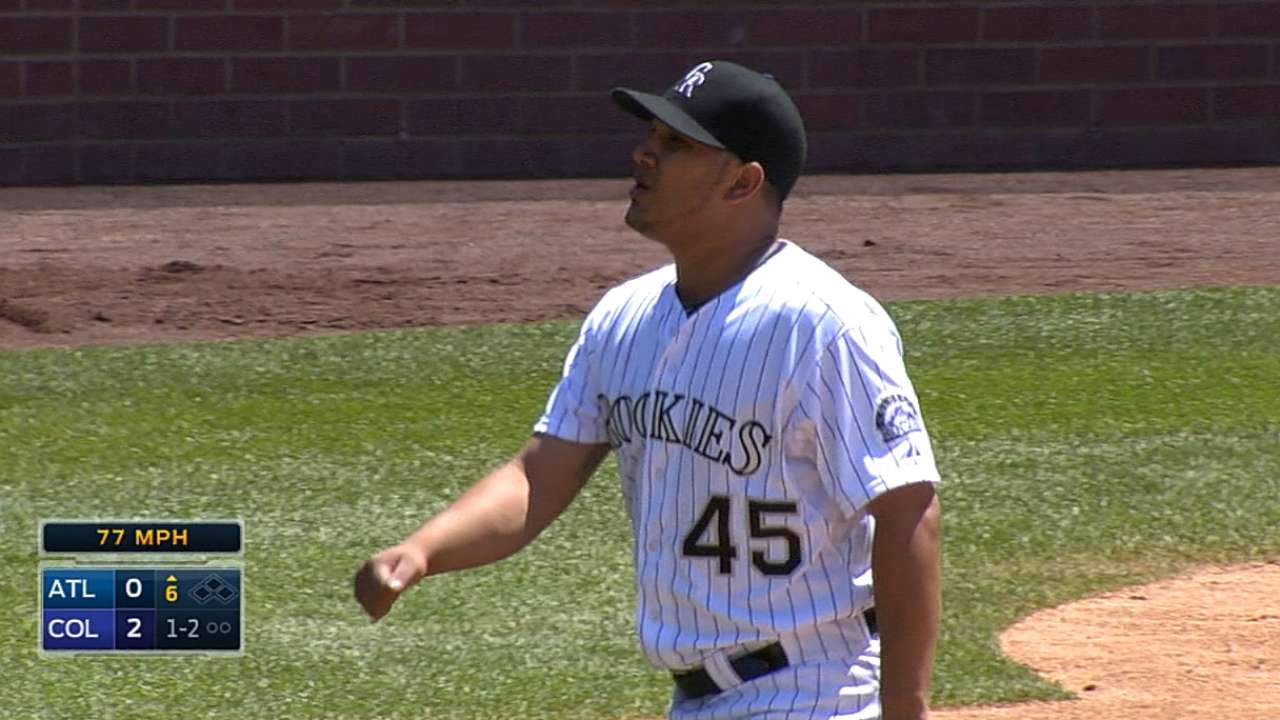 DENVER -- On a day when his manager unleashed uncharacteristic anger and had to be restrained, Rockies right-hander Jhoulys Chacin pitched his calmest start of the season.
Chacin (1-4) held the Braves to two hits in seven scoreless innings in the Rockies' 10-3 series-ending win Thursday in front of a crowd of 33,648 at Coors Field.
Walt Weiss wasn't in the dugout to celebrate, though, after he was ejected for just the second time in his career. The manager was thrown out by home-plate umpire Jordan Baker in the eighth for confronting Braves reliever David Carpenter.
The manager had some choice words for Carpenter, who was ejected after hitting Corey Dickerson with a pitch in apparent retaliation for Dickerson's backswing knocking Braves catcher Gerald Laird out of the game in the same at-bat.
"If you think a guy can foul a ball off and at the same time hit the catcher on a backswing on purpose, you've got no clue," said Weiss. "They made their decision and they made a bad choice."
Dickerson confirmed his hit that struck Laird's jaw was "a complete accident," but he couldn't say the same for the pitch that landed in the back of his thigh.
"It was almost behind me," said Dickerson. "The guy has been in the big leagues for a while. It's pretty hard to miss that far. I'm not the one to say if it was intentional or not, but I felt like it was."
Following the Rockies' second straight win over the Braves, manager Fredi Gonzalez confirmed Laird had already passed all concussion tests and was cleared to fly with the team. Yet he refused to shed any light on Carpenter's intentions.
"We try to throw the ball in on Dickerson; that's where we want to get him out," said Gonzalez. "I can understand how he got upset. I don't blame him one bit. I don't think it was on purpose what Carpenter did. The only one who knows that is Carp."
A few Rockies players and staff followed Weiss onto the field, but they didn't stray far from the dugout. Injured outfielder Michael Cuddyer, currently in his 14th season in the Majors, was as much in disbelief over Carpenter's actions as anybody.
"I think it was one of the worst displays in Major League Baseball that I've ever seen," said Cuddyer. "It was just totally unprofessional."
Braves right-hander Anthony Varvaro then entered an 8-3 game and began to warm up on the mound while tempers cooled.
The Rockies got their retaliation first with their bats, scoring two more that inning.
Then with two outs in the ninth, right-hander Nick Masset plunked the man who replaced Laird, catcher Evan Gattis, resulting in ejections for Masset and bench coach Tom Runnells. Gattis wore it and chose to remain silent as he took his stroll down to first.
"We knew that something like that could happen," said Gonzalez. "I'm really proud of the way Gattis handled that situation."
Dickerson, too, was proud to call Weiss his manager after he got "fired up" one day after a high pitch from Julio Teheran ricocheted off Josh Rutledge's shoulder and struck him in the side of his face.
"After a guy getting hit in the head yesterday and then they hit me ... the skipper was taking care of us," said Dickerson.
Thursday's late-inning flareup overshadowed what was a second consecutive complete-team effort by the Rockies.
In earning his first win since a shoulder injury cost him the first month of the season, Chacin attacked an aggressive Braves lineup early in the count.
"They swing the bat," said Chacin. "I was trying to throw the first pitch for a strike. ... Then they had to swing at my pitches not getting what they want."
Chacin's season-best performance in terms of runs and hits allowed came on a day in which he didn't bring his "A-plus stuff" in the pregame bullpen session.
"I wasn't that loose in the bullpen," said Chacin. "I was working slow a little bit. But then, when I got in the game and it was time to get ready, I [threw] the ball down and just made my pitches."
With Tyler Matzek's memorable debut the day before, Chacin helped secure back-to-back seven-inning starts for the Rockies for just the second time this season.
"A couple very well-pitched games in this homestand. Just what we needed," said Weiss.
DJ LeMahieu reached on a leadoff walk in the third, but he was caught stealing before Chacin singled in the following at-bat. Charlie Blackmon then turned the lineup over by blasting a two-run shot down the first-base line to make it 2-0.
The Rockies added another run in the sixth on Justin Morneau's fourth career home run off Ervin Santana before erupting for five runs in the seventh. Charlie Culberson singled in Dickerson to get the rally going, and Santana (5-3) was pulled one batter later.
Although Chacin was sitting on just 85 pitches, Weiss elected to pinch-hit Ryan Wheeler for him as right-hander Jordan Walden took over with runners on second and third. Wheeler validated Weiss' aggressive move with a sacrifice fly, and Morneau tacked on two more with a single. The Rockies rounded out the big inning with Rutledge scoring on a wild pitch during the next at-bat.
All three of the Braves' runs scored against right-hander Adam Ottavino, who was chased after two outs in the eighth. From there, left-hander Rex Brothers buckled down for the final out, as did right-hander Matt Belisle after replacing Masset in the ninth.
The Rockies finished their 10-game homestand with a 3-7 record, winning two straight to close out. Their six-game road trip begins against the team with the best record in the Majors in San Francisco on Friday, a location in which the Rox have accumulated a 57-116 record as a franchise.
"Always a tough place to go in and play," said Weiss. "Games are always very interesting there, very intense. It's nice to go in there off a couple wins."
Cody Ulm is an associate reporter for MLB.com. This story was not subject to the approval of Major League Baseball or its clubs.