Sale strikes out 10 in loss to Scherzer
Allows solo homer to V-Mart; offense shut down on three hits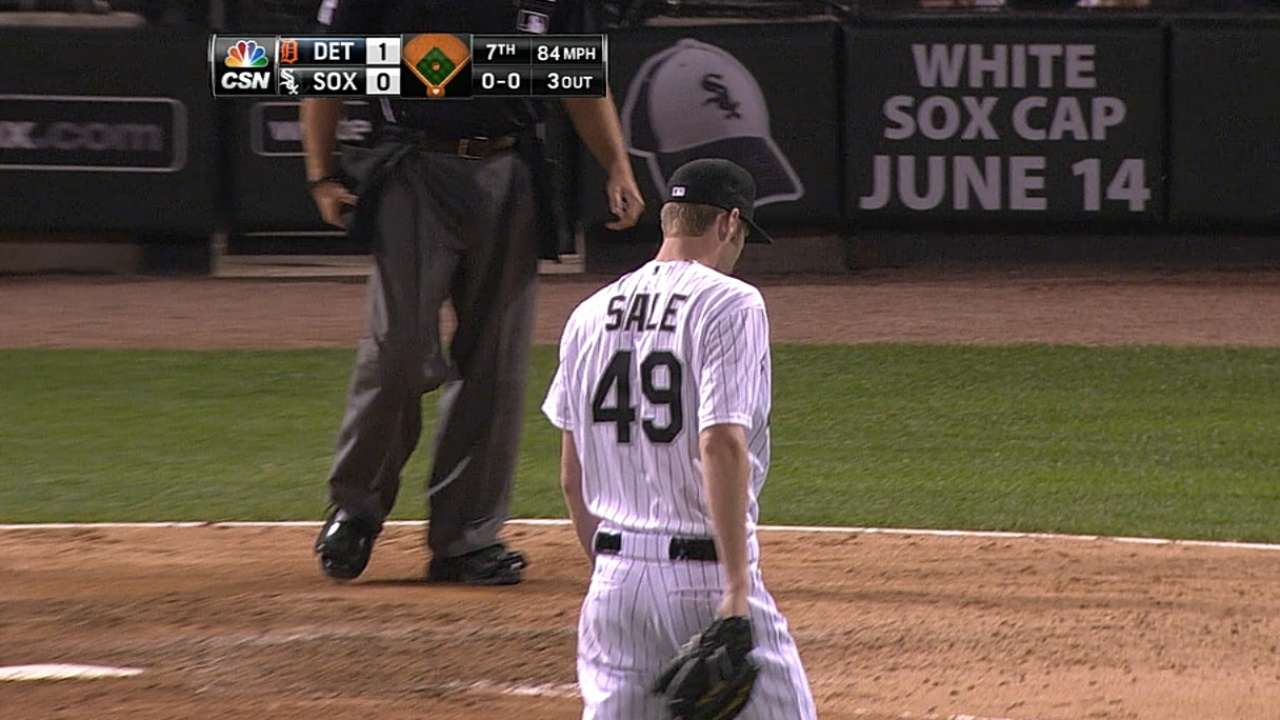 CHICAGO -- In one corner of Thursday's series finale between the Tigers and White Sox at U.S. Cellular Field stood Max Scherzer, the reigning American League Cy Young winner and the man placed in the way of his team getting swept out of town.
On the home side was Chris Sale, also one of the game's top starting pitchers in the midst of one of the most dominant stretches of his career.
Anyone expecting an offensively-charged affair wasn't paying close attention to the accomplishments of these two. And anyone surprised by the Victor Martinez vs. Sale matchup ultimately causing Sale to "flinch" in this 4-0 Tigers victory doesn't know the career track record between these two.
Martinez is 13-for-25 lifetime against Sale (5-1), with two homers. One of those came leading off the fifth Thursday, marking his 16th of the season, and providing all the support Scherzer (8-2) needed in his first career complete game and first shutout in 179 big league starts.
To use the word "flinch" on a 2-1 connection from a viable American League Most Valuable Player candidate might be a bit harsh in the self-evaluation department from Sale.
"Since my last start, I had a lot of time to ruminate about what I needed to get better at: Didn't look like it tonight," Sale said. "The last game, it was giving up a homer [a Mike Trout game-tying grand slam] and this game it was giving up a homer.
"He's probably hitting about .700 off me now," added Sale of Martinez. "But I just have to be better against him in those situations."
That slider slashed down the left-field line emerged as just about the only mistake made by the southpaw. Sale yielded five hits over seven innings and 116 pitches, striking out 10 and not issuing a walk.
Sale came into this start having given up six hits to the last eight hitters he faced against the Angels on Saturday, a true anomaly for a hurler who has yielded just 31 hits over 59 1/3 innings. There clearly was no carryover, as Sale retired the first nine hitters before giving up a Rajai Davis single off the glove of third baseman Conor Gillaspie.
After picking off Davis, Sale had faced the minimum 12 through four innings. Sale has struck out 68 and walked nine this season, and Thursday's start marked Sale's third career game with zero walks and 10 or more strikeouts and his second such performance this season. He recorded his 13th career game with 10 or more strikeouts to tie Javier Vazquez for third all-time in franchise history.
Somehow, it still wasn't enough to defeat Scherzer and the AL Central-leading Tigers (34-28).
"Yeah, he was great," said White Sox manager Robin Ventura of Scherzer. "We only had a couple shots at him. Whether it was a fastball or offspeed pitch, we just couldn't get to him."
"He was dominant," said Sale of Scherzer. "That's about all you can say about him."
"Shoot, he was very good tonight," added White Sox center fielder Adam Eaton of the Detroit ace. "Early, I felt like he lost some of his command, but we as hitters, knowing how good he is, we chased a lot of pitches. It seemed like fourth, fifth inning, he really found his groove and I feel like as hitters we felt that."
Scherzer kept the White Sox hitless until Alexei Ramirez's two-out double in the fourth and then stranded runners at second and third that inning by getting Dayan Viciedo to fly out to right. The White Sox (33-34) didn't get another hit until Gordon Beckham's two-out double in the eighth, ending a stretch of 10 straight retired by Scherzer, who fanned eight and walked three during the fifth shutout of the White Sox this season.
"It's awesome. I finally got the monkey off my back, finally was able to go nine and finish the deal," Scherzer said. "We know Sale's going to be tough and there's not going to be a lot of -- it's going to be slim pickings, and fortunately Victor was able to capitalize on one of his mistakes."
Detroit took quick advantage of Sale's eighth inning departure by scoring two off of Jake Petricka. Miguel Cabrera drove home both with a two-out, slow roller up the middle that Beckham tried to bare hand but couldn't corral. Bryan Holaday came home from third and Eugenio Suarez raced home from second, with Ramirez shaded too far toward third to be able to get to the baseball.
"Sometimes you don't have to hit it hard for it to hurt," said Ventura of Cabrera's single. "Maybe you just place it in a perfect spot."
Even with Scherzer winding up as the ace-high against Sale, the White Sox depart with a series victory and a 3 1/2-game deficit behind the Tigers. They dropped to 8-11 in the third game of a series but still seemed satisfied despite coming up short of the rain-shortened three-game whitewash.
"We ran into a guy that was great tonight, but in the end you look at it as you won the series, which is good," Ventura said. "That's something that we're always shooting for. Tip your hat to him and get ready for tomorrow."
"When you have a chance to sweep, you want to," Sale said. "But winning the series is important. You win every series and put yourself in a good position."
Scott Merkin is a reporter for MLB.com. Read his blog, Merk's Works, and follow him on Twitter @scottmerkin. This story was not subject to the approval of Major League Baseball or its clubs.