Hall of Famers Smith, Murray had ties before Majors
Legends attended Locke High School in Los Angeles on their way to big leagues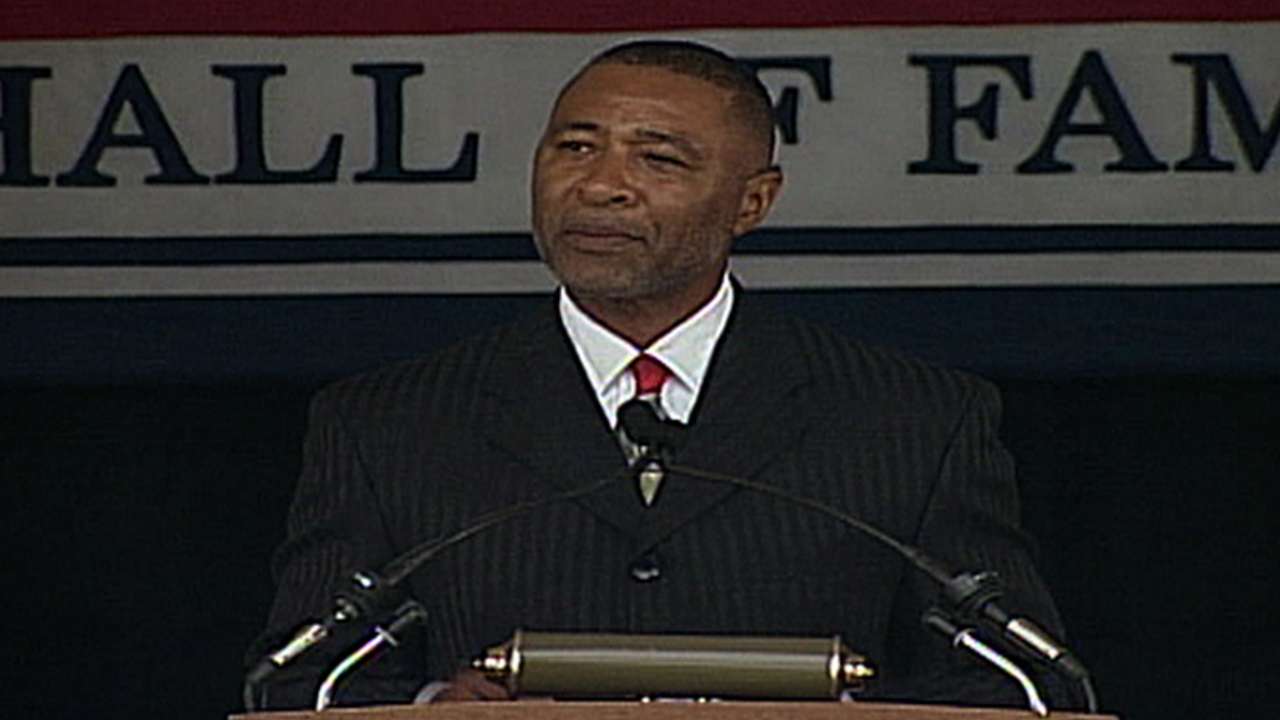 On the surface, Hall of Famers Ozzie Smith and Eddie Murray would appear to have little in common as baseball players or as personalities.
Few players in the game's history have been as flamboyant and charismatic as the "Wizard of Oz," arguably the greatest defensive shortstop ever, with perhaps the most colorfully appropriate nickname in history.
We recall the back flips, the diving stops, the impossible over-the-shoulder catches in shallow left-center and the astonishing athleticism that was visible in every game Smith ever played for the Padres and Cardinals -- all 2,573.
Smith won 13 consecutive Gold Gloves, starting in 1980 in San Diego, and was a 15-time All-Star -- despite hitting .262 with 28 home runs in 9,396 career at-bats. His power was in his imagination -- and his leadership. Smith drove his teams with a ferocity and impact that defied the 150 to 160 pounds he carried on a lithe 5-foot-11 frame.
Murray was a force of another kind altogether. He crushed baseballs from both sides of the plate, producing 504 home runs and 1,917 RBIs with 13 of his 21 Major League seasons spent in Baltimore. The long ball was not as prevalent in Murray's day as it would become, as ballparks and strike zones grew smaller.
Stoic by nature, and as hard to read for media types as for pitchers who found no holes in his swing, Murray seemed content to play the game and go his own way. His fierceness was in his independence and his ability to lead by example. "Steady Eddie" came to play every day, 3,026 games -- 150 or more in 15 of his first 17 seasons.
Murray is 13th all-time with 3,255 lifetime hits -- right behind Willie Mays and two spots ahead of iconic Orioles teammate Cal Ripken Jr. Eddie became a switch-hitter as a kid, and he would move to the other side of the plate after striking out. He hated striking out, a trait he apparently carried throughout his career. Murray fanned 104 times as a rookie in 1977 but would never reach triple digits again for the rest of his career.
An eight-time All-Star, Murray never won a Most Valuable Player Award but was in the top six seven times, finishing second twice. He was a fine defender, claiming three Gold Gloves, but he never flashed the leather -- emphasis on the flash -- the way the Wizard did.
Smith, the luminous, eye-popping shortstop, and Murray, the stone-faced, stone-cold professional at first base. What could they have in common?
Locke High School, located in inner-city Los Angeles.
In 1973, Smith and Murray were teammates at Locke. Ozzie was 14 months older than Eddie, a class ahead. Always tough-minded, Smith was personable and engaging, a livewire. Murray was quiet, reserved, introverted, but intensely driven. He knew what he wanted -- a career in baseball -- and he wasn't letting anything or anyone get in the way of that.
Major League Baseball has its RBI program (Reviving Baseball in Inner Cities) with the Compton Urban Youth Academy, which is headed by Don Buford -- who encourages kids to get involved in the sport that has fallen far behind football and basketball in inner-city popularity.
When Smith and Murray were kids, baseball in Los Angeles was flourishing. Parks were brimming with competition, and kids were swinging the bat and running down balls with passion.
Murray was part of a baseball family. Older brother Charlie made it to Triple-A, and younger brother Rich played for the Giants. Eddie was on a youth team with Chet Lemon and Dan Ford, future big league standouts. Older community role models such as Bob Watson, George Hendrick, Reggie Smith, Bobby Tolan and Willie Crawford were highly visible -- and future superstars Darryl Strawberry and Eric Davis were kids roaming those playgrounds right behind Smith and Murray.
In the infield for the Locke High School Saints, little Ozzie was starting to weave his glove magic -- even if big league scouts were not impressed, focusing on the younger Murray. Smith took a partial scholarship to California Poly San Luis Obispo, north of L.A., to grow into a prospect taken in the fourth round of the 1977 Draft by San Diego.
In his memorable Hall of Fame induction speech in 2002, Smith paid an emotional tribute to his coach at Locke.
"I will never ever forget the faith that my high school coach, Art Webb, who has passed on, had in me -- not only in high school but also in my collegiate years," Smith said. "You see, when I was becoming a little disheartened while playing college ball at Cal Poly in San Luis Obispo, Art Webb got wind of it. And just about the time I was questioning my ability and expressed thoughts of going home, he called me up, and he sternly told me, 'Oz, you're not going to quit. You're going to hang in there and weather this storm!'
"And because of that call and his faith in me, I stayed. A simple strand of faith in me that helped keep my dream alive."
Smith also credited college coach Berdy Harr for stressing "the value of a great personal work ethic, how to develop greater speed between the bases and going after the ball, and how the ability of becoming a switch-hitter could bring a valuable addition to my playing worth."
One year in the Minors was all Ozzie needed to earn a Padres uniform, and after four seasons of defensive wizardry and a .231 batting average, he was shipped to St. Louis for the 1982 season in exchange for Garry Templeton -- a temperamental shortstop heavy in tools. It turned out to be one of the best moves in Cardinals history. Smith gradually turned into a productive offensive player (.272 as a Card) for manager Whitey Herzog while making defense fashionable.
Meanwhile, in his Baltimore prime, Murray was inspiring awe amongst his teammates as well as fans.
"He was the best clutch hitter that I saw during the decade we played together," Orioles pitcher Mike Flanagan said.
Unlike Smith, Murray had the opportunity to play for his hometown Dodgers. The Orioles dealt him in 1989 to Los Angeles. Murray batted .330 and slugged .520 in 1990 after a disappointing debut season for the Dodgers where he hit just .247. He drove in 100 runs for the Mets in 1993 and hit .323 with a .516 slugging mark for in 1995 for the Indians, who ended a four-decade drought in reaching the World Series before falling to the Braves in six games.
In his 2003 Hall of Fame induction speech, Murray -- always popular among peers -- mentioned the comfort of being with Smith and other former teammates in Cooperstown. Eddie reached way back to pay tribute to someone special.
"One person I could never really ever forget -- and I'm sorry he couldn't make it -- [is] my Little League coach, Clifford Prelow," Murray said. "He really helped teach also the love of the game of baseball."
Lyle Spencer is a columnist for MLB.com. This story was not subject to the approval of Major League Baseball or its clubs.