Success of MLB diversity programs clear in Draft
Thirty players with ties to UYA, RBI and Breakthrough Series selected in 2014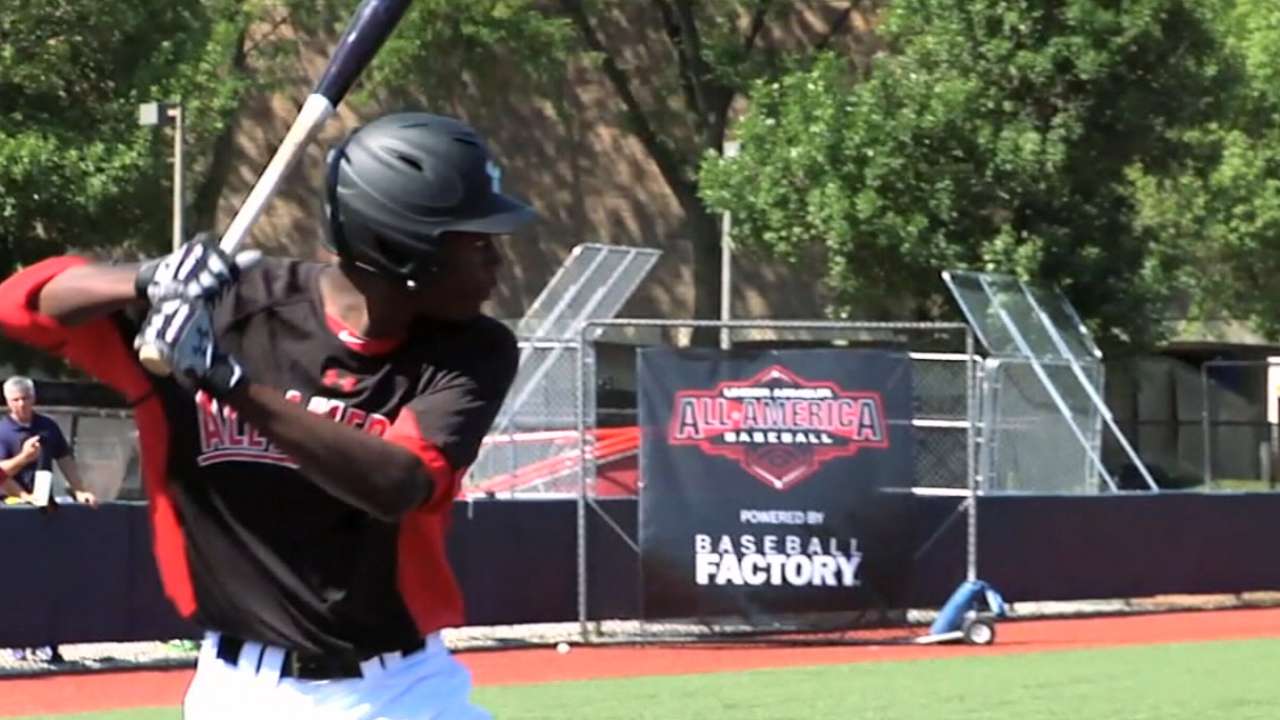 The 2014 First-Year Player Draft brought another bounty class of prospects from three of Major League Baseball's signature diversity efforts. Thirty players were drafted with ties to the Urban Youth Academy, the Reviving Baseball in Inner Cities program or the star-studded Breakthrough Series.
The Urban Youth Academy, MLB's effort to expand baseball and scholarship opportunities to children in inner-city neighborhoods, produced seven draftees this season. MLB is currently operating academies in Compton, Calif., Houston and New Orleans, and two more are set to open this year in Cincinnati and Philadelphia.
The top player selected from the Urban Youth Academy this season was Marcus Wilson, a multiskilled outfielder who went No. 69 overall. Wilson rounded out his game both at the Compton academy and in his local RBI league, and the Arizona Diamondbacks will hope to further nurture his skills.
Josh Morgan, who played alongside Wilson at the academy and at the Venice (Calif.) Boys & Girls Club RBI program, was drafted by the Texas Rangers in the third round last week. Both Morgan and Wilson also played in the Breakthrough Series, making them emblematic of the program's success.
The Compton academy was the first of the UYA facilities to open, and it's still bearing fruit quicker than its brethren in Houston and New Orleans. Five more draftees -- Luke Dykstra, Jared Robinson, Denz'l Chapman, Tyree Davis and Nathan Rodriguez -- came out with ties to the Compton UYA. Dykstra was a seventh-round pick by Atlanta, and the rest of the group were all taken in the 11th round or later.
More than 400 UYA players have gone on to play in collegiate baseball or softball programs since 2007, and more than 100 have been selected in MLB's First-Year Player Draft. Several former academy players -- such as Khris Davis, Anthony Gose and Aaron Hicks -- have gone on to the Major Leagues.
And if the UYA is making an instant impact, it's mission has dovetailed perfectly with the Reviving Baseball in Inner Cities (RBI) program. RBI has served more than one million youngsters since its creation in 1989, and it seeks to give kids from diverse communities an opportunity to play baseball and softball. The program also stresses academic success and teaching important life lessons.
Major League clubs have drafted more than 200 players from the RBI leagues over the past couple decades, and 70 of those draftees have come since 2008. Twelve players with an RBI connection were chosen last week, but Wilson and Morgan were the only alumni taken early in the Draft.
Ten RBI players were drafted after the 20th round, and they came from all over the country. Alex Real and Jorge Perez were taken from an Arizona RBI program, and Dazon Cole and Evin Einhardt were discovered from Detroit PAL RBI. Three players -- Darius Day, Anthony Justiniano and James Davison -- were taken from the fertile Chicago White Sox RBI program. There were also players drafted from RBI programs in Miami (Ronald Williams), Mississippi (Daniel Sweet) and Minnesota (Onas Farfan).
The Breakthrough Series -- a joint effort by MLB and USA Baseball -- was designed to expose a diverse group of prep prospects to professional scouts and collegiate recruiters. The series has yielded more than 100 players to the MLB Draft, and countless others that have enrolled in college programs.
This year, more than 20 players were taken with ties to the Breakthrough Series, and four of them went in the first round. Those players -- Carlos Rodon, Touki Toussaint, Luis Ortiz and Justus Sheffield -- will all carry the banner of the Breakthrough Series as they begin their climb to the Majors.
Wilson and Morgan also participated in the Breakthrough Series, as did three other players -- Jacob Gatewood, Monte Harrison, Ronnie Williams -- who were selected before the fifth round.
Spencer Fordin is a reporter for MLB.com. This story was not subject to the approval of Major League Baseball or its clubs.