MLB.com Columnist
Jim Callis
College World Series filled with potential superstars
Tournament begins Saturday, each team features promising prospects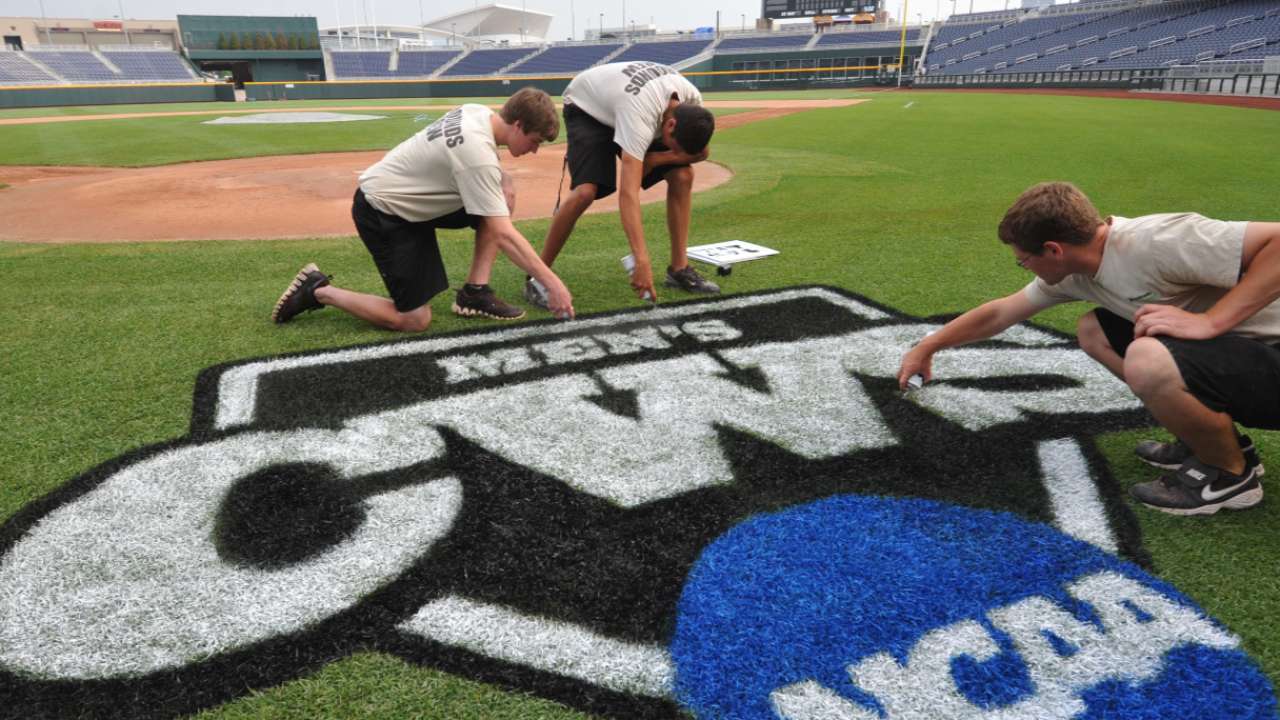 In 25 years as a baseball writer, I've covered just about every event imaginable, and the College World Series remains my favorite for several reasons. The quality of play and the competitive spirit remain consistently strong, and the atmosphere in Omaha can't be beat.
The CWS also serves as a preview of coming Major League attractions. Several future stars played in Omaha, including four Hall of Famers: Mike Schmidt (Ohio, 1970), Dave Winfield (Minnesota, 1973), Paul Molitor (Minnesota, 1977) and Barry Larkin (Michigan, 1983 and 1984). Barry Bonds (Arizona State, 1983 and 1984), shares a CWS record with hits in eight consecutive at-bats, and Roger Clemens (Texas, 1982 and 1983), led the tournament in ERA in 1982 and pitched a complete game to win the championship clincher the following June.
The 67th edition of the CWS starts on Saturday, and as always there will be plenty of high-ceiling talent on display at TD Ameritrade Park. Vanderbilt right-hander Tyler Beede (No. 14, Giants), Texas Christian left-hander Brandon Finnegan (No. 17, Royals) and Virginia righty Nick Howard (No. 19, Reds) all went in the first round of the 2014 First-Year Player Draft. Cavaliers outfielder Derek Fisher (No. 37, Astros) and first baseman Mike Papi (No. 38, Indians) were taken back-to-back in the supplemental first round, while the hardest thrower in college baseball, Louisville righty Nick Burdi (No. 46, Twins), was a second-rounder.
Amazingly, based on our conversations with scouts, none of those premium picks qualifies as the best pro prospect on his team. Here are the top talents from each of the eight participants (listed alphabetically):
John Curtiss, RHP, Texas -- After missing 2013 following Tommy John surgery and an operation to remove a rib to alleviate thoracic outlet syndrome, Curtiss has saved nine games and posted a 2.06 ERA as Texas' closer this spring. He's back to throwing 92-96 mph and he'll flash a sharp slider in the 80s. A potential steal as a sixth-round pick by the Twins, he has the body (6-foot-4, 210 pounds) and stuff to become a No. 2 or 3 starter in pro ball.
Riley Ferrell, RHP, Texas Christian -- Ferrell has put up video game numbers as the Horned Frogs' closer: 0.68 ERA, 15 saves, 64 strikeouts in 39 2/3 innings, and a .124 opponent average. He has video game stuff, too, with a fastball that peaks at 98 mph and an overpowering slider. His stuff is a little better than Finnegan's, and Ferrell might get the chance to replace him in the TCU rotation next year. To succeed in that role, the 6-foot-1, 200-pounder will have to refine his changeup and command.
Carson Fulmer, RHP, Vanderbilt -- Beede may be a two-time first-round pick, but he still can be frustratingly inconsistent. Fulmer's ERA this season (1.78) is less than half of Beede's (3.58), and he has been the Commodores' best starter since transitioning from closer at midseason. His best pitches are a 93-95 mph fastball that tops out at 97 and a hard slider, and he also has a changeup to neutralize left-handers. He attacks hitters and though he's undersized (5-foot-11, 195 pounds), he has a strong lower half and should hold up in the rotation.
Kyle Funkhouser, RHP, Louisville -- While Burdi can run his fastball into triple digits and his slider into the low 90s, he's strictly a reliever. Funkhouser has a chance to be a frontline starter in the big leagues after serving in that role for the Cardinals. He's tied for the NCAA Division I lead in wins with a 13-2 and a 1.78 record. Funkhouser works with a 93-95 mph fastball that hits 97, and he also employs a fine changeup and a solid slider. The 6-foot-2, 218-pounder will need to improve his control and command.
Nathan Kirby, LHP, Virginia -- The best prospect on this list, Kirby stands out on the most talented team in Omaha. After a lackluster freshman year as a reliever, he has gone 9-2 with 1.73 ERA. He also has 104 strikeouts in as many innings, and spun an 18-strikeout no-hitter in April. He has a nice three-pitch mix with a low-90s fastball, low-80s slider and a solid changeup. He throws strikes too, and if the 6-foot-2, 185-pounder keeps improving at this rate, he could go very early in the 2015 Draft.
Chris Sadberry, LHP, Texas Tech -- The biggest surprise in Omaha, the Red Raiders are making their first CWS appearance without a stud prospect on their roster. Drafted in the sixth round by the Marlins, Sadberry is a redshirt junior who had Tommy John surgery while at Louisiana Tech, and also pitched at Grayson County (Texas) CC before arriving in Lubbock this season. 6-foot-1 and 200 pounds, he doesn't have a true plus pitch, but he throws four offerings (88-91 mph fastball, curveball, slider, changeup) for strikes and mixes them well.
Taylor Sparks, 3B, UC Irvine -- His best tool is one that teams covet, right-handed power, and Sparks is more than just a masher. The 6-foot-4, 225-pounder is very athletic for his size, with solid speed and defensive ability at third base. He profiles very well at the hot corner, which is why the Reds drafted him in the second round. He led the U.S. national college team with a .396 average last summer and has hit .307/.389/.502 this spring. He'll need to do a better job of making consistent contact to fully tap into his power.
J.B. Woodman, OF, Mississippi -- The Angels popped right-hander Chris Ellis in the third round and the Rebels led all teams, CWS or otherwise, with nine players selected. Yet scouts are most intrigued by two freshmen who won't be Draft-eligible until 2016: Woodman and shortstop Errol Robinson. A star quarterback at a Florida high school, Woodman is a quality athlete with plus speed and center-field ability. He also has a left-handed swing suited for line-drive contact and could grow into some gap power when he fills out his 6-foot-2, 190-pound frame.
Jim Callis is a reporter for MLB.com and writes a blog, Callis' Corner. Follow @jimcallisMLB on Twitter. This story was not subject to the approval of Major League Baseball or its clubs.