Padres let early lead slip away as offense falters
Stults, bullpen can't contain Phillies' suddenly hot lineup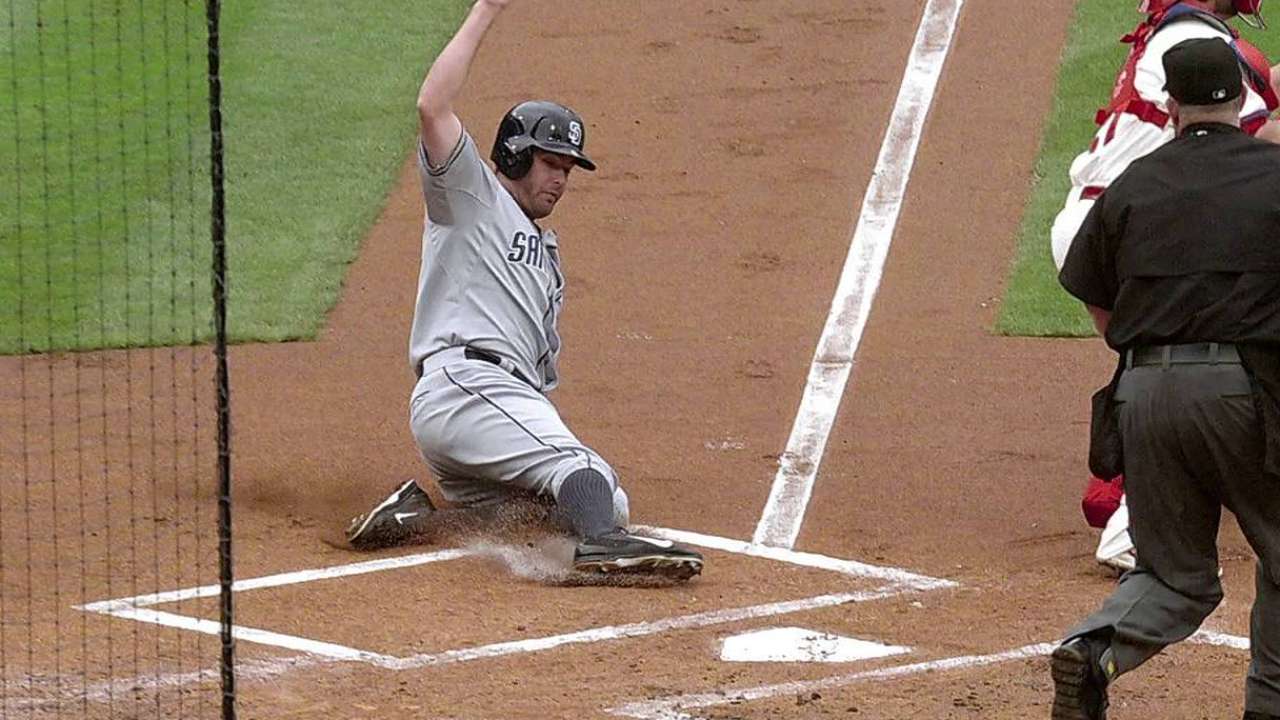 PHILADELPHIA -- It appeared the Padres' bats had finally come to life, but after showing a pulse in the first inning, the offense quickly flatlined.
After scoring just two runs in the first two games of their series with the Phillies, the Padres plated two in the first inning of Thursday afternoon's contest. But the San Diego offense would only generate one more run -- a Yasmani Grandal homer in the ninth -- the rest of the way, as Kyle Kendrick and the Phillies bullpen stifled the Padres on the way to a 7-3 victory on a rainy, muggy afternoon at Citizens Bank Park.
"I've been in this game 35 years. I've seen it a lot. It'll turn around," Padres manager Bud Black said about his team's offensive struggles this season. "When you go through it, it's tough. It'll turn around."
The loss pitted the Padres in a virtual tie for last place in the National League West and completed Philly's three-game sweep.
Will Venable and Everth Cabrera set the table with back-to-back singles off Kendrick to start the game, and Chase Headley brought them both home when he doubled down the right field line to Marlon Byrd, who bobbled it in the right field corner, allowing Cabrera to come around to score.
But the Phillies cut the lead in half in the bottom of the inning. Eric Stults allowed a double to Ben Revere before Jimmy Rollins singled to score him.
Philadelphia tied the game in the bottom of the fourth. Byrd led off the inning with a single, and he was advanced to third on a double by John Mayberry Jr. Domonic Brown's sac fly brought home Mayberry and moved Byrd over to third.
Stults, with the help of his defense, did well to limit the damage in the inning. With Wil Nieves at the plate and a runner on third, the infield was playing in. After Nieves grounded it to shortstop, Cabrera threw home to gun down Mayberry, who was running on contact.
A nearly identical scenario played out in the sixth. With runners on second and third, Nieves grounded an offering from relief pitcher Dale Thayer to Headley, who flung it to Grandal at catcher. Grandal applied a tag on Mayberry to get him at home, and after Phillies manager Ryne Sandberg asked for a replay, the call was confirmed.
With two runners on, Thayer then won a 13-pitch marathon against pinch-hitter Ryan Howard. But that only set the stage for Wednesday night's hero to strike again.
"What an at-bat," pinch-hitter Reid Brignac said of Howard's battle with Thayer. "Yeah, I saw pretty much every pitch he had from the side. Howie had a tough at-bat."
Brignac, who hit the walk-off homer to burn the Padres the previous night, laced a Thayer fastball to left-center for a double. Venable approached it on an angle as he thought he could cut it off, but the slick grass allowed the ball to make it all the way to the wall. Two runs scored to give Philly a 4-2 lead.
"We were just thinking outside," Grandal said about their approach to Brignac. "Past couple of days, he's been looking for something to drive or to pull, and he showed it [Wednesday]. He made a good adjustment, he made a good pitch, and that's the thing about baseball. You can make the best pitch in the world and still have a negative outcome."
Mayberry added a three-run homer off left-hander Alex Torres -- the first homer he's allowed all season and just the second he's allowed in the 92 2/3 innings he's pitched in his career -- for some insurance.
It wasn't the outing Stults was hoping for after allowing six earned runs in 2 1/3 innings his last time out against Washington, but he still called it a "step in the right direction." The right-hander went five innings, allowing four runs on eight hits and a walk while striking out two.
"My last start I believe was the worst start of my career, numbers-wise," Stults said. "But I felt like today, overall, was much better than it was last time out. Still not quite where I need to be, so I need to keep working and keep trying to get better."
"[Stults] gave us an opportunity in the middle part of the game to flip the momentum to our side," Black said. "He did his part for the time he was out there."
Kendrick allowed two runs (one earned) in the first frame, but went for five scoreless innings from there. He finished his six innings having allowed seven hits and no walks while striking out five.
"I think that [Kendrick] got his changeup working a little bit as the game went on. Spotted the fastball a little bit better than he did to the first couple of hitters," Black said. "He sort of kept us off balance."
Erik Bacharach is an associate reporter for MLB.com. This story was not subject to the approval of Major League Baseball or its clubs.