Former hurler Krueger thankful to survive health scare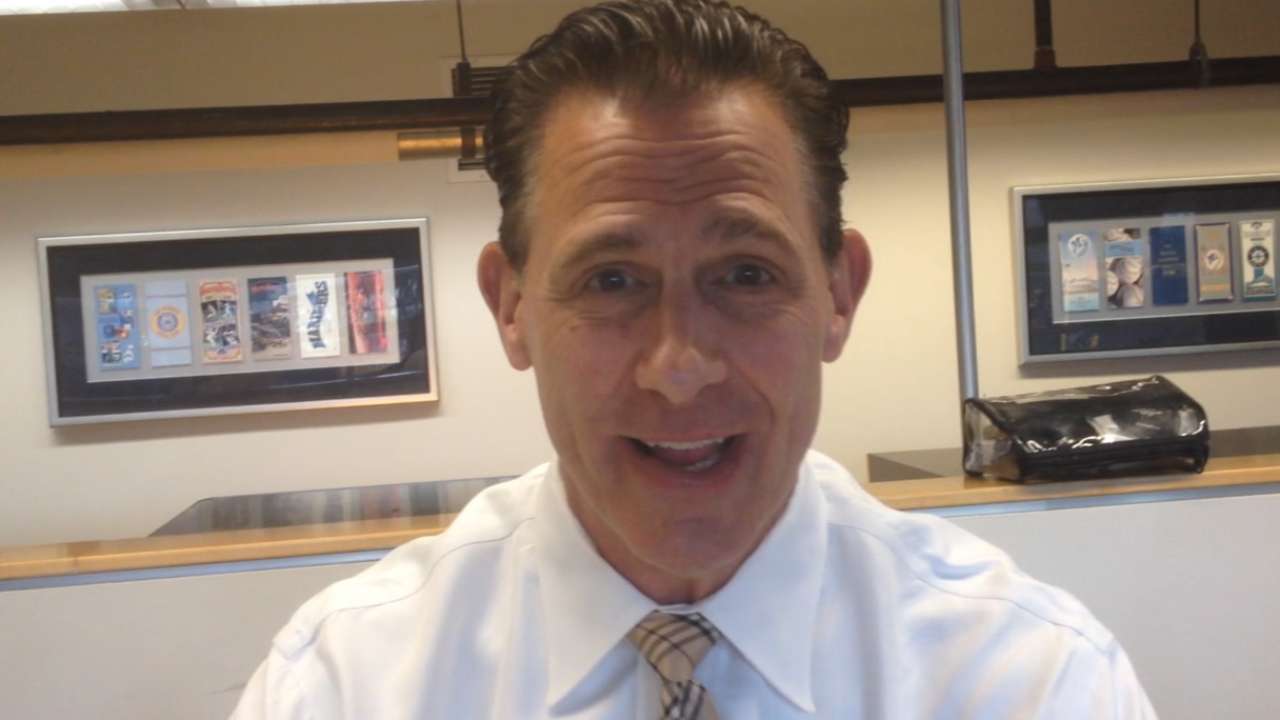 Bill Krueger's day was off to a fast start. It was 6:30 a.m. at the Pro Sports Club in Bellevue, Wash., and he was already on the elliptical machine, getting in a half-hour before meeting a colleague to discuss a business opportunity.
After a 13-year career in the Major Leagues as a left-handed starter and reliever for nine teams, Krueger had settled in the Seattle area and risen to a position of responsibility in the finance world. He also maintained a seasonal schedule as an on-air analyst for the Mariners, a team for whom Krueger pitched in 1991 and '95. He was a husband to his wife, Jo, and a father to a special-needs daughter, Chanel. Things were good.
It was Aug. 10, 2012, and Krueger was 54 years old. He pumped his arms and moved his legs in the final seconds on the elliptical. Krueger stepped off, felt a bit light-headed and reached for his knees.
Then he hit the floor.
* * * * *
Krueger woke up and saw light. He was flat on his back looking up at the ceiling of the Pro Sports Club. Krueger turned and saw friends and employees from the gym. He also noticed the paramedics who were wheeling him out the door.
Krueger was chatting, eager to learn what was going on. He found out that he had collapsed and gone into sudden cardiac arrest. Tom Spencer, the club's director of engineering, was working out on an elliptical right behind Krueger and saw him go down. Spencer sprung the club into action. Within a few moments, 911 had been called, one trainer was administering CPR and two others, Carl Swedberg and Trevor Loos, had located the club's Automated External Defibrillator (AED) and begun using it on Krueger's chest.
The AED indicated that Krueger was still breathing but his heart had stopped and needed to be shocked back into function. Swedberg hit the button to shock Krueger, and his pulse returned. He was back in the Mariners' studio a few weeks later.
* * * * *
Bill Krueger was always one of the fittest ballplayers you'd find. He's 6-foot-5 and was always thin during his Major League days. His physicals were clean. When the Mariners had a stress test for their players, Krueger won it. He had never had any problems with his heart and there was no history of heart disease in his family.
When Krueger arrived at Overlake Hospital after the incident at the club, an ultrasound was taken of his heart and revealed that the muscle itself was fine. He was feeling pretty normal at this point an hour after almost he almost passed away. Krueger was able to sit up. But the next day, an angiogram told the doctors that his left main artery was 100 percent blocked and had collapsed. A stent was put in, all while Krueger was awake.
It all got Krueger thinking about the technology that had saved him, about how the medical field has been up against the No. 1 killer of Americans, heart disease, for so long that the developments in science are in place to act quickly and decisively to save others.
"The problem was that I hadn't had a physical in almost four years," Krueger said. "I had gone in for my colonoscopy at 50. I was always a guy that kept in great shape, and I always tried to eat well. I had cholesterol numbers that were a bit borderline, always at the number or a bit high, but the numbers that I got at the time of my problem were almost the same as the number that I had in my previous checkup, and there was no discussion at that time of any other proactive issues.
"Other than some injuries from pitching, I had no problems. This was a complete and utter shock."
Krueger was told that problems like his blockage "can just happen," but he had already decided that he would do whatever he could to ensure that it never happened again.
"For whatever reason, I developed this blockage, and that's why it's so important to be out in front of your health," Krueger said. "You need to see your physician every year. So shame on me for taking my health for granted and not being in every year to see my doctor, and not recognizing that when you have 238 cholesterol, you need to talk about it.
"This should have been discussed at some level, and I'm not blaming anyone. I only blame myself for not being in front of my health. You've only got one life."
Krueger says he's now more dedicated than ever to exercise, concentrating primarily on cardiovascular exercises. He says he goes to the Pro Sports Club five or six times a week and has dropped about 18 pounds since his heart attack.
"I haven't quite made that cultural switch to being vegan or vegetarian," Krueger said. "I'm not sure if I'm ready for that. But I don't eat red meat or fried food. I think about things I eat a lot more. I'm on medication and I had 127 cholesterol at my last checkup. My last checkup was great."
So some scary stories become comforting stories. Krueger says he realized that his high-octane finance job might have stressed him a bit and contributed to his heart problem, so he took an executive position with a nonprofit group that has allowed him to slow down the pace of everyday life just a bit.
Krueger's daughter, who was diagnosed with autism at 3 1/2 years old, just completed her junior year at the University of San Diego. Krueger is planning to be around for many, many more years to see her continue to flourish.
He says he feels lucky to be alive and implores people, and especially men, to not be afraid of the doctor.
"The technology is amazing," Krueger said. "They're doing these surgeries to get you right back on your feet, and I can't stress enough that you can't be scared of it.
"The truth will set you free. I know people don't want to find out that they have issues, but the actual finding out is good. We need to be in front of that. Take proactive steps. That's the important message."
* * * * *
Krueger has plenty of stories to tell, but this one is his favorite these days.
"A guy heard me on the radio in Seattle, on KJR," Krueger said. "He was driving after playing basketball and leaving the gym because he didn't feel good. So he's driving home and he starts feeling worse. He starts thinking, 'This could be happening to me ... what happened to Bill.'
"So he sped through the traffic lights on 148th in Bellevue and he pulled into a fire station right when he was going into sudden cardiac arrest.
"They saved his life."
Doug Miller is a reporter for MLB.com. Follow him on Twitter @DougMillerMLB. This story was not subject to the approval of Major League Baseball or its clubs.