Pipeline Inbox: Draft changes ahead?
Jonathan Mayo responds to fans' questions about baseball's top prospects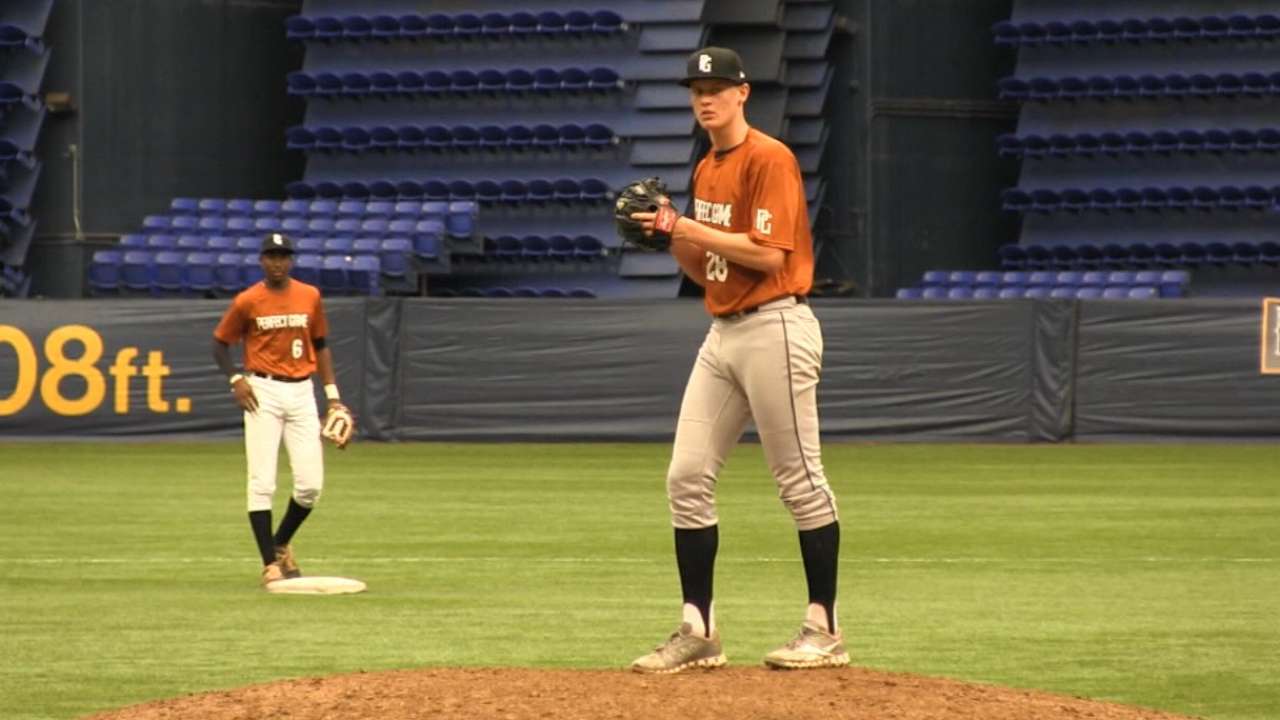 With the 2014 First-Year Player Draft now in our rearview mirror, the Pipeline Inbox makes a triumphant return.
We're not quite ready to completely lose our Draft focus, so this week's edition is a hybrid, with a few Draft questions mixed in with some good old-fashioned professional prospects questions.
Do you think other countries should come in on the First-Year Player Draft? Or should MLB have another Draft for international players? Also, should teams be allow to trade picks?
-- Javier C., Toronto
There are many who feel that's the direction Major League Baseball is trying to head in, with the start of international bonus pools the first move in that direction. Whether such a seismic shift in how teams acquire amateur talent can be pulled off remains to be seen.
The logistics of putting together an international Draft on its own, let alone integrating it into the First-Year Player Draft, will create several hurdles. Which countries would be included? How would Major League Baseball find a way to navigate through different countries and how they each run the amateur scene? I think that how the international bonus pools regulate things now might be about all that can be accomplished, but I'll leave that planning to those with a pay grade much higher than mine.
As for the trading of Draft picks, I'm all for it. There is some concern about teams "punting" the Draft, but I think there could be some limitations to offset that. The ability to trade the Competitive Balance Round picks was a good first step. More open trading of picks up and down the board would certainly raise fan interest in the event.
Which of the Royals' 2014 Draft picks do you think will reach the highest ceiling?
-- Jason G., Kansas City
I'm thinking we're going to get a bunch of questions like this in the coming weeks, so send them in. The Royals have the chance to have a really productive Draft, with a good mix of college and high school players.
Brandon Finnegan's minor arm issues earlier in the spring might benefit Kansas City greatly. He wouldn't have been around at No. 17 otherwise. But in terms of upside, I think you have to look at the high school arms the Royals were able to select after Finnegan.
I think you could flip a coin between Foster Griffin, the lefty from Florida, and Scott Blewett from upstate New York. Chase Vallot can really hit, but we'll leave him out of this conversation for now.
Griffin, a fairly polished lefty, split his focus in high school between hitting and pitching. Under pro instruction and working on pitching only, there should be considerable growth on the mound. Blewett might have gone in the first round as well if it hadn't been for a question about his shoulder. He's tall and projectable, with his high ceiling stemming from the fact that he played high school in a cold-weather climate. Often, kids coming from places like the Northeast take huge steps forward once they can prepare year-round.
In the end, I could see Blewett perhaps having the higher ceiling, with Griffin a little bit of a safer bet to reach his.
Is Joey Gallo's player comparison Adam Dunn?
-- Phil C., Denver
Coming out of the Draft, I think I may have gone along with that comparison. Bats left, throws right, tremendous raw power, tremendous swing and miss, some ability to draw walks. Gallo's first full season backed that up a bit: He led the Minor Leagues in homers with 40, he drew 50 walks and he struck out 172 times, finishing with a .251 average. Most figured it'd be more of the same in 2014, especially as Gallo moved up to a higher level.
A funny thing happened on his way to fulfilling those expectations. MLB.com's No. 78 prospect started making better adjustments at the plate. Oh, Gallo is still striking out, with 67 K's in 60 games. The power hasn't gone away, with his 23 homers once again topping the Minors (he's hit two in two games since a promotion to Double-A). But Gallo has already drawn more walks this year (53) than he did in all of 2013. He's being more selective at the plate, thus getting better pitches to hit. As a result, Gallo has a .327/.467/.760 line this year.
Will Gallo hit .300 at the highest level? Probably not. But scouts have told me that his hit tool has improved. One said Gallo was more like a left-handed-hitting version of Troy Glaus than a version of Dunn. Glaus, by the way, hit .291 in the Minors before going on to a .254 big league career that was highlighted by 320 career home runs.
Does Mookie Betts need to grow three inches and gain 50 pounds before the doubters will concede that he has the potential to be an impact player at the Major League level?
-- David D., Cape Cod, Mass.
I have to be honest, Dave. I don't know if there are any doubters at this point. All the guy has done is hit, and Betts is now in Triple-A at age 21. He earned the promotion up to the highest level of the Minors after flat-out raking in Double-A to the tune of a .355/.443/.551 line in 54 games. Oh, and Betts also stole 22 bases. He's No. 52 on our Top 100 list, and something tells me he'll move up when we re-rank later in the summer.
Probably the biggest development this year has been Betts' move to center field. It's not that he isn't capable of playing middle infield. In fact, Betts probably could handle shortstop in a pinch, even though he hasn't played there since 2012. No, this is a way to give him some versatility and perhaps find a way to get his bat into Boston's lineup should the club need it. Betts wasn't going to find a spot at second any time soon. The Red Sox's outfield hasn't exactly been productive offensively overall, so no one should be shocked if Betts continues to hit his way into the big league lineup.
I noticed that the Reds are attempting to turn right-handed reliever/outfielder Michael Lorenzen into a starting pitcher. Any reason for clubs to try and stretch out a player and put him into a position he has never been in before? Especially Lorenzen, having always handled the ninth inning and only having two plus pitches.
-- Trevor S., Fullerton, Calif.
Clearly, we have a Fullerton fan (and native) on our hands. And yes, Lorenzen was very effective as a college closer/center fielder. Yes, he's shown two plus pitches in the past. But there a few reasons why at least giving the Reds' No. 4 prospect a chance to start makes sense.
First, Lorenzen is very athletic (he was an outstanding center fielder). That will allow him to continue to repeat his delivery well and have sound mechanics. Second, Lorenzen has a ton of arm strength and has already shown an ability to maintain velocity deep into starts. Third, he actually does have a changeup, one that he never used in college. It needs work, understandably, but it could become a usable third pitch.
Finally, and this is the biggest point: It's really hard to find and/or develop good starting pitchers. Why not let Lorenzen get stretched out -- and Lorenzen came into the season knowing he was going to give it a try -- and see what happens? As our report points out, Joe Kelly of the Cardinals was a college closer who has developed into a starter. The Reds themselves have had some success doing this with Tony Cingrani. In the end, if it doesn't work, it's allowed Lorenzen to work on all of his pitches and his command over longer stretches, and the organization knows he can slide back into a bullpen with ease if needed.
Jonathan Mayo is a reporter for MLBPipeline.com and writes a blog, B3. Follow @JonathanMayoB3 on Twitter. This story was not subject to the approval of Major League Baseball or its clubs.