Pipeline preview: Heaney on hold, but Wisler to work
Matchup of Padres, Marlins pitching prospects fizzles as Miami lefty is skipped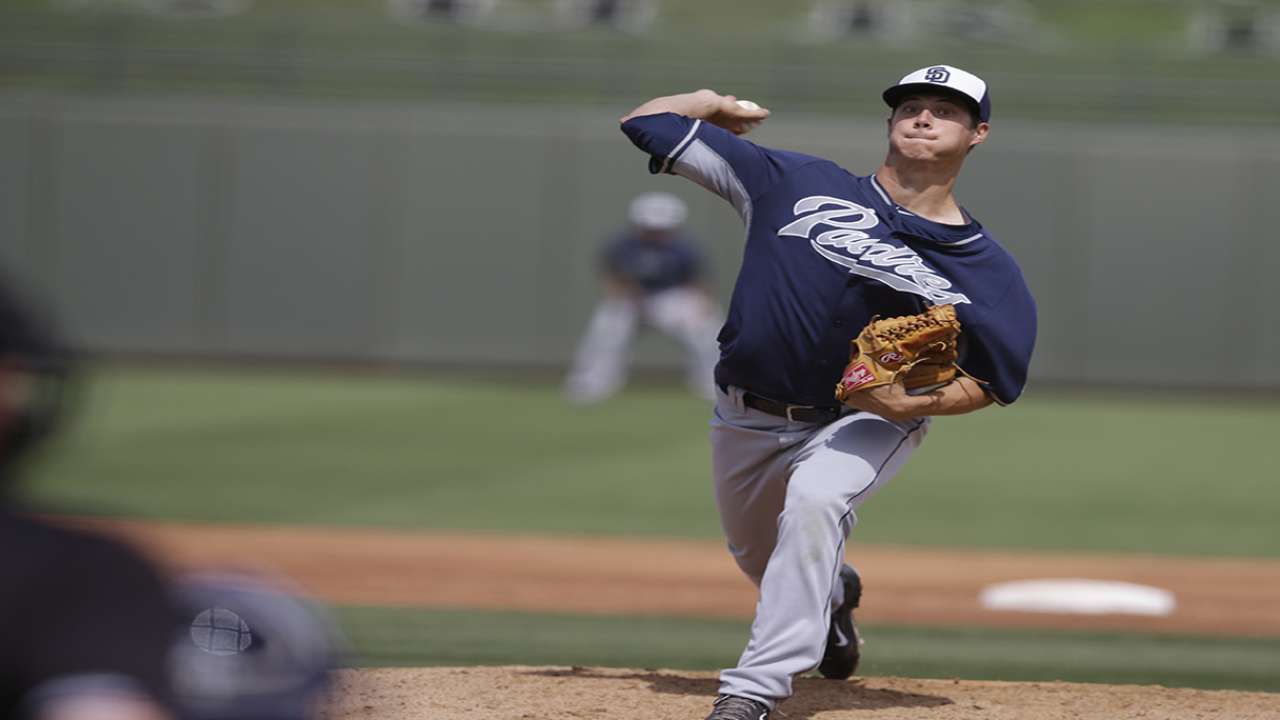 On a day with several elite starting pitching prospects among the scheduled starters in the Minor Leagues, one game on Thursday's slate stood out for its pitching matchup. New Orleans' showdown at El Paso was scheduled to be a pitchers' duel between Marlins' No. 1 prospect Andrew Heaney and Padres' No. 3 prospect Matt Wisler.
The game (which can be seen on MiLB.TV at 8:35 p.m. ET) will still feature Wisler, but the Marlins decided to skip Heaney's turn in the Zephyrs rotation to conserve his innings.
Heaney, ranked No. 25 on MLBPipeline.com's Top 100 Prospects list, has already thrown 76 2/3 innings this season between New Orleans and Double-A Jacksonville. He is 7-2 with a 2.47 ERA and has struck out 79 batters and walked 15. He leads all Marlins Minor Leaguers in innings pitched and strikeouts.
Heaney has excelled since his promotion to New Orleans last month. In four starts, he is 3-0 with a 2.74 ERA and has a 27-to-2 strikeout-to-walk ratio in 23 innings.
Wisler, on the other hand, has struggled since his promotion to El Paso. The Padres' No. 3 prospect has made seven starts at the new level and is 2-4 with a 7.11 ERA. He has struck out 26 batters, walked 14 and given up six home runs in 31 2/3 innings.
But at 21 years old, Wisler is one of the youngest players in the Pacific Coast League. He was the seventh-youngest player on Opening Day in the Texas League and would have ranked second in the PCL.
Heaney and Wisler are just two of several pitchers ranked in the Top 100 who are scheduled to start Thursday. Others who will take the ball include Mark Appel (No. 14), Robert Stephenson (No. 16), Tyler Glasnow (No. 23), Lucas Sims (No. 50), A.J. Cole (No. 59), Braden Shipley (No. 64), Robbie Ray (No. 83), Nick Kingham (No. 89) and Daniel Norris (No. 98). Fans can watch Cole, Ray and Kingham on MiLB.TV, beginning with Ray and Triple-A Toledo hosting Buffalo at 7 p.m.
Ray was activated from the disabled list Wednesday and is set to make his first start since June 1, when a blister forced him to leave the game after four innings. In eight games with the Mud Hens this season, the Tigers' No. 1 prospect is 3-3 with a 2.45 ERA. He also made two starts for the Tigers, filling in when Anibal Sanchez was injured earlier this year.
Top prospect probables
Mark Appel (Astros' No. 2), Lancaster vs. Rancho Cucamonga
Chris Beck (White Sox No. 8), Birmingham vs. Montgomery
Michael Blazek (Brewers' No. 18), Nashville vs. Reno
A.J. Cole (Nationals' No. 2), Harrisburg at Erie
Edwin Diaz (Mariners' No. 4), Clinton vs. Burlington
Ryan Eades (Twins' No. 20), Cedar Rapids vs. Quad Cities
Tyler Glasnow (Pirates' No. 3), Bradenton vs. Palm Beach
Severino Gonzalez (Phillies' No. 6), Reading vs. New Britain
Andrew Heaney (Marlins' No. 1), New Orleans at El Paso
Nick Kingham (Pirates' No. 8), Altoona vs. Portland
Branden Kline (Orioles' No. 14), Frederick vs. Myrtle Beach
Matthew Koch (Mets' No. 20), St. Lucie at Jupiter
Jorge Lopez (Brewers' No. 19). Brevard County at Lakeland
Francellis Montas (White Sox No. 16), Winston-Salem at Potomac
Daniel Norris (Blue Jays' No. 4), Dunedin vs. Daytona
Robbie Ray (Tigers' No. 1), Toledo vs. Buffalo
Chris Reed (Dodgers' No. 6), Chattanooga at Huntsville
Joe Ross (Padres' No. 9), Lake Elsinore at High Desert
Sam Selman (Royals' No. 12), Northwest Arkansas at Springfield
Braden Shipley (D-backs' No. 2), Visalia at Inland Empire
Lucas Sims (Braves' No. 1), Lynchburg at Salem
Robert Stephenson (Reds' No. 1), Pensacola at Mobile
Tom Windle (Dodgers' No. 7), Rancho Cucamonga at Lancaster
Matt Wisler (Padres' No. 3), El Paso vs. New Orleans
Mike Wright (Orioles' No. 5), Norfolk at Syracuse
Teddy Cahill is a reporter for MLB.com. Follow him on Twitter at @tedcahill. This story was not subject to the approval of Major League Baseball or its clubs.