All-around effort puts Nationals alone in first
Werth drives in three to support Roark; Zimmerman shines on defense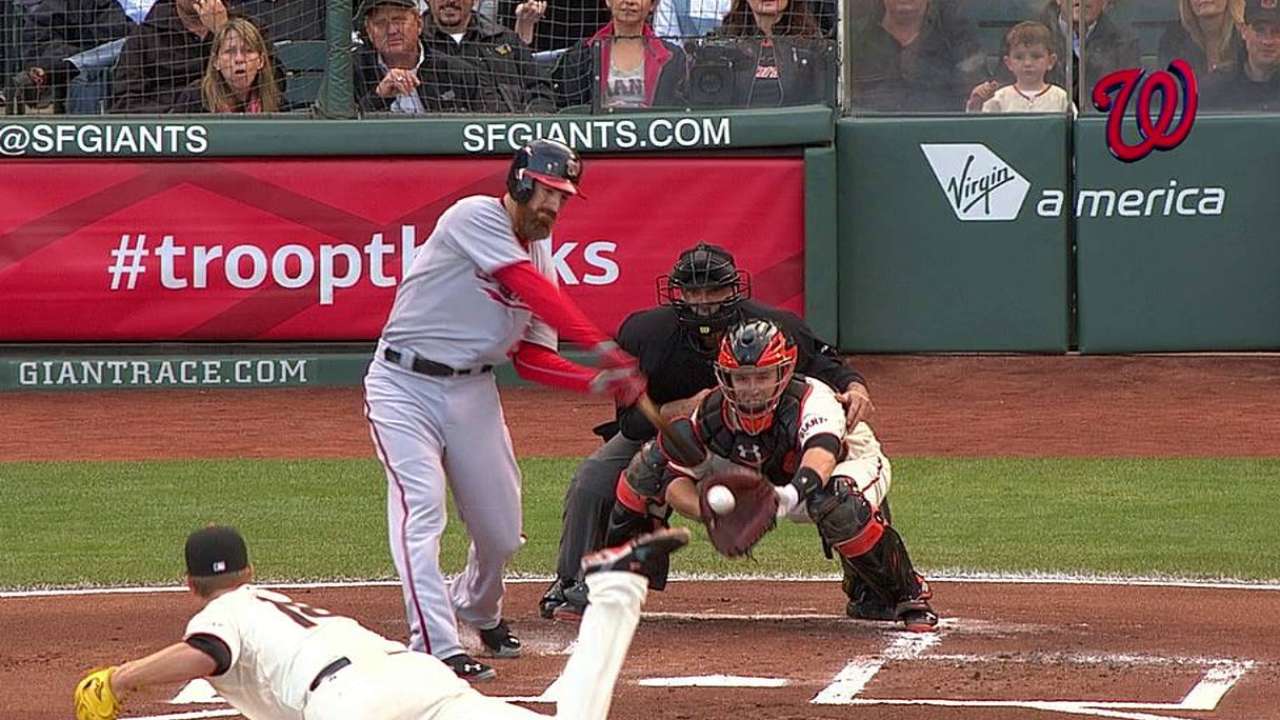 SAN FRANCISCO -- The Nationals showed once again they are one of the best teams in baseball -- at least for this week, anyway. They are getting great pitching and defense. Don't forget the timely hitting.
The Nationals played all facets of the game Wednesday as they defeated the Giants, 6-2, at AT&T Park. Washington has won 10 out of its last 12 games and is in first place in the National League East. The Rockies pounded the Braves, 8-2, in Colorado.
The Nationals got off to a good start against right-hander Matt Cain, who walked the first three hitters he faced. Manager Matt Williams has often watched Cain pitch since 2005, and Williams was in shock to see Cain having problems with his command.
"I've never seen that from Matt," Williams said. "I've stood in that coach's box over there a lot. Ninety-nine-point-nine percent of the time, he's been playing with his control."
Cain would pay for his lack of command, as Adam LaRoche singled to center field to bring home Denard Span and Anthony Rendon. Jayson Werth then scored on a groundout by Ryan Zimmerman to give Washington a 3-0 lead.
"We started the game off and we got some really good at-bats. We kind of got Cain on the ropes early," Werth said. "We got his pitch count up. We got some big hits. The first inning kind of set the tone for the game."
The run support was enough for right-hander Tanner Roark, who was outstanding. He pitched six-plus innings and allowed two runs on seven hits. He held the Giants scoreless until the fourth inning, when Buster Posey scored on a triple by Brandon Crawford.
"He's got four pitches," Giants manager Bruce Bochy said about Roark. "He's throwing 92 [mph] out there. But he can sink it, he's got a good overhand curveball, good slider and a changeup and he showed very good command hitting his spots on both sides of the plate. When you can do that, you're going to probably do well. He's been on a good roll; he's been throwing the ball well like their whole staff."
The Giants could have added another run in that inning, but Danny Espinosa's diving stop on a ground ball by Gregor Blanco prevented the Giants from scoring.
The Nationals added to their lead in the fifth inning, when Werth hit his sixth home run of the season.
The Giants had a chance to score another run in the sixth inning. After Michael Morse doubled with two outs, Crawford looped a ball to left field. Zimmerman dove for the ball in left field and made a spectacular catch to end the inning.
Zimmerman was humble when talking about the play. He said he is still learning to play the outfield on the fly.
"I got a good break on it. It kept tailing away. I dove and caught it. The landing wasn't very smooth. In the end, I caught the ball," Zimmerman said.
Werth said Zimmerman's play in the outfield has been remarkable.
"It's not like beginner's luck. He is getting good reads; he's running good routes. He makes left field look small," Werth said. "As an outfielder, that is the ultimate compliment. He is doing great. He made some great plays tonight."
It's not easy to play left field at AT&T Park, according to Williams. An outfielder has to deal with the wind, and when it looks like the ball is going out of the park, it seems to come back in play. It's really tough to judge a fly ball out there -- even more amazing that Zimmerman was able to make the catch.
"You can't think about what might have happened. He saved the inning for us, right there," Williams said. "It's like he has been doing it for a long time. That's a very nice play. It's like his natural position. He is such a good athlete. It's not easy to play there. He is making it look like he has played out there a long time."
Williams has not changed his mind on Zimmerman's future. He will return to third base once Bryce Harper is activated from the disabled list in July.
"With all things being equal, when Harp is healthy and ready to play, I don't think there is much of a choice," Williams said. "I think the fantastic thing is Zimmerman has approached playing left field with vigor and enthusiasm and has worked hard to be a really good left fielder.
"And that's just a compliment to him and compliment about what he thinks about our team and what he is willing to do. With all things being equal, I don't see much of a choice. He has a Gold Glove at third base. We have to take that in consideration. He is playing really well."
The Giants scored another run in the seventh inning. With Drew Storen on the mound, Pablo Sandoval singled to right field, scoring Brandon Hicks. The run was charged to Roark.
Werth added two more runs with a single in the ninth inning off reliever Yusmeiro Petit.
"The best part about that, we could put the big scary guy [closer Rafael Soriano] in his cage and save him for tomorrow. All in all, it was a good game." Werth said.
Relievers Tyler Clippard and Jerry Blevins blanked the Giants to the rest of the way.
Bill Ladson is a reporter for MLB.com and writes an MLBlog, All Nats All the Time. He also can be found on Twitter @WashingNats. This story was not subject to the approval of Major League Baseball or its clubs.