Young relievers stepping up in Angels' bullpen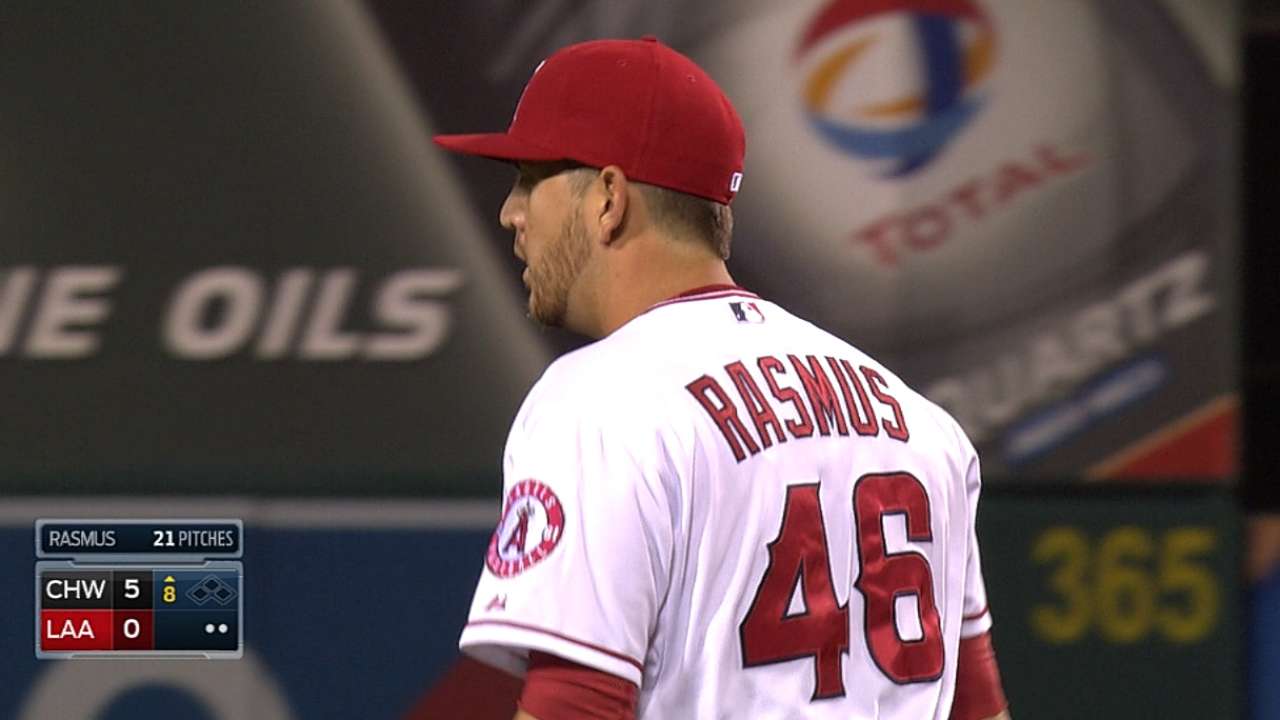 ANAHEIM -- The Opening Day roster did not list any of them, but Angels relievers Mike Morin, Cam Bedrosian and Cory Rasmus have made their presence felt with key performances in the last week.
Bedrosian, 22, has appeared in three games for the Angels, sporting an inflated 7.36 ERA after a three-run, two-thirds of an inning outing in Houston. In his most recent outing Tuesday night against Oakland, he went two innings, striking out two and giving up a hit in crucial extra-innings frames against the A's.
"Just staying in the zone, getting ahead of hitters," Bedrosian said. "When you get ahead of hitters, it makes it easier to set up the battle each time."
Bedrosian, Morin, 23, and Rasmus, 26, all appeared in the Angels' 14-inning 2-1 win over Oakland on Tuesday night, combining for five innings and allowing one run.
Morin, who made his debut April 30, has appeared in 17 games with a 1.50 ERA while solidifying himself as a key reliever for the second-place Angels. Despite giving up a run Tuesday to the Athletics, Morin has allowed a run in just four appearances and has a 0.94 WHIP.
"Guys are going to get hits, it's part of the game, you're going to walk guys, nobody's going to be perfect," Morin said. "It's important those times that runners do get on that we get out of it, even when it's one run, keeping the ballgame close."
Rasmus rejoined the Angels before Saturday's game against the White Sox after 25 days away from the big leagues. In his two appearances this six-game homestand, Rasmus has registered a win both times while throwing four innings of shutout ball.
Rasmus faced the minimum 12 hitters in the last two games, striking out four.
"It's all about getting another opportunity and coming up here and making the most of it," Rasmus said. "All I can do it go out there and try to get people out with the opportunities I'm given. Fortunately for the team, when I've gotten people out in my innings, we've happened to score runs."
The trio's performances have made it tough for the Angels to get rid of them, holding veteran relievers Dane De La Rosa and Michael Kohn down in Triple-A Salt Lake. The pair was optioned June 3.
Alden Gonzalez is a reporter for MLB.com. Read his blog, Gonzo and "The Show", and follow him on Twitter @Alden_Gonzalez. Matthew DeFranks is an associate reporter for MLB.com. This story was not subject to the approval of Major League Baseball or its clubs.