Turner hit hard early; Marlins lack hits vs. Yu
Miami collects six singles, can't climb back from early four-run deficit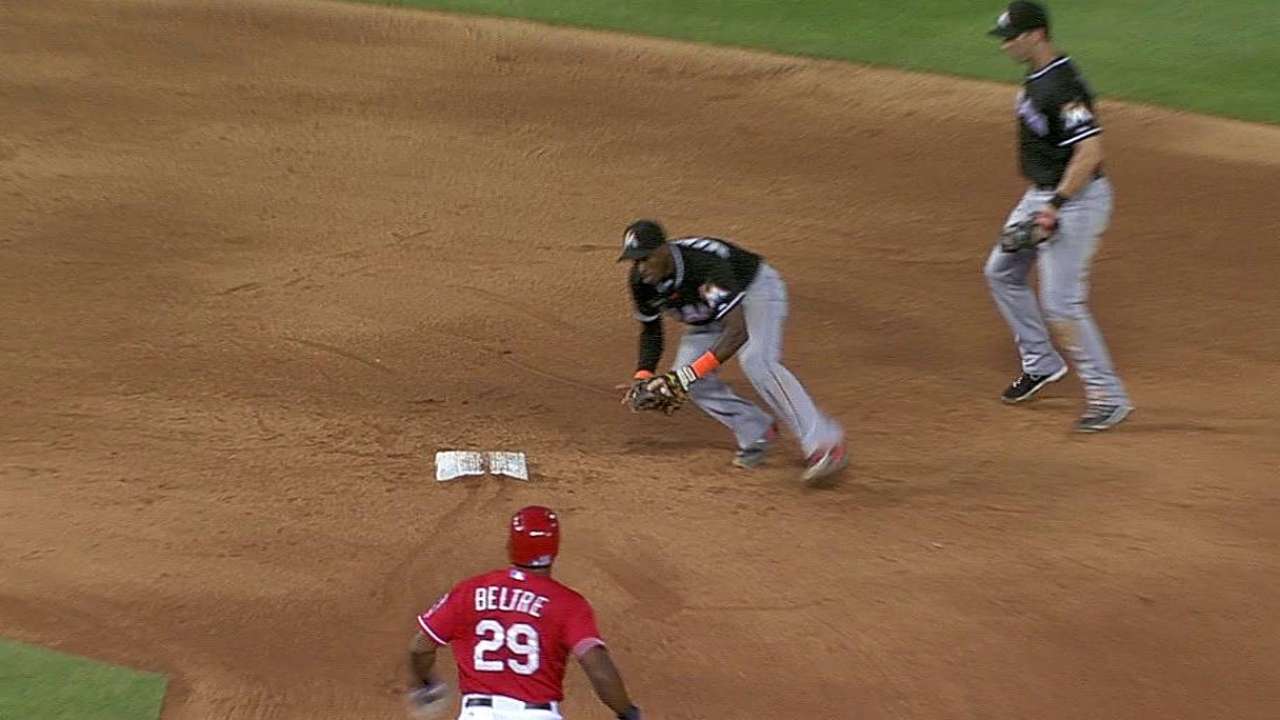 ARLINGTON -- Facing a premier pitcher like Yu Darvish gave the Marlins little margin for error on Wednesday night.
While Miami's overall play was far from perfect, Darvish struck out 10 in his first complete game, and Shin-Soo Choo drove in four runs in the Rangers' 6-0 shutout win over the Marlins at Globe Life Park.
Marlins right-hander Jacob Turner lasted four innings, giving up five runs on six hits with four strikeouts. The 23-year-old's night included getting drilled on the right side by a line drive in the fourth inning, and his night was over after 75 pitches.
Of late, the Marlins had played pretty effectively, but they were sloppy in several areas. On the bases, Marcell Ozuna was thrown out leading off the seventh inning trying to stretch a single into a double with his team down by six. Turner had two wild pitches and a balk. Catcher J.T. Realmuto committed a throwing error, believing Elvis Andrus was attempting to steal second, when he wasn't, in the fifth inning.
"We've got to play better than that," Miami manager Mike Redmond said. "By no means is it one area. We made some mistakes running the bases. We made some defensive mistakes. It's not one of our better games.
"When you go up against a frontline pitcher, a guy where you know it is going to be tough to score runs, you've got to play better baseball than that."
Darvish had never gone more than 8 2/3 innings until he went the distance on 117 pitches against a sluggish Miami squad. The right-hander recorded his 24th career double-digit strikeout game, tying Bobby Witt for second most in Texas history. Nolan Ryan holds the team record with 34.
"He's one of those guys, he has a bunch of pitches he can throw for strikes," said Christian Yelich, who had one of Miami's six singles. "He has an above-average fastball. He's got a cutter, slider, curveball, split. He might have a changeup. He was throwing them all. One at-bat, he shook off like seven times before he threw a pitch. It makes it tough when he throws all his pitches for strikes, and he keeps guys off balance."
Despite Wednesday's setback, the Marlins gained a two-game split in Texas and finished their seven-game, three-city road trip at 4-3.
"We played well on this road trip," Yelich said. "It would have been nice to get one tonight, going into the off-day and the homestand. But you can't let tonight take away from what we were able to do in the other games."
Miami entered the night with a chance to build on some Interleague history.
Dating back to last year, the Marlins had won 13 straight against the American League. Miami's Interleague streak matched the Yankees (2003-04) and the Rays ('04) for the longest all-time. The Marlins are 8-1 against the AL this season.
Given an early lead, Darvish shut down the Marlins, scattering the six singles. Miami was shut out for the third time this season, and first since April 27 (4-0) against the Mets in New York.
In the third inning, Turner gave the Rangers an opening, and they cashed in for four runs. Turner hurt himself by issuing a walk and tossing two wild pitches.
The inning started with a Chris Gimenez walk and a Rougned Odor single. With one out, Andrus singled to load the bases. Choo snapped an 0-for-18 slump with a double to right field that cleared the bases.
"You don't want to put yourself in that situation against a guy like that. I fell behind 1-0," Turner said. "I tried to go with a fastball inside and left it up a little bit. He took advantage of it."
The fourth run was courtesy of Turner's second wild pitch of the inning, which allowed Choo to score.
"The big inning has been tough on him," Redmond said. "It's just a matter it seems like when it is it going to come? Today it happened in the third."
In the fourth inning, Turner ran into more trouble when he allowed a run in an unusual manner. The Rangers collected back-to-back infield singles, which led to a run. Leonys Martin reached on an infield single, and he was awarded second on a balk.
Gimenez chopped an infield single that rolled under the gloves of Casey McGehee at third base and shortstop Adeiny Hechavarria. When the ball rolled past both, Martin raced home from second without a play.
The fourth inning was doubly painful for Turner, because he was struck on the right side by Odor's comebacker.
Turner was struck right below the ribs, and he felt he could have continued, but Miami didn't take any chances.
"I felt I could have gone back out," Turner said. "Obviously, they went somewhere else. It tightened up a little bit, but it really didn't affect anything on how I felt out there."
Texas made it 6-0 in the fifth inning on Choo's RBI single off Kevin Slowey.
"It's about getting back to making your pitches and not letting it snowball on you," Turner said. "For me, it's very frustrating to have those big innings, and just slowing the game down when they start getting multiple hits in a row. It's really just getting back to making quality pitches."
Joe Frisaro is a reporter for MLB.com. He writes a blog, called The Fish Pond. Follow him on Twitter @JoeFrisaro. This story was not subject to the approval of Major League Baseball or its clubs.