Peralta settles in to lead Brewers past Mets
Righty retires 16 of final 18, then flies home due to 'family business'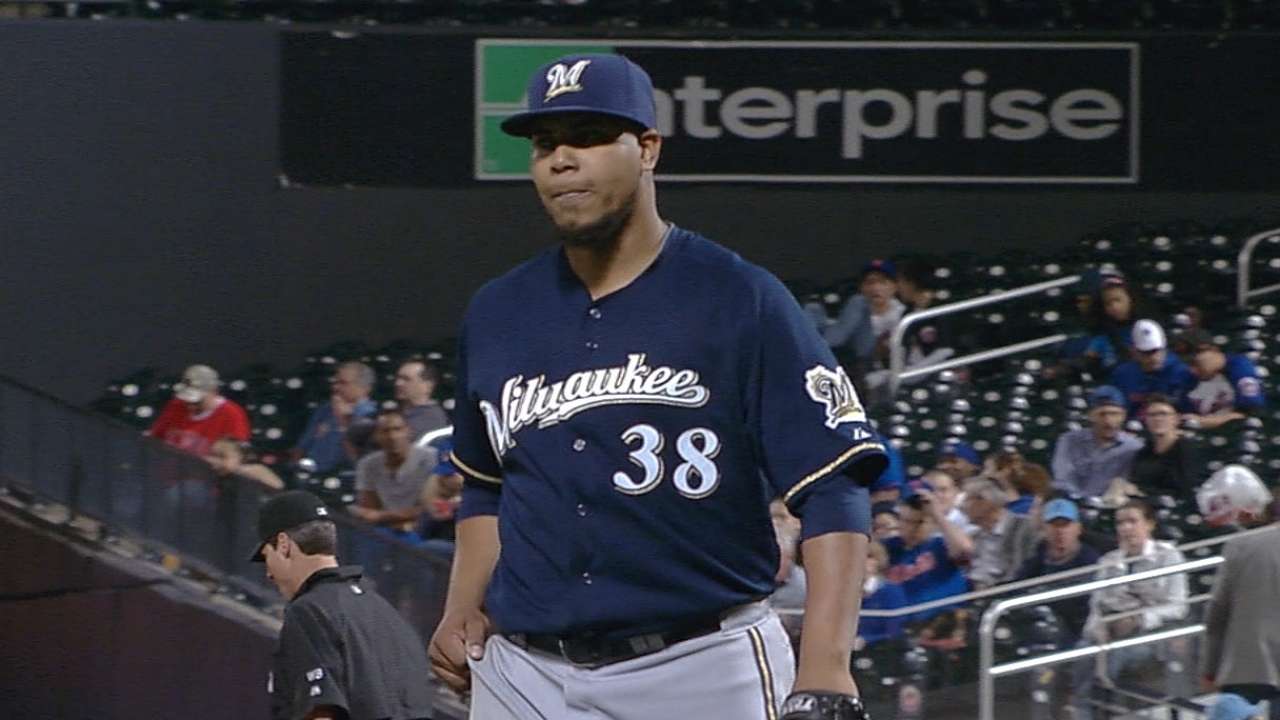 NEW YORK -- After Wily Peralta's 6 1/3 innings of one-run ball and after he was effective enough long enough to pick up the win in a 3-1 Brewers triumph over the Mets on Wednesday night, he had a plane to catch.
The right-hander departed Citi Field early to go home to the Dominican Republic to tend to what manager Ron Roenicke called only "family business" that had been planned for "a while." The club expects Peralta to return Saturday in Arizona. No other specifics were given, but the tone adopted in the clubhouse postgame while discussing the issue was a subdued one.
"It's pretty tough," catcher Jonathan Lucroy said. "I don't know how he did it, but he did it. It's pretty amazing, considering. He definitely did a good job. It's kind of tough because you want to enjoy the win, but knowing that, it's tough to enjoy it."
Peralta's ambiguous personal situation made his start Wednesday, his longest and most efficient in nearly a month, all the more impressive. He limited New York to four hits and one walk to set up a rubber game on Thursday.
"I thought he pitched today instead of fighting through things and just kind of throwing as hard as he could," Roenicke said. "He was under control better, his emotions were better. I liked what he did."
Added Mets catcher Taylor Teagarden: "He was keeping us off-balance, and when he needed to execute pitches in two-strike counts and so forth, he did a good job."
Following a rocky beginning -- Peralta allowed three of the first five batters he faced to reach -- he settled in and set down 16 of his final 18 hitters. Armed with a well-rested bullpen, Roenicke pulled Peralta after just 92 pitches, and four relievers combined to allow one hit in 2 2/3 scoreless innings.
Roenicke really wanted this one.
"I always talk about those games we need to win, and we got a win," he said. "When we play that type of ball, I don't want to lose that game."
Games like these lead Roenicke to dream, even if just a little, about what the 6-foot-1, 245-pound 25-year-old Peralta could become if he can put it all together -- the high-90s fastball, reliable secondary stuff and sharp command -- on a regular basis.
"Wily can be a guy that can reel off eight, 10 straight wins," Roenicke said. "He's got that kind of stuff, dominating stuff that if we can get him to do that, he is a great addition with the others guys with what they can do.
"Wily is a big key in what we're doing this year. … He has a big upside on what he can do."
On a cool night in Queens, the Brewers' bats took care of the rest with a run in the third, fourth and fifth innings.
Scooter Gennett evened the score when he doubled to lead off the third and came around on Lucroy's groundout. An inning later, Jean Segura lined a single to left to plate Aramis Ramirez, and in the fifth, Carlos Gomez's grounder to second base turned into an RBI single when Mets pitcher Jacob deGrom didn't cover first base. Ryan Braun scored on the play.
That sequence was one in a series of unfortunate events for deGrom, a rookie right-hander who has struggled in back-to-back outings after opening his Major League career with four straight quality starts. deGrom lasted 5 2/3 innings, yielding three runs on nine hits and a walk.
The Mets opened the scoring when Curtis Granderson led off the second with a walk and scored on Lucas Duda's sacrifice fly two batters later, but that was all the home team could muster.
Home-plate umpire Gary Cederstrom ejected Mets manager Terry Collins in the fifth inning. Collins disagreed with the call that Teagarden was out at first, and he continued to argue once a replay review ruled that the call on the field would stand.
Lucroy finished 3-for-5 with an RBI and two doubles, and he is batting .444 this month. He was happy to brush that off, though, spending more time praising his batterymate.
"He was who he is whenever he's on," Lucroy said of Peralta. "And he was on. When he pitches with all of his stuff -- he mixes, he's able to keep them off his 97, 98 or whatever -- he's better than anyone out there, I think."
Tim Healey is an associate reporter for MLB.com. This story was not subject to the approval of Major League Baseball or its clubs.