deGrom can't secure first win as Mets quiet on offense
Rookie allows three runs, but Peralta is better for Brewers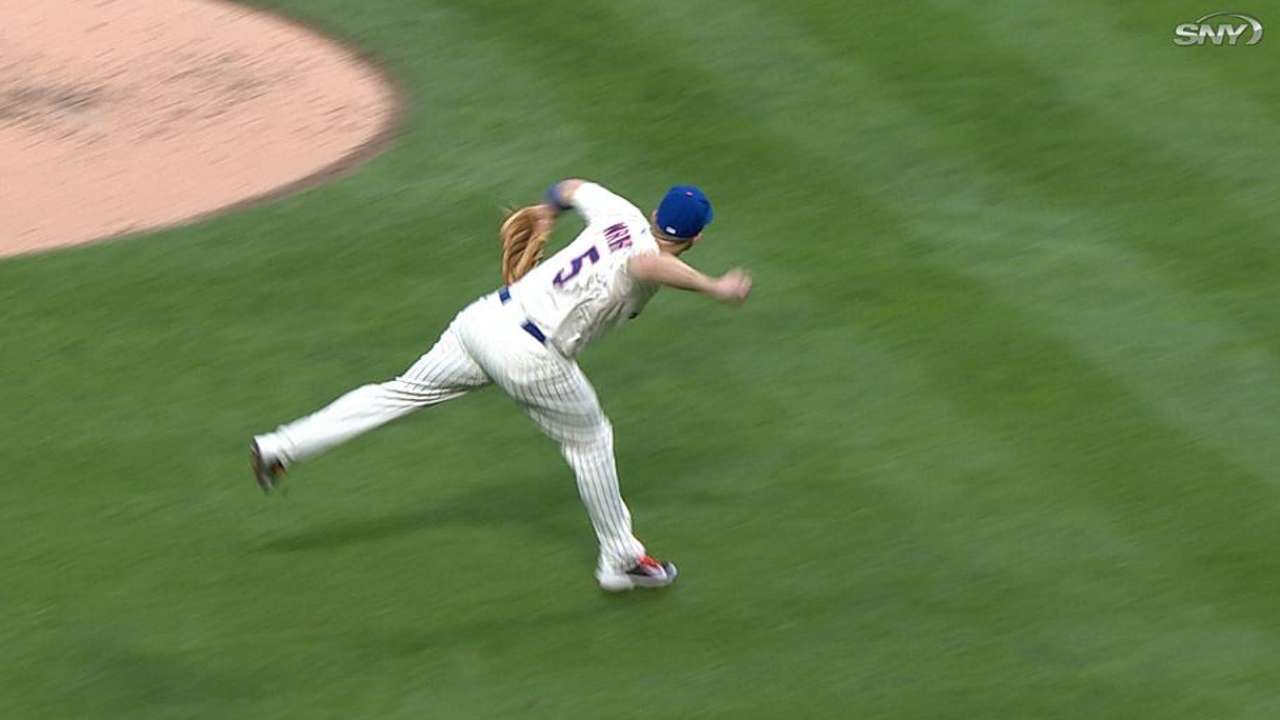 NEW YORK -- Bobby Abreu's bat shattered as he hit the final pitch of Wednesday's game, lining the ball directly into diving first baseman Mark Reynolds' glove. Abreu's head sank -- one final slice of frustration on a maddening night for the Mets.
In many ways, Wednesday's 3-1 loss to the Brewers was similar to so many that came before it. The Mets received adequate pitching but virtually no offense at Citi Field, keeping the game close but never quite taking advantage of that.
Yet as the losses pile up -- now seven in eight games for the Mets -- the frustration is mounting. Manager Terry Collins was ejected from this one, the most tangible evidence of an exasperating night.
"I don't know what to say," Collins said. "I guess I probably can't say much about it."
Were the Mets regularly putting crooked numbers on scoreboards across the country, Collins' unsuccessful replay challenge in the fifth inning might not have seemed so significant. But the Mets have not been doing that all season; Taylor Teagarden's grand slam in an uplifting victory Tuesday was the exception, not the rule.
A day later, the Mets reverted back to their same old struggles. Wily Peralta shut them down over most of his 6 1/3 innings and Milwaukee's bullpen did the rest. The loss moved rookie starter Jacob deGrom to 0-3 in his career despite a 3.44 ERA through six starts.
What vexed Collins most, however, was the play that earned him an ejection. Trailing by two runs heading into the fifth, the Mets received an apparent spark when Teagarden hit a roller to the right side of the infield that Reynolds could not easily convert into an out. The first baseman flipped to Peralta, who gloved the ball at around the same instant that Teagarden touched the base.
"My first reaction was that my foot hit the bag before the glove," Teagarden said. "That's the first thought that creeps into your head. I haven't had a lot of those go my way in my career, and you can kind of tell when you feel like you won one."
The Mets felt it, too. When first-base umpire Angel Hernandez called Teagarden out, Collins came flying out of the dugout to argue. Within seconds, bench coach Bob Geren flashed a thumbs up from the bench, the sign that New York's video team believed this a winnable challenge. So umpires went to receive word from their brethren in New York, while Citi Field's scoreboard showed the replay -- eliciting a roar from a crowd of 20,170 who mostly all thought the same thing.
"It was close, a close replay," Teagarden said. "I guess it was a little bit too hard for them to overturn."
A second argument earned Collins an ejection, which did little to infuse his team's bats with thunder. Instead, the Mets went quietly against Peralta and a quartet of Milwaukee relievers, including Mets-turned-Brewers closer Francisco Rodriguez. Peralta was particularly sharp, allowing his only run on Lucas Duda's sacrifice fly in the second inning. The Mets tallied just four hits and a walk off the right-hander, who threw 92 pitches over 6 1/3 innings.
"We just didn't get very many good balls to hit," Collins said.
Once again, the defeat was hardly the fault of deGrom, who struck out four and walked one over 5 2/3 innings. The Brewers did rap out nine hits off the rookie, but many of them were softly-hit balls struck to just the right places.
In the third inning, for example, Scooter Gennett doubled on a ball that Curtis Granderson misplayed in left field, turning a would-be out or single into a run-scoring opportunity. The Brewers converted it two batters later on Jonathan Lucroy's RBI groundout.
An inning later, another leadoff double came back to haunt deGrom when Jean Segura singled home the run. And in the fifth, a leadoff walk became deGrom's undoing on Carlos Gomez's RBI infield single.
"My job is to keep us in the games," deGrom said. "That's what I go out there and try to do. I feel like the wins will take care of themselves, and I feel like it will happen here soon."
Anthony DiComo is a reporter for MLB.com. Follow him on Twitter @AnthonyDicomo. This story was not subject to the approval of Major League Baseball or its clubs.