Hammel's strong run comes to end in loss to Bucs
HR in first snaps scoreless streak despite Coghlan's impressive effort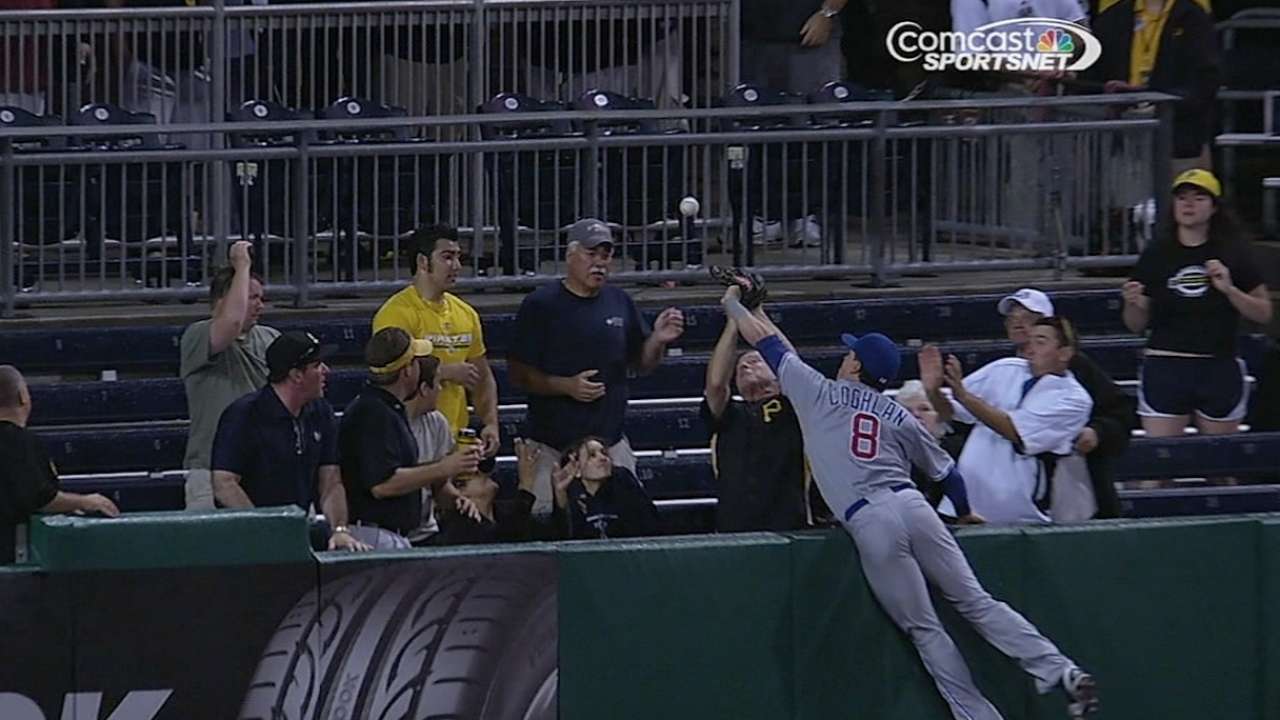 PITTSBURGH -- Chris Coghlan should make the Cubs' highlight reel for a catch he didn't make.
Coghlan nearly robbed Andrew McCutchen of a home run with a leaping catch, but a fan ended up with a souvenir and the Pirates picked up the win, beating the Cubs, 4-2, in a rain-delayed game on Wednesday at PNC Park.
McCutchen's homer in the first ended Cubs starter Jason Hammel's scoreless streak and homerless streak with one swing. Hammel served up a season-high 11 hits over five innings in his shortest outing of the year. He said his routine wasn't affected by the one hour, 38-minute rain delay that pushed back the start of the game.
The loss was only the second of Hammel's career in seven games (six starts) against the Pirates, but he didn't feel it was a bad outing.
"Honestly, I thought I did a pretty good job for as many baserunners as we had tonight," Hammel said. "It was definitely a battle, it was a grind. You have to keep pitching, throwing strikes."
The Cubs starter entered the game riding a 14-inning scoreless streak, but that ended quickly. He walked leadoff man Josh Harrison on four pitches, and one out later, McCutchen launched his 10th home run to left. Coghlan may have made the best non-catch of the season when he jumped to the top of the fence, with the ball deflecting off his outstretched glove. A lucky fan got the ball, the Pirates had a 2-0 lead and Coghlan impressed with his daredevil leaping ability.
"I definitely would've gone out there and high-fived him if he would've caught that," McCutchen said. "That was a really good effort, kind of what I was laughing at. If he would've caught that, I wouldn't have been mad. I would've been impressed, like, 'That's a play no one's gonna top, and at least I was a part of it -- wrong end, but still a part of it.'"
All Cubs manager Rick Renteria could see were Coghlan's legs as the outfielder went up the wall.
"You can't ask for anybody to do more than he did," Renteria said of Coghlan's effort. "He scaled the wall and put himself in a position to potentially catch it. If it had been anything different -- where it's a ball and somebody is reaching over to this side of the field, you can go out there and say something. In this case, he was trying to take away a souvenir from a fan."
Coghlan said he used the wall to give him a boost.
"I had the ball, I could've caught it, but the guy got in the way -- his hands were up," Coghlan said. "It's a good place to be able to rob a home run, because the wall's not that tall. I felt I went a couple rows deep and I had it, but the fan was there.
"I'm not on the [fan] at all," Coghlan said. "I just know where I was and where the glove and the ball were going to go, I would've caught it."
The homer was the first off Hammel in 51 2/3 innings, dating to April 22. It was the fourth-longest streak in the Major Leagues.
"A lot of hits given up, up in the zone," Hammel said of his outing. "Obviously, could've been better strikes thrown. It could've been a lot worse. Eleven hits through five innings -- it's amazing they only put up four. Some good defense tonight, and we had our chances with guys on base and [Pirates starter] Brandon Cumpton was able to get out of stuff, too."
The Pirates didn't help themselves with some baserunning blunders. The fifth inning was one example. Pittsburgh had two on and one out but pinch-hitter Travis Snider popped up to catcher John Baker, who started an unusual 2-4-5 double play, getting Starling Marte at third. Pirates manager Clint Hurdle said they ran that play in Milwaukee and it worked. Not this time.
The Cubs tied the game in the second on Baker's RBI single and a run-scoring groundout by Darwin Barney. But the Pirates loaded the bases with one out in the second, and Gregory Polanco picked up his first career RBI with a groundout to first. Pittsburgh made it 4-2 in the third when Pedro Alvarez tripled with one out and scored on Marte's single.
Hurdle knows Hammel well. The right-hander was on his pitching staff in Colorado. What did he like about the pitcher?
"Persistence," Hurdle said. "More than anything, it's been Jason maturing on the mound, getting innings of experience, learning to deal with the good and the bad and developing his own personal edge. You now see a much more mature pitcher. I'm proud of his development. I'm proud of what he's been able to accomplish.
"When you have a young guy like that and looking at what might be, but don't get to see the finished picture and now you see it -- well done, young man," Hurdle said. "'You've done very good with the opportunities you've been given.'"
Carrie Muskat is a reporter for MLB.com. She writes a blog, Muskat Ramblings, and you can follow her on Twitter @CarrieMuskat. This story was not subject to the approval of Major League Baseball or its clubs.