Bats silent amid Ross' seven scoreless
Slump at plate continues for Padres as Phillies walk off vs. Vincent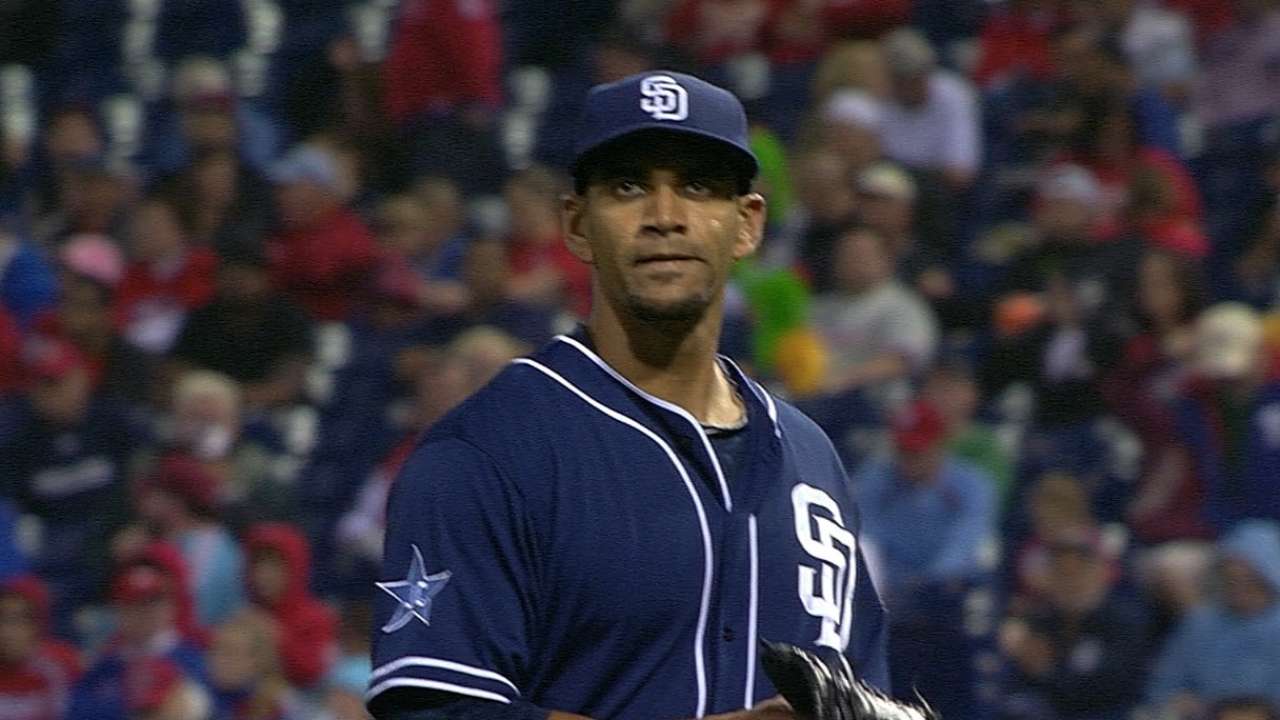 PHILADELPHIA -- A brilliant rebound performance by Tyson Ross was cast in vain as Reid Brignac ended a scoreless game in the ninth with a three-run, walk-off homer.
Ross, who allowed a season-high six runs in his previous start, threw seven scoreless innings, but Cole Hamels' gem shone brighter in Philadelphia's 3-0 victory Wednesday night at Citizens Bank Park.
"Both guys were outstanding," Padres manager Bud Black said. "It was a great, great pitchers' duel."
Right-hander Nick Vincent came into the ballgame in the bottom of the ninth and struck out Marlon Byrd. He then got two strikes on both Domonic Brown and Carlos Ruiz, but both hitters got away from him -- Brown drew a walk, and Ruiz was hit by a pitch.
On the third pitch he saw from Vincent, Brignac launched the winner into the stands beyond the right-field fence.
"Nick pitches aggressive; part of his strength is his aggressiveness," Black said. "He's a guy that's not going to be tentative. I think more than anything, he hasn't gotten the ball down when he's needed to. Tonight, it was a little bit elevated in the hitting area."
Black thought Vincent matched up well against Philadelphia's bottom half of the order, and he had planned to bring in Dale Thayer to pitch the 10th if the Padres could escape the inning.
"Nick's been a good pitcher for us," Black said. "You look at his internal numbers. I thought that part of the order, the bottom half of the order, was a good matchup for Nick. It was right, left, right, left. That was good for him."
The home run was Brignac's first of 2014.
"It was a cutter," Brignac said. "It was something that me and [hitting coach Steve Henderson] had talked about before the at-bat. The first two he threw in the at-bat were balls, and he left the third one up a little bit."
Over their past nine games, the Padres have mustered just 14 runs.
Cameron Maybin was San Diego's first baserunner on Wednesday night. He laced a double to left field to begin the third inning and advanced to third on a sac bunt. But Maybin was stranded after Hamels set down the next two batters.
The Padres threatened again in the fourth after loading the bases with two outs. Chase Headley and Tommy Medica singled, and Rene Rivera drew a walk to set the stage for Maybin. Hamels fell behind him, 2-0, but came back with three straight strikes to get the out.
San Diego's most recent batting slump is just a small sample in what has been a season-long offensive power outage. The Padres entered Wednesday worst in the Majors in team batting average, slugging percentage and on-base percentage.
Still, the Padres have to tip their hat to the red-hot Hamels, who entered the game 5-0 with a 1.47 ERA in his past six starts against the Friars and continued the trend Wednesday night. The San Diego native twirled eight innings of scoreless baseball, allowing five hits and a walk while striking out a season-high 11 batters.
"He came out and had all his pitches working," Black said. "Changed speeds. Threw a lot of good pitches behind in the count. We had a couple of decent swings, but not enough."
Ross' outing, meanwhile, was nothing to scoff at, either. He allowed four hits and a walk in seven scoreless innings. His slider was accountable for five of his seven strikeouts.
"He's got one of the best sliders in the game, for me, and I'm not being biased here," Black said. "He's got a good slider, and it was working tonight."
It was Ross' eighth start this season of six innings or more pitched while allowing one earned run or fewer.
"I don't know if it was his best, but he threw the ball well. No doubt about it," Black said. "We're seeing before our eyes Tyson grow as a Major League pitcher. It's great to see his development from where he was a couple of years ago."
Even while lowering his ERA to 2.97, Ross is just 6-5 on the year.
"You just have to look at the positives," Ross said. "Put up some zeros out there, gave us a chance, and just try and move forward and do the same thing next time out."
Erik Bacharach is an associate reporter for MLB.com. This story was not subject to the approval of Major League Baseball or its clubs.