Tanaka fans 11 in complete-game win over Mariners
Righty carries shutout into ninth inning to improve to 10-1 on season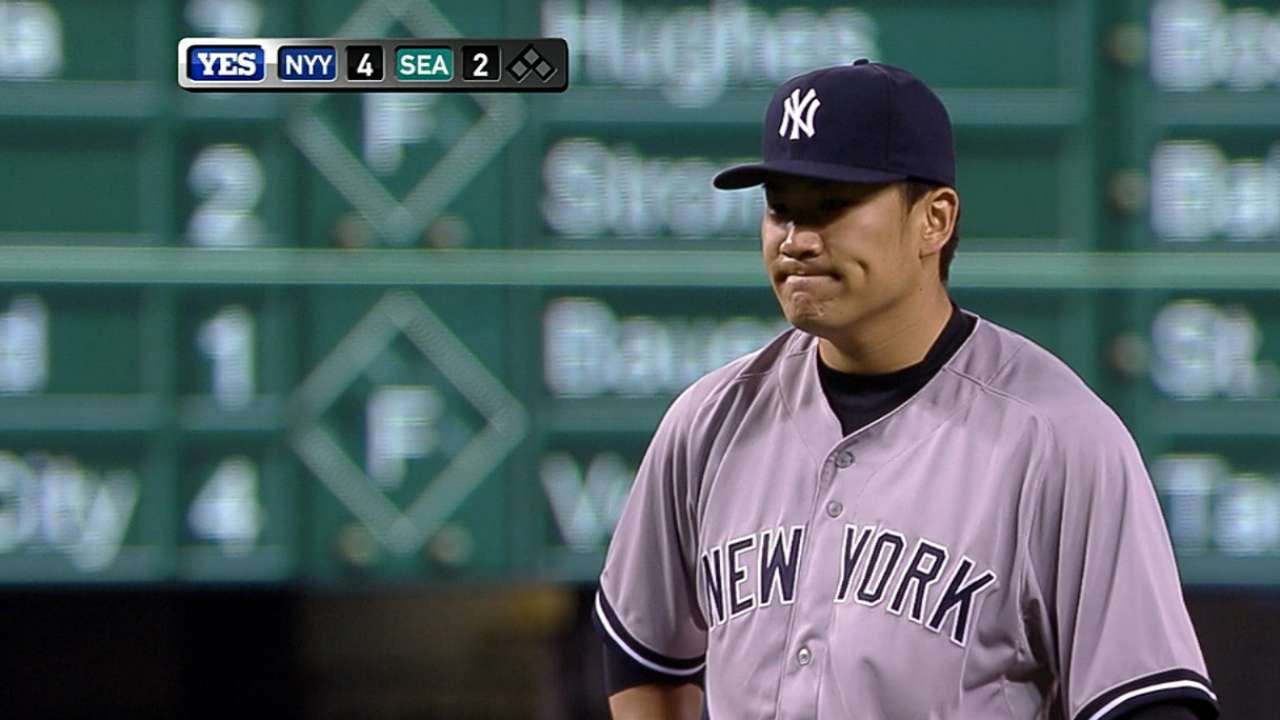 SEATTLE -- There have been outings -- 13 of them now -- where Masahiro Tanaka has insisted that he should have done more to help the cause, and it has become a running joke. In his view, anything less than perfection indicates that there is work to be done.
This time, Tanaka came two outs away from his second career shutout, and then expressed disappointment that he was unable to finish it off, prompting his teammates to just shake their collective heads and chuckle.
Robinson Cano's two-run homer may have spoiled the shutout in the ninth, but Tanaka's terrific season continued with an 11-strikeout complete game, propelling the Yankees to a 4-2 victory over the Mariners on Wednesday at Safeco Field.
"Obviously, I wasn't very happy about that home run, but at the end, I'm pretty satisfied that I was able to go a full nine innings tonight," Tanaka said through an interpreter.
Tanaka became the second 10-game winner in the Majors this season, joining the Blue Jays' Mark Buehrle, while logging his second complete game and a 13th consecutive quality start to open his big league career. The Yankees are 11-2 when Tanaka takes the mound.
"He's been our go-to guy," Derek Jeter said. "Regardless of how we've been playing as a team, it seems like when he goes out there, he shuts teams down. He gives us a great opportunity to win. He's a guy that we've been looking to pretty much all year."
With 103 strikeouts and 14 walks, no pitcher ever has struck out more while walking fewer through their first 13 games. Owning a splendid 2.02 ERA, Tanaka is a frontrunner to start for the American League in the July 15 All-Star Game at Target Field in Minneapolis.
"If he keeps this up, he's going to have one of the greatest first years in baseball of any pitcher who's ever played this game," said Mark Teixeira, who slugged a three-run homer off Seattle starter Chris Young in the victory.
Tanaka's efficient effort was also supported by Jacoby Ellsbury, who looped a run-scoring, third-inning single off Young, extending his hitting streak to 15 games -- the longest active streak in the Majors. Teixeira hit his team-leading 11th homer in the fifth.
"You get a big three-run homer from Tex, you get a big hit from Jake early on giving the lead," manager Joe Girardi said. "It just allowed [Tanaka] to continue to go to work."
Jeter had two hits and stole a pair of bases, giving him 351 for his career. Jeter is just the third player in history with 3,000 or more hits, 350 or more stolen bases and 250 or more home runs, joining Rickey Henderson and Craig Biggio.
That was enough for Tanaka to win his fourth straight start. Using his splitter as a put-away weapon, Tanaka rang up another 11 strikeouts to push his season total past the century mark, while issuing one walk.
"He just continues to go out and do his job. That's all he's doing," Girardi said.
Asked to evaluate his season to date, Tanaka said, "I personally really can't make an assessment on it. All I'm trying to do is just go out there and pitch the best that I can every night that I'm allowed to go out there."
Tanaka retired the first 10 batters before James Jones singled to right field in the fourth. Kyle Seager also had a fourth-inning single, which went as the only knocks off Tanaka until Mike Zunino and Brad Miller collected back-to-back hits in the eighth.
That threat was quickly extinguished as Tanaka got Cole Gillespie to hit a soft liner to second baseman Brian Roberts, who fired to catch Miller off first base for an inning-ending double play.
Tanaka pitched a shutout against the Mets on May 14 at Citi Field and was two outs away from another one, but the bid was spoiled by Cano, who just barely cleared the wall in left-center field for his first home run at Safeco Field this season.
Visibly angered as Cano rounded the bases, Tanaka kicked his game back into gear, striking out the next two hitters to finish his evening with a flourish.
"Just when you think he's starting to slow down a little, the last two guys, he got a little upset and took care of them," Teixeira said. "It was an incredible performance tonight, and we needed it."
Tanaka said that he thought an extra day of rest, pushed back a day by Monday's rainout, did have a positive effect -- even though he was disappointed to not face former Rakuten teammate Hisashi Iwakuma, who instead started for the Mariners on Tuesday.
As for his impressive campaign to date, Tanaka still refuses to say that he is satisfied. The Yankees wouldn't have it any other way.
"I never really thought about it going into the season," Tanaka said. "All that I was thinking was just taking it game by game, just trying to go out there and do the best that I can each game. As a result, this is where I am, but I think a lot of that has to with how my teammates have been playing with me."
Bryan Hoch is a reporter for MLB.com. Follow him on Twitter @bryanhoch and read his MLBlog, Bombers Beat. This story was not subject to the approval of Major League Baseball or its clubs.