Cano hits first home HR but Mariners can't top Tanaka
Young takes loss vs. Yankees after five innings, four runs allowed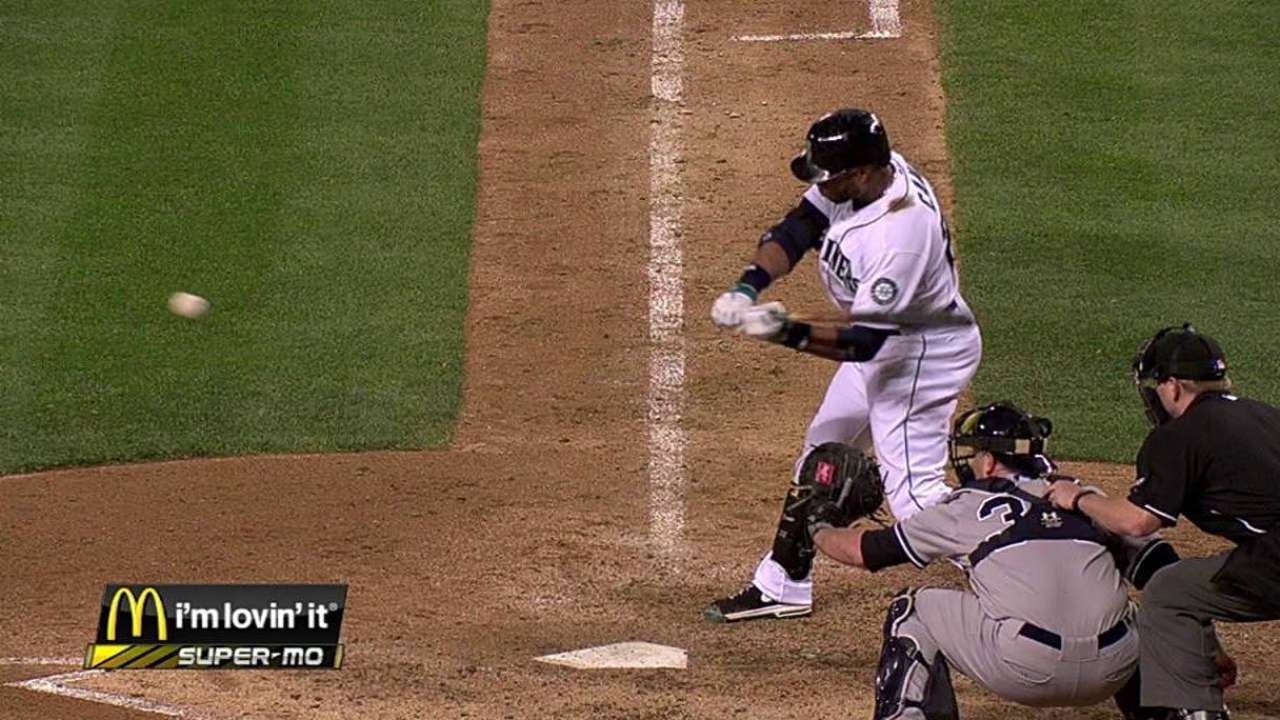 SEATTLE -- In his first 12 MLB starts, Yankees right-hander Masahiro Tanaka rolled through his opponents, allowing three earned runs or fewer in each outing.
On Wednesday night at Safeco Field, the Mariners could muster only a ninth-inning, two-run homer from Robinson Cano -- his first at home this season -- as Tanaka (10-1, 2.02 ERA) allowed just six hits while throwing a complete game to pace New York in a 4-2 Mariners loss.
When Mark Teixeira lined a three-run shot off Seattle starter Chris Young in the fifth, staking the Yankees to a four-run advantage, the Mariners had a slim chance to rally, given the way Tanaka controlled the strike zone.
The Mariners quickly learned why Hisashi Iwakuma's former teammate with Japan's Tohoku Rakuten team is an early frontrunner in the American League Cy Young and Rookie of the Year Award races. Tanaka retired his first 10 hitters. He spotted his fastball away from the heart of the plate and kept his splitter down in the zone, sometimes in the dirt. He threw 75 of 110 pitches for strikes.
"He was pretty dang good," manager Lloyd McClendon said. "I thought his secondary stuff was pretty good, command was outstanding. Our guys battled our tail off all night, but he made exceptional pitches."
He threw like Iwakuma -- except with an occasional 95-mph fastball. For eight innings, Tanaka's stuff left the Mariners flailing at pitches in front of an announced crowd of 28,434. When he finally seemed to weaken in the ninth, he fanned Kyle Seager and Logan Morrison for his 10th and 11th strikeouts to end the game.
How similar are Iwakuma and Tanaka?
"[There's] a lot of similarities," McClendon said. "One's taller, and one's a little shorter."
Dustin Ackley, who went 0-for-3, offered slightly more insight.
"I think both of them throw their splitfingers really well," he said. "They have a lot of movement on their fastball, and they both have good sliders, so I think they're definitely similar pitchers in that regard."
Tanaka earned his fourth win in a row and helped New York capture its second straight win over the Mariners after dropping its first three games to Seattle to begin the year. But not before Cano lengthened his hitting streak to nine games with his third home run of 2014.
"That was like taking a piano off my shoulder," Cano said after his first Safeco Field homer as a Mariner capped a 1-for-4 night.
The home run came on the first pitch of the at-bat. The ball was up in the zone and over the plate -- a Tanaka rarity.
"You don't want to miss your pitch, because you're not going to see those pitches that often with him -- maybe one or two every at-bat," Cano said.
Tanaka's performance came on a night when Young, who's been impressive in his comeback bid after undergoing surgery to correct thoracic outlet syndrome last year, battled but couldn't extend the perfect record (3-0, 1.89 ERA) he had at Safeco Field entering Wednesday.
In the third, Brian Roberts led off with a single, then Brett Gardner walked. Derek Jeter popped out to catcher Mike Zunino on a bunt attempt, but Jacoby Ellsbury staked the Yankees a 1-0 lead with a soft single into center field that scored Roberts. Young got the next two hitters to end the inning, but it came undone in the fifth, when Teixeira followed a Gardner single, a Jeter flyout and an Ellsbury single with his 11th homer of the season.
Young (5-4) allowed four runs on seven hits and two walks in five innings en route to his second consecutive loss and fourth in his last six starts. In the latter span, he has a 4.79 ERA over 35 2/3 innings.
"He wasn't very sharp tonight, but listen, this guy is a competitor," McClendon said. "He hung in there and did as good as he could tonight. It's not his best stuff, but that happens, that happens to all of us. He'll bounce back."
The Mariners had their chances.
In the fourth, James Jones lined a one-out single to right field for Seattle's first hit. Cano followed by grounding into a 6-4 fielder's choice before Seager lined a single into right field to put runners on first and second. Appearing in his first MLB game since April 14, Morrison quickly fell behind, 0-2, worked the count to 1-2, but couldn't check his swing on a splitter in the dirt and struck out to end the inning.
There was a flicker of hope in the eighth when Zunino doubled and Brad Miller singled to put runners on the corners with one out, but Miller got doubled off first base when Cole Gillespie lined out to second baseman Roberts.
"I've seen it for the last 35 years of my baseball career, a line drive to second and the guy gets doubled off," McClendon said. "We doubled their guy off last night. It happens. … It's a tough play."
The loss dropped the Mariners to 34-31 on the season and 0-2 on their seven-game homestand.
If there was a silver lining, it was reliever Tom Wilhelmsen. The lanky right-hander tied a career high by pitching three innings. He allowed two hits, a walk and struck out three in his best performance since moving to a middle-relief role.
"I told him this on several occasions: I appreciate his efforts," McClendon said. "He really saved our bullpen again. A lot of times, that goes unnoticed, but he was a warrior for us tonight, and we'll win games as a result of that."
Adam Lewis is an associate reporter for MLB.com. This story was not subject to the approval of Major League Baseball or its clubs.