Angels' streak snapped by A's at five games
Weaver's rough sixth inning, poor baserunning prove costly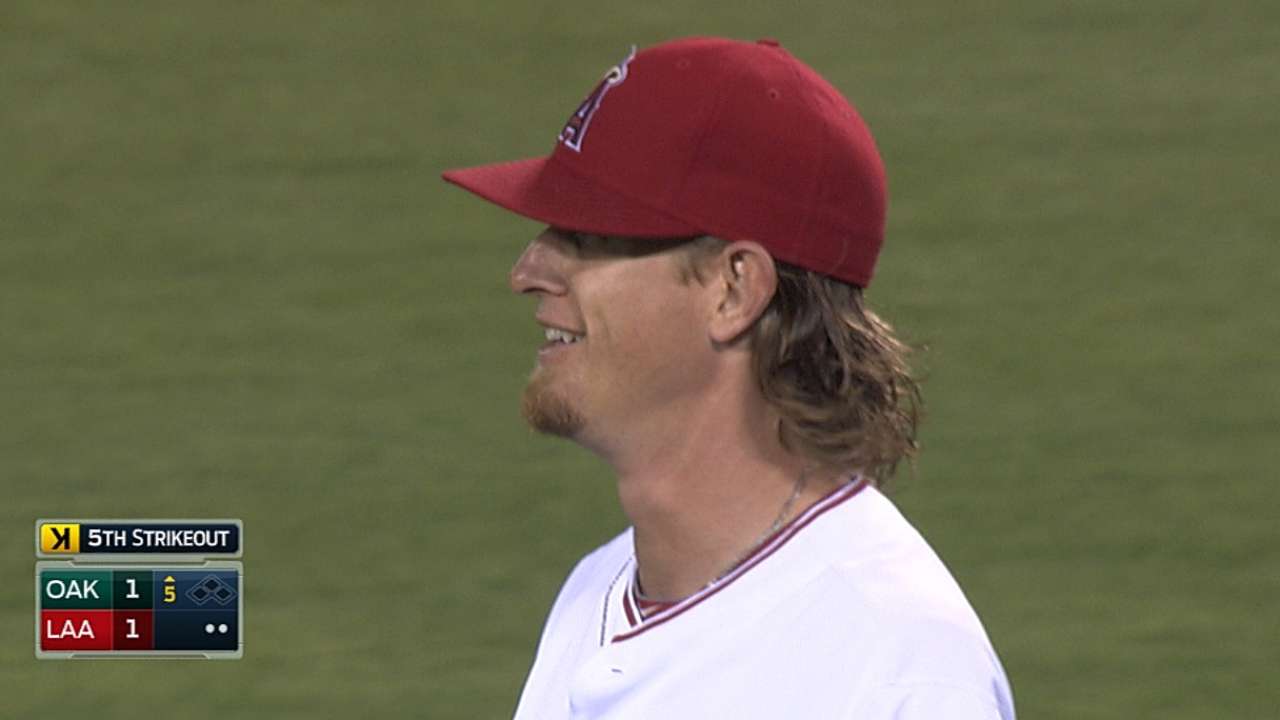 ANAHEIM -- The Angels pulled out a 14-inning thriller on Tuesday night and Mike Scioscia called his team "fortunate," because they committed several key baserunning mistakes that ultimately didn't cost them a game.
Turns out the Angels' manager was onto something.
The very next night, a couple of outs on the bases -- Collin Cowgill getting doubled off at second base and Albert Pujols getting thrown out at third -- changed the momentum early and the Angels never got it back in a 7-1 loss, which snapped a season-high five-game winning streak and spoiled any hopes of sweeping the first-place A's.
The Angels -- 36-29, and off Thursday before starting a seven-game road trip through Atlanta and Cleveland -- still won five of six on the homestand and are only 3 1/2 games back of the A's in the American League West.
"We played great baseball this homestand," Jered Weaver said after giving up four runs in 5 1/3 innings and getting saddled with the loss. "It would've been nice to take three from these guys, like they took from us at their place, but pretty satisfied with taking two of three from them. We played good baseball, and we just had one get away from us tonight."
It got away from them, mostly, because of more baserunning mistakes.
The Angels now lead the Majors with 28 outs on the bases. And at least nine of them have come within their last four games against the A's, with six taking place over the course of this three-game series.
"It's going to go in cycles," Scioscia said. "Sometimes, it seems like you run into some in bunches, and sometimes you create some things on the bases. But we're going to stay aggressive and hopefully get the good reads. We lost some guys on the bases in this series."
Scioscia didn't believe poor baserunning ultimately cost the Angels a victory in the series finale, but it certainly didn't help matters.
Cowgill -- one night removed from a walk-off homer -- led off the third with a double against A's lefty Tommy Milone, primed to score the tying run with the top of the order almost up, then immediately broke on a sinking liner off the bat of No. 9 hitter John McDonald and got doubled off when second baseman Eric Sogard made a sprawling catch.
"It's a tough read, man," Cowgill said. "He's trying his hardest to get me over there. That's his job. It's just unfortunate. It was low, and I guess I just took a chance. In my head I said, 'Go.' So I went, and he made a good play."
Pujols, who ran through the stop sign of third-base coach Gary DiSarcina in Tuesday's sixth inning and was easily thrown out by A's right fielder Brandon Moss, hit a one-out double down the left-field line in the sixth in the finale, tried to take third when it ricocheted past left fielder Yoenis Cespedes and was thrown out on another missile from the A's outfielder.
"A perfect throw," Pujols said. "You have to continue to play the game. Obviously he made a good throw. A little to the side, I would've been safe and it would've been a different ballgame."
Instead, it was Cespedes' fourth outfield assist against the Angels this season -- and his AL-leading ninth on the year -- after throwing out two runners at home in the second inning in Oakland on May 31 and tossing a 300-foot strike to nail Howie Kendrick at home in Tuesday's eighth inning.
Said Milone, who twirled 6 2/3 innings of one-run ball to outduel Weaver and get the win: "I think he's starting to [mishandle balls] on purpose, trying to bait runners to get that extra base."
Pujols had two hits on Wednesday, but is still batting .195 over his last 32 games and .145 with runners in scoring position. And Scioscia believes his struggles at the plate are spilling into trying to force the issue on the basepaths.
"I do believe that Albert is trying to create some things because I know nobody feels it worse than Albert when he's not swinging the bat the way he can and contributing to the team," the Angels' manager said. "I do think, on the bases at times, he's trying to help us in any way he can. At times he's created some stuff, and at times he's run into outs. But he's playing hard, he's playing aggressive, and that's what our team is about."
The Angels' only run came on Josh Hamilton's RBI double in the fourth, and Weaver's biggest mistake took place in the top of the sixth, when his 2-2 fastball to A's catcher Stephen Vogt sailed up and in instead of low and away, leading to the two-run homer that gave the A's a 4-1 lead and forced Weaver out of the game.
The Angels had the tying run at the plate in the eighth against Luke Gregerson, but Hamilton flied out, C.J. Cron struck out and the A's scored three runs in the next half-inning to pull away and salvage a victory in this three-game series.
They would've loved to sweep the best team in the AL, but they'll settle for a 5-1 homestand -- and hope to clean up the mental mistakes moving forward.
"Going 5-1, you can't complain about that," Trout said. "We won the series. That's always big. We're going to keep our heads up. It's one game. We have an off day tomorrow. Turn the page, and try to take Game 1 in Atlanta."
Alden Gonzalez is a reporter for MLB.com. Read his blog, Gonzo and "The Show", and follow him on Twitter @Alden_Gonzalez. This story was not subject to the approval of Major League Baseball or its clubs.